Impacting The Community Through Art
Aug. 10, 2018
SHSU Media Contact: Wes Hamilton
Community Engagement Award winner Edie Wells explains how art can have healing qualities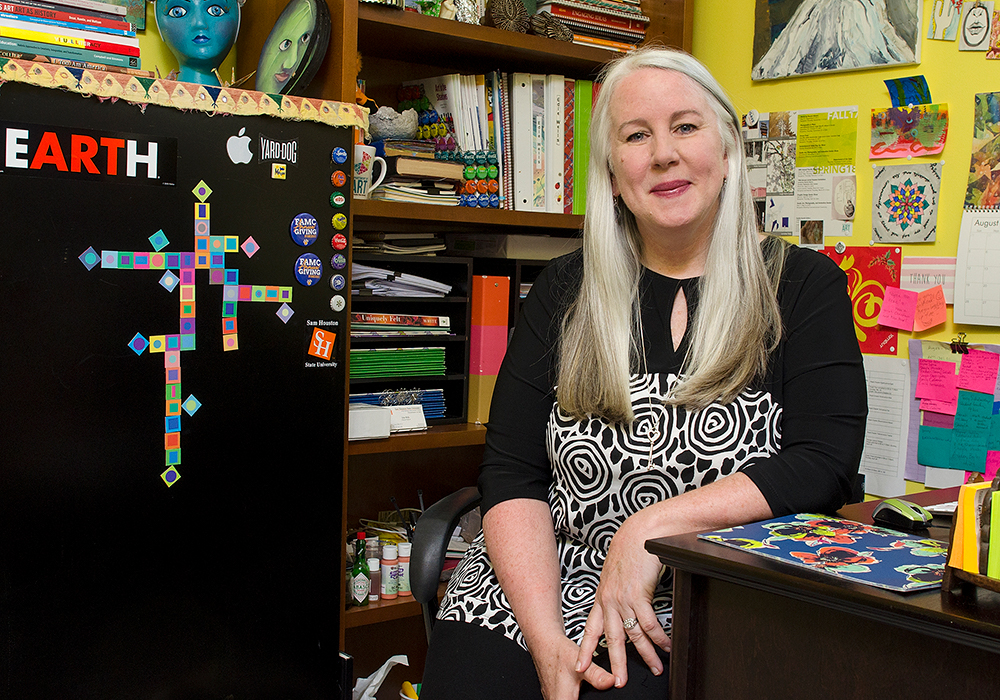 Art is a powerful tool when put in the right place at the right time. Art is engaging, inspiring and can stimulate a community in unspoken ways while also transforming lives through creativity. Art is one of the many reasons why Edie Wells is this year's recipient of the David Payne Academic Community Engagement Award as a part of the 2018 Faculty Excellence Awards at Sam Houston State.
Wells, clinical assistant professor in the Department of Art, has embraced her role in the community by working with the Huntsville Hospitality House, a non-profit organization that provides food and shelter for those visiting incarcerated relatives. The home also serves as a place where children can come together and share a common bond through art.
Each week, hundreds of families travel to Huntsville to visit loved ones in one of the nine area prisons. Art Against the Odds is a program that Wells and SHSU students developed for those families. The program offers a space where people can unburden themselves during their trip to see family.
"No matter how tired or busy I am, after spending time at the Hospitality House, I feel grateful and happy," said Wells. "The house is a place where everyone feels welcome and safe. It is not about a product, but more the experience, giving each person a chance to express themselves creatively."
Wells stood out from other nominees because of the number of families benefitting from her efforts and those of her students.
"By providing opportunities for artistic expression, Edie and her students have impacted many lives of all ages," one nominator said. "SHSU students not only learn art techniques themselves, but also how to teach and help the children become good artists. And most importantly, we see emotional healing take place as these family members of incarcerated loved ones express themselves through art."
Children whose parents are incarcerated face many challenges. The emotional trauma that can occur and the difficulties of a disrupted family life are only compounded by the social stigma they often face with having a parent in prison. The art they create together helps the families talk about their concerns and pain in a nonjudgmental environment.
"When I first moved to Huntsville, I didn't know anything about the prison community," Wells said. "I found statistics, through the National Institute of Corrections, which indicate that without intervention, children of incarcerated parents are six to eight times more likely to become involved in a criminal lifestyle."
Wells saw an opportunity to use her passion for visual art as a means of making an impact with children in need and began her partnership with the Hospitality House. What started seven years ago as an occasional weekend initiative soon turned into a larger community effort, with Sam Houston State students volunteering their time and artistic talent to interact with children staying at the house.
Through Academic Community Engagement courses at SHSU, Wells has overseen dozens of students' involvement in the program, giving them the chance to mentor children and become an integral part of their lives through art.
"The students have a big influence on the kids because they are close to their age and set such a good example," Wells said. "It's great for the kids to meet students who are going to college."
The award reviewers were also impressed by the truly transformational impacts of art as a form of therapeutic expression, from the families, the SHSU students and the community partner Hospitality House. Wells is humbled to see her work in the community appreciated.
Art Education students who wish to become art teachers in the Texas Public School system also benefit from programs like Art Against the Odds. It is one of many programs where students have art faculty who will supervise their student teaching and help prepare them for the certification exam.
"It is a perfect mix of applying what they have learned in class with teaching students in the community," said Wells.
Through the donations and support of the community, Art Against the Odds has grown in the past seven years and expanded to include a new art studio at the Hospitality House.
"When I first started, we were creating art on the kitchen table after dinner, but now we have this beautiful art studio created by artist Dan Phillips and many volunteers," Wells said. "The studio is very typical of Dan's style, very whimsical with a wine cork wall where we hang the art and CDs on the ceiling and a beautiful mosaic floor with all sorts of animals and creatures. It's a wonderful, playful space."
Wells is hopeful that this award will continue to raise awareness about the needs of families with incarcerated loved ones and the great work of the Hospitality House. She welcomes SHSU faculty, staff, and students interested in participating with her through Art Against the Odds.
- END -
This page maintained by SHSU's Communications Office:
Associate Director, Communications: Emily Binetti
Telephone:936.294.4406
Communications Manager: Mikah Boyd
Telephone: 936.294.1837
Communications Writer: Campbell Atkins
Telephone: 936.294.2638
Thomason Building: Suite 102
Please send comments, corrections, news tips to Today@Sam.edu