Graduating Seniors Overcome Adversity To Cross The Stage
May 9, 2018
SHSU Media Contact: Emily Binetti
In times of hardship it is easy to give up, but strength lies in the ability to be resilient and stay focused. This is the case for three Sam Houston State University graduating seniors, who maintain that the best way to make it through is to just keep going.
Chelsie Scott, Mayra Soto-Hauser, and Jeramy Cannon are all great examples of what it means to be resilient in the face of adversity. They each have faced difficult times due to their status as former foster youth or homeless students, but nevertheless persisted and have made it to graduation.
Chelsie Scott lost both of her parents before the age of 18, classifying her as a ward of the state. Her mother was taken from her by cancer when she was 3, and her father was murdered when she was 17. Rather than giving up, she decided to focus on her long-term goals. She realized that her father would have wanted her to go to school, so she started to focus on her long-term goals to help her get through. She transferred from Stephen F. Austin and decided to be a criminal justice major. This was crucial to her goal of being a homicide detective, which she is starting the process for later this year.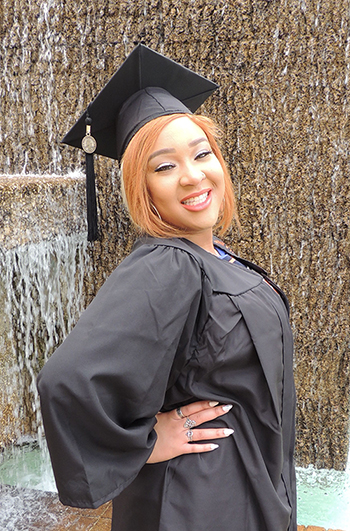 Chelsie Scott
In the beginning of her college career, the hardest part for Chelsie was adjusting to the "adulting" part of college. She didn't have her guardian with her to help in person, so she had to rely on phone conversations. In this time she tried to stop focusing on the problem and focused on the solution instead. This is what gave her the motivation and drive to continue her education. During her time at SHSU, Chelsie has opened a retail sales franchise in Huntsville with her fiancé. She loves her job, but acknowledges that she will be ready to move on to her long-term goal when the time is right.
Chelsie would like to tell students in situations similar to hers that in difficult times, don't give up. The only way to fail is not to try, and the only person holding you back is you. Find that one thing that motivates you and focus on it so that you can reach your goals.
Chelsie would like to thank her mom, her best friend Helena, Max, and Laurie for helping her motivate herself and work hard to reach her goals.
Mayra Soto-Hauser transferred from Angelo State when she was a sophomore. She had been in the foster care system until she turned 18 and had to deal with the stressful adjustment to college on her own. She began to work for an organization called Love Fosters Hope, which helps kids in the foster care system by providing them with resources and a safe space to talk about their experiences. For the past few years, she has attended the Love Fosters Hope Bridge camp as a camper and a counselor. She regularly speaks at events for kids still in the foster care system and tries to help them as much as possible.
At SHSU, Mayra found that the hardest part was figuring out the ins and outs of the paper work all on her own. She had to try multiple times and made many mistakes before she got it right, but she says that dealing with the hassle was worth it in the long run. Since she aged out of care, she has been adopted by a family that she stayed with for a period of time and really clicked with. She now has four brothers and enjoys having a support system to help her through troubling times. After graduation, Mayra plans to get her teaching certification so that she can teach math and coach at a high school.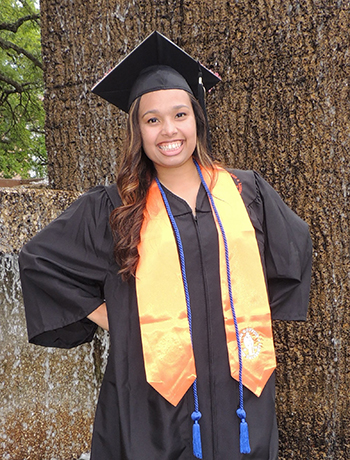 Mayra Soto-Hauser
Mayra would like to tell students in tough situations that it is important to find people to help you and to build a support group so that you are not dealing with everything alone. Also, even though the paperwork process for financial aid can be difficult, just keep trying and learn from your mistakes. The process is worth it.
Mayra would like to thank her parents for encouraging her through her time at college. She would also like to thank Love Fosters Hope. At SHSU, she would like to thank Dr. Rebeca Garcia, Dr. Jack Sears, Dr. Jose Santiago, Dr. Mary Williams and Dr. Ryan Zapalac for their support.
Jeramy Cannon is a 45 year-old college senior graduating from the sociology department. He had a long journey to college that began when he dropped out of high school in 9thgrade. He was a ward of the state of Texas because neither of his parents were consistently involved in his life.
After suffering through some tough situations at the boys home he was in, he got his GED and started working odd jobs to help get himself through. At one point, Jeramy spent a year living in a van with a band as they toured the country. After some time working, he had two children and has been raising them while he's in school. Jeramy tried to come back to school a few times before it stuck. He was at a community college in Lubbock before he enrolled in Blinn for a semester. After deciding that Texas A&M wasn't the right school for him, he met an SHSU recruiter and fell in love with the school.
Jeramy studies sociology with a minor in geography. His interests are the subcultures and countercultures in the U.S., respective to their geographical mapping. Despite his early struggles, he has overcome and done extremely well in his program. He recently attended a nation-wide sociology conference and has been accepted into the master's program here at SHSU. He credits SHSU faculty for helping him get through his time at college and his future plans include getting a Ph.D. and becoming a professor at a university.
Jeramy would like to let students going through hardships know that making connections on campus is extremely important for your college success. This helped him learn many valuable lessons during his time in college. He would also like to tell students to never let the system tell you what you are going to be and that only you can decide that for yourself.
Jeramy would like to thank Dr. Doug Constance and Dr. John Strait for their continued guidance and support.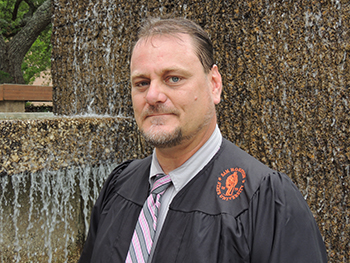 Jeramy Cannon
All three students were awarded the competitive Forward Graduation package for exhibiting and writing about perseverance in pursuing their degree. The award includes a cap and gown and a picture package to encourage participation in the graduation ceremony. The mission of Sam Houston State University's FORWARD Program is to empower former foster youth, orphans, wards of the court and homeless students by providing the support system necessary to pursue higher education and to transition smoothly through college.
For more information about the program please contact Kay Angrove at forward@shsu.edu
- END -
This page maintained by SHSU's Communications Office:
Associate Director, Communications: Emily Binetti
Telephone: 936.294.1836; Fax: 936.294.1834
Communications Manager: Wes Hamilton
Telephone: 936.294.1837; FAX: 936.294.1834
Communications Writer: Hannah Haney
Telephone: 936.294.2638; FAX: 936.294.1834
Thomason Building: Suite 102
Please send comments, corrections, news tips to Today@Sam.edu
---