Distinguished Professor Of Finance Reflects On Decades Of Service
Sept. 28, 2018
SHSU Media Contact: Tyler Pointer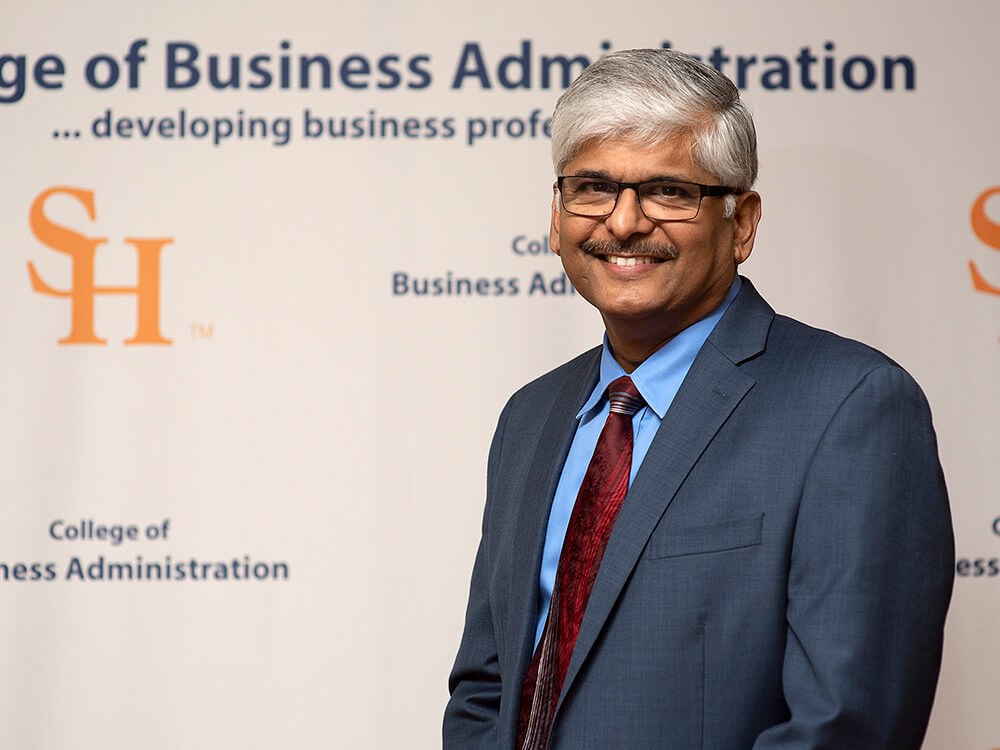 Sam Houston State University's College of Business Administration boasts one of the most extensive programs in the school, with many degree plans, course options and a highly-honored faculty.
Distinguished Professor of Finance Bala Maniam has impacted the students, faculty and staff of SHSU for more than 20 years, with his contributions in research, teaching and serving in academia and professional organizations.
Growing up in Malaysia with a large family, Maniam from an early age found science to be an interesting subject to explore and study.
"My undergraduate degree was in computer science," Maniam said. "Early-on, I was very much a pure-science person based on my interests, but I started to see the importance of the business side too."
Maniam's journey into finance and the world of academia began when he was pursuing his graduate degree.
"I had an amazing finance professor and an economics professor," Maniam said. "As a research assistant for the economics professor, he advised me to pursue a Ph.D. because of my skills in researching. I substituted as a teaching assistant for my finance professor, and he came to me one day saying that his students were praising my teaching abilities. That was the first time I said, 'maybe I should do this,' and I believe that thanks to him, Bill Williams, that I became a teacher."
"I want to be remembered as a teacher, but it would be a real honor to be remembered as someone who always wanted to give back, no matter the circumstance. I hope all of that can inspire others."

—Bala Maniam
Maniam taught at one other university before making his way to SHSU in 1997, where he has since solidified his place as one of the most distinguished professors in the entire institution.
To speak to this, Maniam received the Faculty Excellence Award in Service earlier this year to honor the years of aid he has given to the University, academic communities, external evaluations for students across the world and a multitude of professional organizations.
"Teaching, research and service are all interconnected in some ways," Maniam said. "Research is something you share with students and as you are doing more and more in that you get exposure. With that exposure, other people want you to serve in the academies and professional organizations. Thanks to SHSU, I've had this professional growth while giving back to the field that gave me my drive."
Maniam not only wishes to continue his contributions across all platforms, but hopes that students and faculty will follow his lead in service.
"Service should be something that you want to do, not something that you are told to," Maniam said. "I always want to be a contributing member in whichever way is possible. From a micro-perspective, I want to be a role model to other faculty and students. With them seeing the impact service can make, it will ensure the progression of the academy and profession."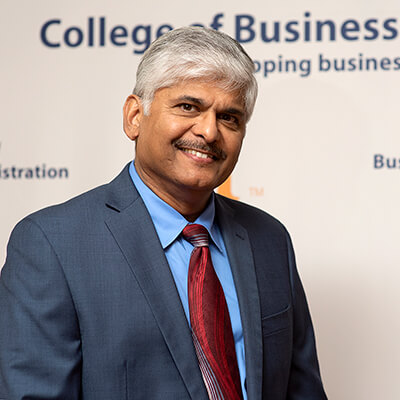 Serving in as many organizations and ways that Maniam does can be a great time commitment, and he thanks his loved ones for their support in his endeavors.
"I give a lot of credit to my wife, who understands my passion and time dedication to service that sometimes even takes up my weekends," Maniam said. "Teaching both in-person and online is a 24-hour commitment. I've been in the shoes of students before, so I know how important it is to make myself available to them whenever I can. The same goes for the academy."
Students have made a lasting impact on Maniam's career and he wants to make an impression that they take with them for the rest of their lives.
"Teaching is everything," Maniam said. "When you take away all these titles and awards I have, I would like someone to say 'Bala was a good teacher,' and when my students leave my classroom, I want them to remember the things I taught them and bring them into the real-world. If I added value to their learning, then I think I was successful.
Maniam's example of service is inspirational to his fellow faculty, a nominator stating "Bala fully embraces the holistic approach needed at Sam to make a significant impact on the lives of our students. This in turn assists in the statewide goal of improving our retention rates. He understands the inherent sense of belonging which is essential for student success."
Maniam has no plans of slowing his commitments to service in the near future, hoping to continue to serve and pursue more research.
"My professional goal is simple," Maniam said. "I want to leave a legacy at SHSU as someone who strove to excel in all three areas of this profession. I want my students to remember me for my in-class instruction as well as my service outside the classroom. I want my fellow faculty to remember me for my service and contributions to the profession. I also want them to know that I did not 'retire on the job,' but instead was always seeking new ways to serve them as well as others."
- END -
This page maintained by SHSU's Communications Office:
Director of Content Communications: Emily Binetti
Communications Manager: Mikah Boyd
Telephone: 936.294.1837
Communications Specialist: Campbell Atkins
Telephone: 936.294.2638
Please send comments, corrections, news tips to Today@Sam.edu