Choosing The Common Reader
Sept. 6, 2018
SHSU Media Contact: Hannah Haney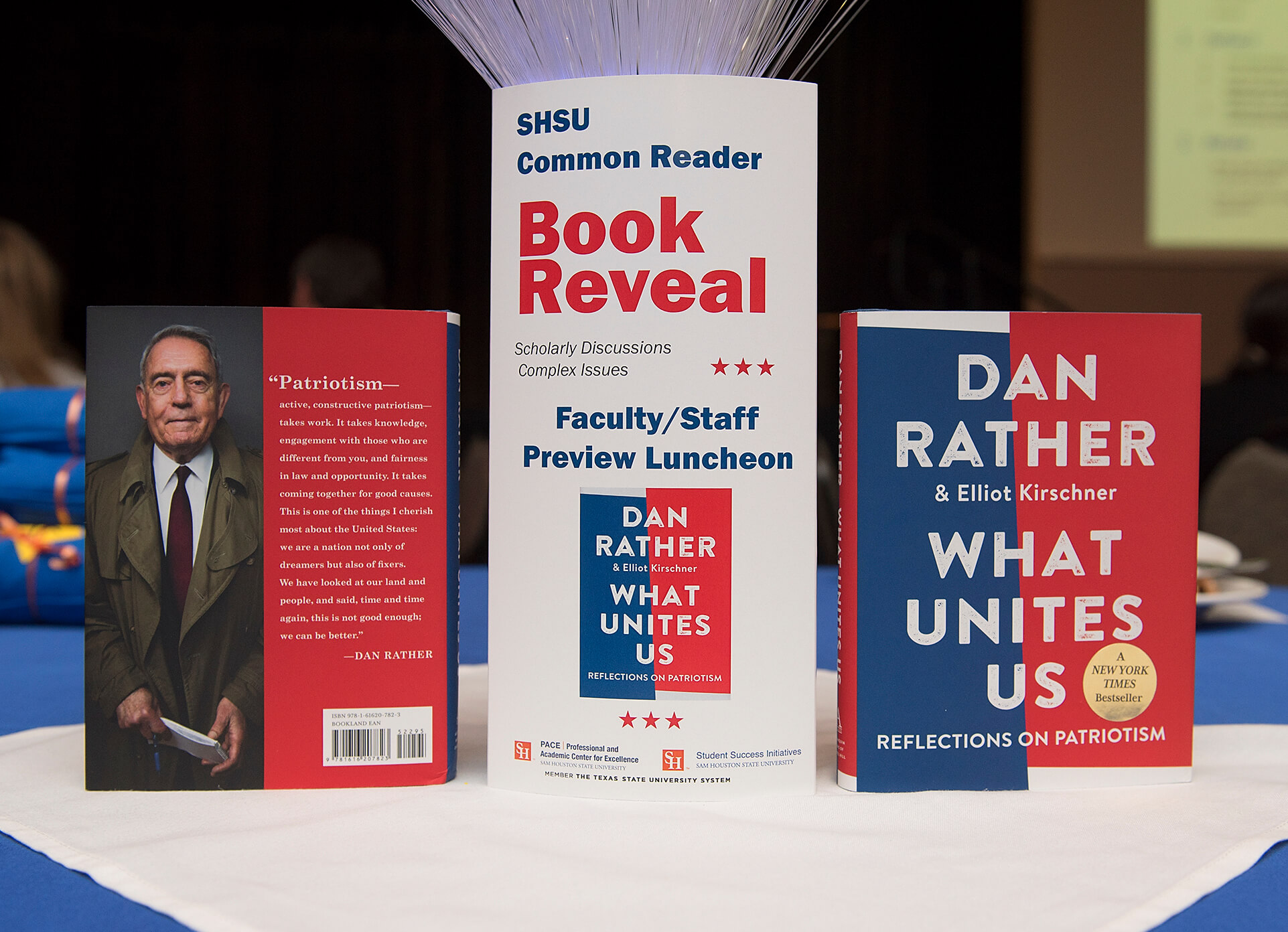 Each year since 2008, the Sam Houston State University community is encouraged to participate in the Common Reader Program, a campus-wide, shared intellectual reading experience that appeals to a variety of academic disciplines and offers opportunities for the entire university to engage in discussions, research and presentations over topics covered in the book.
The process for selecting the 2018-2019 Common Reader, "What Unites Us: Reflections on Patriotism," by journalist and SHSU alumnus, Dan Rather was thorough and intensive. It began with a committee made up of faculty, staff and students who reviewed over 100 nominations from the SHSU community.
The books were then narrowed down based on criteria predetermined by the committee.
33 titles were removed because they were a recent film or television adaption, like "The Handmaiden's Tale," or because they had been a previous Common Reader like, "The Immortal Life of Henrietta Lacks."
32 titles were removed by committee review because they did not match the mission and purpose of the common reader program, like "The Picture of Dorian Gray."
26 titles were ranked by 28 representatives using book summaries, comments from the nominator, and at least two book reviews based on their fit with the mission and purpose of the common reader.
Seven top-rated titles were then read (with at least five readers each) and reviewed/rated by the readers.
Three final contenders were selected, then re-read and reviewed by between nine to 12 committee members each. Readers were asked to score each title based on the following criteria:
Overall "Fit" for the campus

Readability for students
Potential to Engage Students

Literary Quality

Relevance to Student Life
Appeal to a Wide Range of Students
Programming Possibilities
Classroom Use Possibilities

Interdisciplinary in subjects
(Optional) Share your thought about this book
In all there were 33 reviews total, including reviews from nine student readers.
"What Unites Us," was ultimately chosen for the 2018-2019 Common Reading Program with the highest overall reader rating and the highest top category ratings (general appeal to readers, classroom use, relevance, program potential) amongst student, faculty and staff readers.
"The discussions we had as a group over why we thought Dan Rather's book was the best fit, allowed for many voices to be heard," student Charis Vieira said. "For me, I enjoyed that students were being allowed to voice their opinions on the topic because at the end of the day, we were going to be the ones who would be encouraged to read and be challenged with assignments for class. Together I felt like everyone's opinion mattered and I thought it was very well run."
Themes in "What Unites Us" address timely, relevant, and cross-disciplinary topics affecting students.
"I fully believe that the common reader program, as well as everyone behind the scenes making it happen, are committed to helping out new students to Sam and providing the university with a talking point for everyone involved," student Andrew Vierkant said.
For more information on the SHSU Common Reading Program, or to get a free copy of the book, contact Kay Angrove at 936.294.3422 or kangrove@shsu.edu.
Past Common Readers:
2017-2018: The Good Food Revolution by Will Allen
2016-2017: An Astronaut's Guide to Life on Earth by Col. Chris Hadfield
2015-2016: Enrique's Journey by Sonia Nazario
2014-2015: Ready Player One by Ernest Cline
2013-2014: The Power of Habit by Charles Duhigg
2012-2013: The Immortal Life of Henrietta Lacks by Rebecca Skloot
2011-2012: Isaac's Storm by Erik Larson
2010-2011: China's Son by Da Chen
2009-2010: The Fly in the Ointment by Dr. Joe Schwarcz
2008-2009: Affluenza: The All-Consuming Epidemic by John de Graaf
- END -
This page maintained by SHSU's Communications Office:
Director of Content Communications: Emily Binetti
Communications Manager: Mikah Boyd
Telephone: 936.294.1837
Communications Specialist: Campbell Atkins
Telephone: 936.294.2638
Please send comments, corrections, news tips to Today@Sam.edu