College of Criminal Justice Ranked No. 1 for Online Graduate Education
Jan. 11, 2018
SHSU Media Contact: Emily Binetti
Sam Houston State University offers the best online criminal justice program for graduate education in the nation, according to the 2018 rankings released by U.S. News & World Report.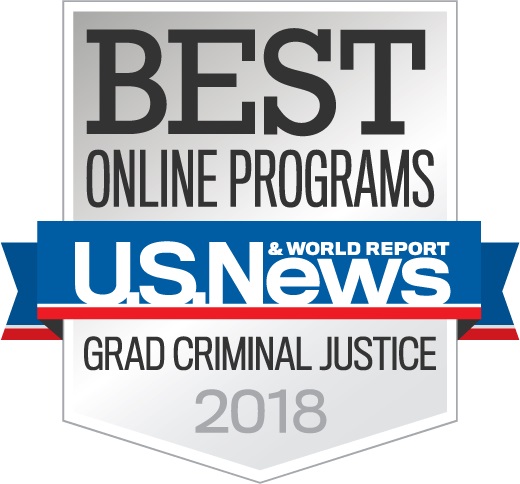 This is the second year in a row that the College of Criminal Justice has earned the No. 1 position among 60 universities across the country offering online graduate programs in criminal justice. The ranking is based on student engagement, faculty credentials, student services and technology, admissions selectivity and peer reputation.
"I am very pleased with our USNWR rankings for our online programs," said Phillip Lyons, Dean of the College of Criminal Justice and Director of the Criminal Justice Center. "Our mission is to improve the practice of criminal justice through research, teaching and service. Our faculty, who were recently ranked No. 1 in research productivity, can reach farther and increase our scope of influence through the online medium. I am thrilled that we are doing it so well."
Sam Houston State University offers four online masters' programs in criminal justice, which specialize in practitioner pursuits in criminal justice, victim studies and security studies. They include:
The College of Criminal Justice has consistently ranked among the top criminal justice programs in the country for value and quality by U.S. News & World Report and other college ranking sites. In 2016, the college was recognized as the most productive in research in criminal justice by the Journal of Criminal Justice Education, a scholarly publication that monitor trends in teaching in the discipline.
On a global scale, the Department of Criminal Justice and Criminology was recently ranked third in the world among criminology and penology programs by the Center for World University Rankings.
"We are continuously striving to be the best in the country in online graduate education," said Danielle Boisvert, graduate program director for the Department of Criminal Justice and Criminology. "For us, that means using the latest technology and best practices in online education coupled with highly qualified faculty to provide an enriched educational experience to students who are going to make a difference in the field of criminal justice."
The U.S. News & World Report ranking took into account many key factors in online education programs, including graduation rates, class size, retention rates, tenured faculty, technical staff and support services. It also measured admissions standards based on experience, acceptance rates and undergraduate grade point average as well the reputation of the program among top college administrators and faculty in criminal justice and criminology.
"We strive to ensure that our academic programs and course content provide students with a strategic-level understanding of legal, institutional and policy-related aspects in areas of criminal justice and homeland security," said Nadav Morag, chair of the Department of Security Studies. "Our goal is to better prepare non-practitioner students for careers within the field and to help existing practitioner students develop their analytical and critical thinking skills so that they can excel and advance within their respective fields."
In addition to its online offerings, the college offers face-to-face graduate programs in Criminal Justice and Criminology and Criminal Justice Leadership and Management. It also features one of the first Ph.D. programs in criminal justice, a Master of Science in Forensic Science and the first multi-disciplinary Ph.D. degree in Forensic Science. The college boasts one of the largest faculty in the country to meet the growing need for criminal justice professionals across the globe.
- END -
This page maintained by SHSU's Communications Office:
Director of Content Communications: Emily Binetti
Communications Manager: Mikah Boyd
Telephone: 936.294.1837
Communications Specialist: Campbell Atkins
Telephone: 936.294.2638
Please send comments, corrections, news tips to Today@Sam.edu