MFA Candidates To Perform Choreographed Concert
March 23, 2018
SHSU Media Contact: Hannah Haney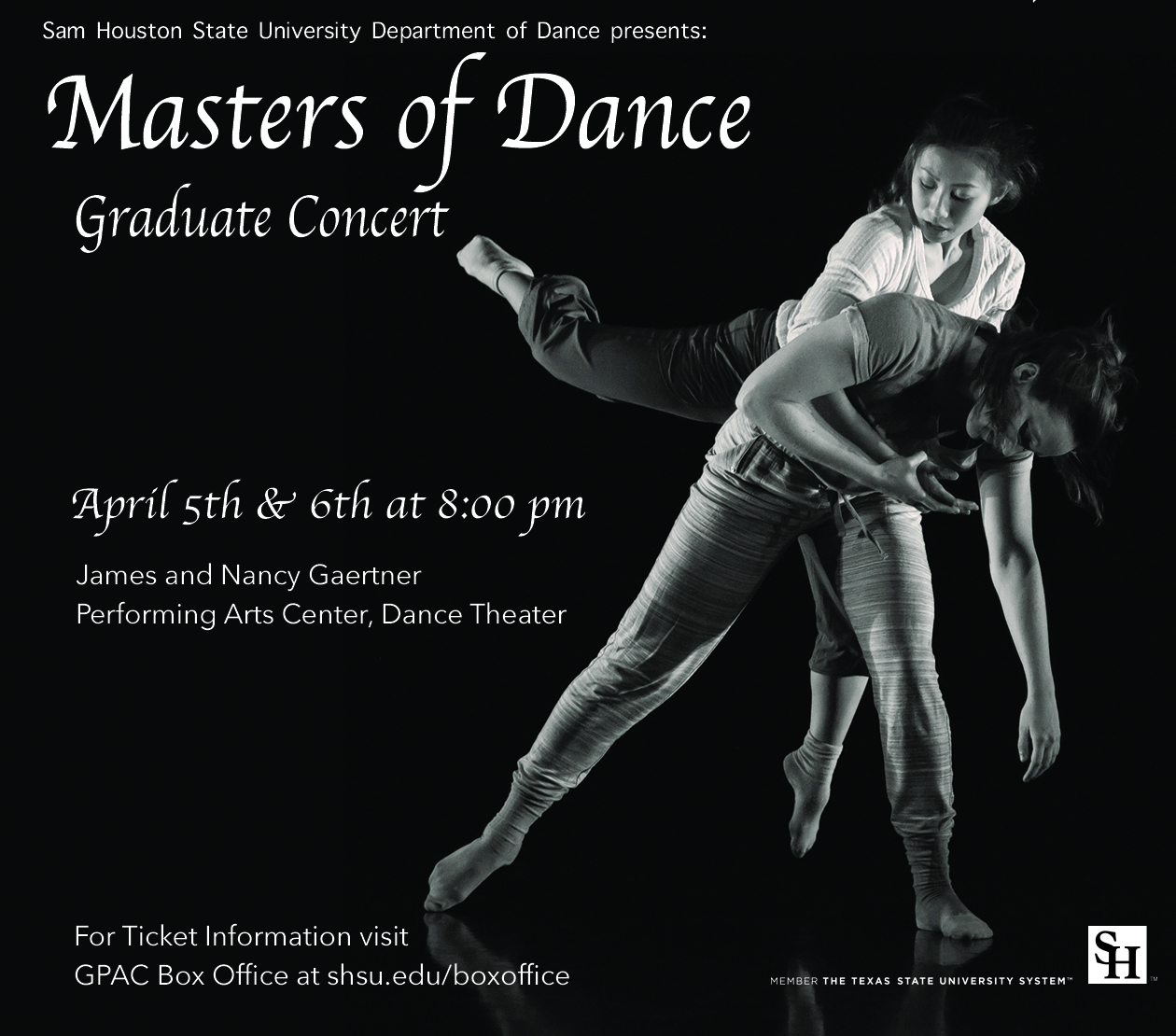 Sam Houston State University's department of Dance will present "Masters of Dance," a graduate choreographic concert, on April 4 and 5 at 8:00 p.m. in the James and Nancy Gaertner Performing Arts Dance Theater.
"Masters of Dance" is a collection of diverse works choreographed by eight Master of fine arts candidates. Their performances will explore a broad range of thematic content that inspired each artist individually.
This semester's show also features lighting design in conjunction with graduate students from Texas State University.
Highlights from this concert will include:
Colette Miller
"Co.De De.Co," a work created in collaboration with undergraduate dance senior, Kaeleb Edwards. The piece is inspired by art deco, a popular design in the 1920's. The design incorporates geometric structures, bold patterns and colors. To capture the essence of the work, the piece will feature hanging structures and projection.
Samantha Scioneaux
"The Silent Space," features two dancers immersed in the experience after death. This process encompasses the release of the soul and the decomposition of the human form. Though intricate partnering and use of lighting, The Silent Space gives audiences an abstract and artistic look into life after death.
Hannah Scott
"No Name's Pass" is inspired by Mammoth Cave National Park's most difficult spelunking tour, nicknamed "the belly tour" due to its inclusion of spaces so tight that a 42-inch width limit is placed on any potential cave divers. The piece explores the sensations of isolation, exhaustion, and claustrophobia as well as any delusions that may arise from such conditions.
Emily Davis
"Self-Knowing" uses elements from Laban Movement Analysis and Bartenieff Fundamentals for movement generation. The piece explores a woman's journey of self-discovery in understanding and becoming aware of her abilities and movement potential; movement pathways evolve from simple to complex, stable to mobile.
Evelyn Toh
"Ballad of the Assassins" is inspired by 'King Arthur,' a movie directed by Guy Ritchie. Ritchie is praised for bringing a fast paced, yet detailed aesthetic to the film. It is through movement and choreographic structure that Toh emulates the intricate, high energy scenes that captured her attention.
Tickets are $15 for general admission and $5 for students and can be purchased by calling the GPAC Box Office at 936.294.2339.
- END -
This page maintained by SHSU's Communications Office:
Director of Content Communications: Emily Binetti
Communications Manager: Mikah Boyd
Telephone: 936.294.1837
Communications Specialist: Campbell Atkins
Telephone: 936.294.2638
Please send comments, corrections, news tips to Today@Sam.edu