Bucking The Trend: Enrollment Continues To Grow
Nov. 26, 2018
SHSU Media Contact: Emily Binetti
Higher education enrollment can be impacted by a number of factors - the economy, demographics, employment, legislation, or even a catastrophic event such as Hurricane Harvey.
Nationally, since 2011, university and college enrollment has dropped close to 9 percent according to the National Student Clearinghouse. While an underlying reason is not clear, the James G. Martin Center for Academic Renewal has pointed to economics as being a primary factor. Economic recovery and record employment may be influencing prospective students' decision to work instead of going to college.
For the fall, Sam Houston State University welcomed 21,224 new and returning students, a slight increase over 2017. Graduate enrollment for new students rose 7 percent. More importantly, SHSU has grown approximately 28 percent over the past decade, running counter to the national decline in enrollment.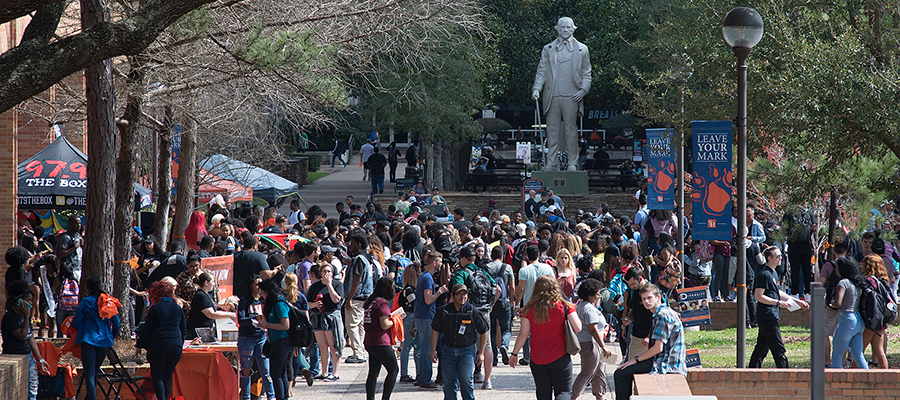 With careful planning and the ability to adapt to environmental shifts, SHSU continues to make student-centric improvements in recruiting and enrollment processes as well as taking a proactive approach to new academic programming that meets changing workforce needs.
Angie Taylor, director of Admissions, noted a number of improvements were made to help prospective students better prepare for college, including establishing a call center to support the unique needs of new students. While enhancing processes can contribute to growth, it really comes down to people. The hard work and dedication of the staff in Enrollment Management, particularly Admissions and Financial Aid and Scholarships, made the difference in the university posting an increase.
Graduate studies also benefitted from improvements, superior staff support and new academic programming, according to Kenneth E. Hendrickson, dean of Graduate Studies.
"SHSU has remained committed to high-quality, faculty-driven graduate programs in both the classroom and online. Our official numbers reflect that strength," Hendrickson said.
Retention plays a critical role in overall headcount. Nationally, almost one-third of all first-year undergraduate students will not return to campus. However, SHSU welcomes back 76 percent of first-time undergraduates due to a number of success-oriented programs and initiatives. As 1 of 44 universities nationwide to participate in the Re-Imagining the First Year project, SHSU is transforming the quality of learning and experiences that can be had in the first year. This project in combination with other targeted initiatives and advising including the "Take 15" initiative, ELITE Program, Student Advising and Mentoring Center, Freshman Learning Communities and the Student Money Management Center are helping to keep our students enrolled.
"At Sam Houston State University, student success is at the center of everything that we do, and it is our mission to make sure that each and every student achieves their degree and, more importantly, is prepared to have a successful career that makes an impact on their community," associate vice provost Chris Maynard said.
In addition, academic programming is crucial to managing changes in the environment, particularly in the area of employment demand. Semester credit hours were up by 7.5 percent in the College of Health Sciences and the College of Science and Engineering Technology experienced a 4.4 percent increase.
According to Rodney Runyan, dean of the College of Health Sciences, the growth was attributable to programs in Healthcare Administration, Health Science, Kinesiology - Clinical Exercise Science, Nursing and Interior Design.
"With healthcare employment accounting for almost one-third of all new jobs in the nation between 2012 and 2022, according to the U.S. Department of Labor, the College of Health Sciences is in a position to deliver highly qualified graduates who will contribute to societal health and wellness," Runyan said.
John Pascarella, dean of the College of Science and Engineering Technology, also recognized the important role academic programming plays in enrollment.
"We have developed a number of new degree programs in response to high or growing demand from industry," Pascarella said. "These programs, such as the BS in Biomedical Science, BS in Software Engineering Technology, and the proposed BS in Mechanical Engineering Technology, provide students with cutting-edge technical skills needed today for entry into careers in healthcare, information technology, and advanced manufacturing."
- END -
This page maintained by SHSU's Communications Office:
Director of Content Communications: Emily Binetti
Communications Manager: Mikah Boyd
Telephone: 936.294.1837
Communications Specialist: Campbell Atkins
Telephone: 936.294.2638
Please send comments, corrections, news tips to Today@Sam.edu