Student Achieves Success With Food Trailer Business
Oct. 16, 2017
SHSU Media Contact: Lane Fortenberry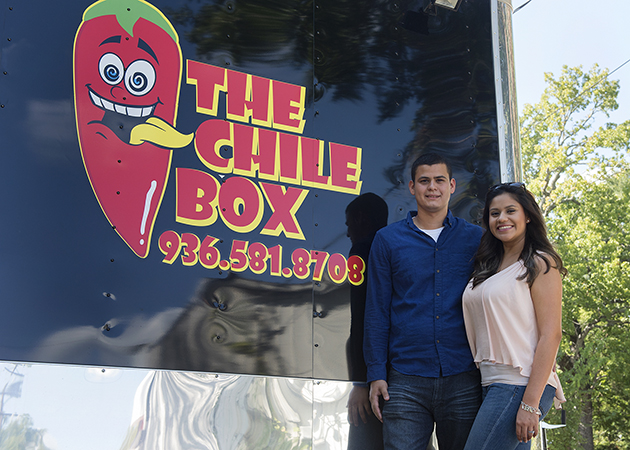 What does the combination of a rapidly growing business and genuine passion for Mexican food add up to? A perfect, ideal opportunity for Christian Flores and fiancée Marissa Alejos.
Flores is a business and entrepreneurship student at Sam Houston State University, while Alejos sees becoming a Bearkat in her future plans.
The couple met each other in high school, then both attended Lone Star Community College where they would begin dating and become engaged. Flores was in manufacturing and actually already owned his own business when he was just 18.
He did subcontractor work, creating parking lot stripes, fire lanes and traffic markings, among other things. It was financially successful, but not having the proper business structure caused it to fall through. The massive manufacturing layoffs led to the couple moving to Huntsville to start a new venture.
"Once I came here to Sam, I had some money saved up, but it was kind of disappearing quickly," he said. "I have a friend on Facebook who attended Sam earlier, and she had posted a video of these authentic Mexican foods that aren't really served here in Huntsville. I kind of jokingly played around with my fiancée and told her, 'Let's do this.'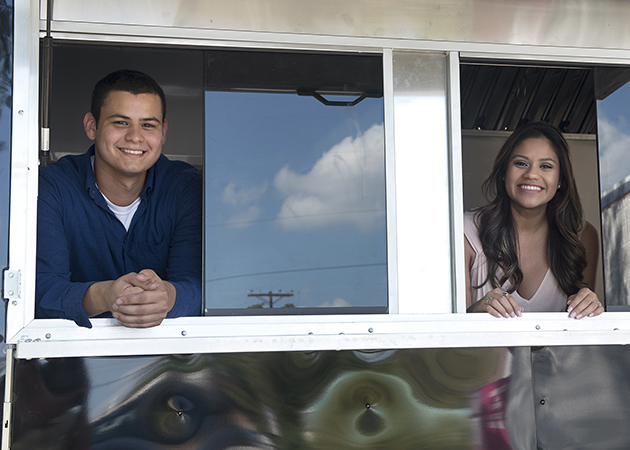 "She agreed," he said. "We just went for it. I had the savings and we had the resources. My fiancée's mother has been in the food industry for a while. She's familiar with a lot of these foods."
The couple grew up in Houston, where there's a taco truck on every corner. Taqueria and fresqueria (hot food and refreshments) hybrids are growing at a fast rate in that area, which is something they want to bring to Huntsville.
Alejos loves to cook, as her whole family does. They also wanted to bring an atmosphere and food items that aren't found in the city limits to the students and community. They sell what Flores calls "street Mexican food," and everything they have is a little different.
They worked out the details and business plan then purchased a food trailer in Austin for a good price. After setting up the business and obtaining all the necessary permits—The Chile Box was born in May 2016.
"Since then, it's been kind of on and off due to school," he said. "I'm a full-time student, so it's been difficult to be consistent with the business. We've had really good points where I see a lot of potential in the business. As of right now, we're growing."
Part of that growth included an upgrade to their space. The couple recently sold their food trailer and purchased a new one that's three to four times the size of the old one.
"I have customers come up to me and share how happy they are we're here before they even try anything," he said. "Some do it because it's food from their hometown. Every time I see that it brings me joy. We've also been told we have the best tacos in the area.
"When we had our old trailer, we would play music and people would dance in the parking lot," he said. "Seeing that brings me joy because I want people to enjoy themselves during their dining experience."
A study done in 2015 showed the food truck industry had seen its seventh year of consistent growth, recording a 12.4 percent increase in industry revenue and overall $1.2 billion annual revenue, according to Mobile-Cuisine.
While startup costs aren't as high as the typical new business, costs still average around $90,300.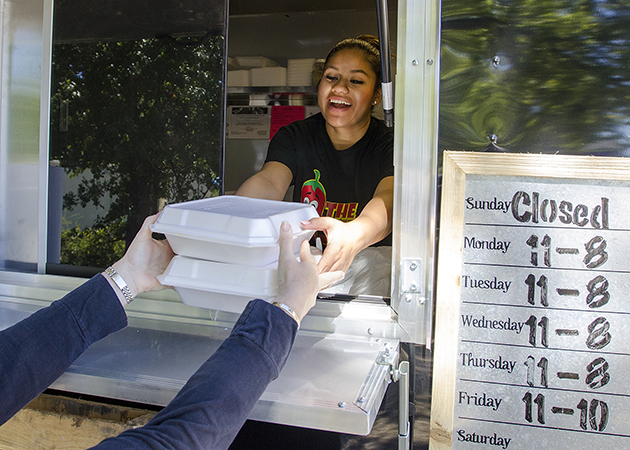 "The trailer is the biggest cost, then you have to put in the grills, refrigerator units and all that," he said. "Then you have to find a location, which is tough in this town because there aren't too many businesses that want to partner up. You have to negotiate rent costs and set up utilities. From there it goes to permits, then just stocking up on inventory and labor.
"Marketing is a big deal, and I didn't think too much about it before I started," he said. "I realized soon after it's about branding and putting yourself out there. That's one of the things I've been working on recently with the marketing professors at Sam. We're trying to get the name to stick, and not just the taco stand."
The couple does most of the cooking, while another SHSU student helps out by taking orders and phone calls.
Flores credits some of their success with The Chile Box to his time at SHSU.
"It's helped me tremendously," he said. "First of all, the professors here have been very supportive. They have really helped guide me in the direction I need to go. I've pitched ideas to fellow students and have got nothing but support, advice and tips.
"The longer I'm in the business, the more I learn," he said. "In class, we talk about different concepts, which really relates to me and makes me think about why I should be doing those things in my own business. Sam's Small Business Development Center has really helped me start the business from the ground. The entrepreneurship professors have been very supportive and try to give me ideas on how to grow the business."
The Chile Box will reopen its doors on Oct. 16. You can find the food trailer parked at 2020 Sam Houston Ave., across the street from Jimmy Johns.
They're open Monday-Thursday 11 a.m. to 8 p.m. and Friday 11 a.m. to 10 p.m. They're closed on the weekends for now, but are going to try and open on Saturdays in the future.
You can find The Chile Box on Facebook.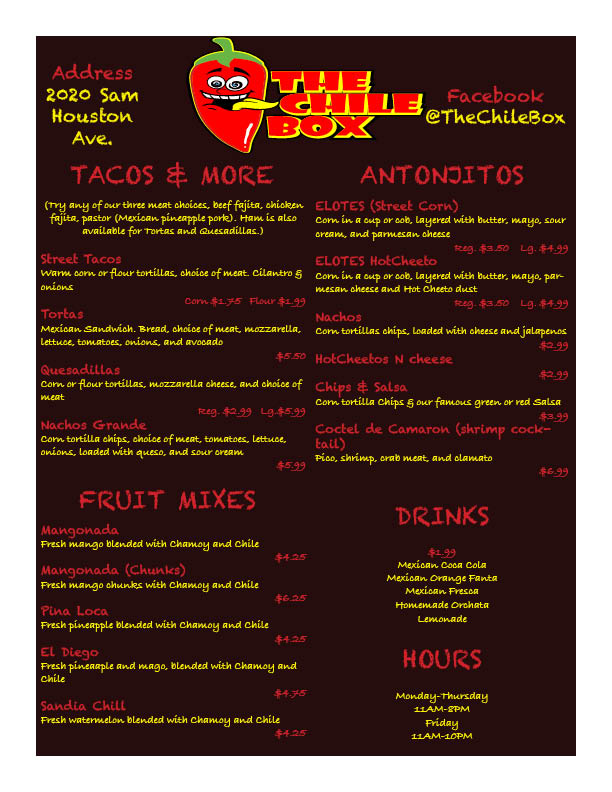 - END -
This page maintained by SHSU's Communications Office:
Associate Director, Communications: Emily Binetti
Telephone:936.294.4406
Communications Manager: Vacant
Telephone: 936.294.1837
Communications Writer: Campbell Atkins
Telephone: 936.294.2638
Thomason Building: Suite 102
Please send comments, corrections, news tips to Today@Sam.edu