Students Score Valuable Sports Experience At Super Bowl LI
Feb. 15, 2017
SHSU Media Contact: Lane Fortenberry

A former student of sport management professor Ryan Zapalac took this picture of Super Bowl LI from NRG Stadium in Houston on Feb. 5. The New England Patriots beat the Atlanta Falcons 34-28 in the first overtime in Super Bowl history. —Submitted Photos
Super Bowl LI was memorable for several reasons.
The Atlanta Falcons aided the New England Patriots by giving up a historic 25-point lead that sent the game into the first Super Bowl overtime, giving quarterback Tom Brady his fifth ring, most for any quarterback in NFL history.
A few Sam Houston State University students also left with memorable experiences.
Sport management graduate students Amanda Barnes, Ragan Henderson, Sean Mathews, and others managed volunteers and coordinated events during the week and on the day of the Super Bowl in Houston.
The three were assigned as area managers and were responsible for running events smoothly.
"We were all assigned to certain sections within the NFL Experience," Barnes said. "I was in the Wilson Passing Challenge, which had four throwing stations. The lines were super long. Participants would throw a football twice to see how fast the ball would travel and their spiral accuracy."
Mathews was an area manager at the George R. Brown Convention Center, where he ensured enjoyable experiences for participants during events at the NFL Experience.
Henderson led a field, which featured NFL players and retired coaches assigning kids skill and drill challenges. He also visited NRG Stadium, where Super Bowl LI was played.
"At the end of the event, everyone played in a flag football game," he said. "The cool thing was Patriots tight end Rob Gronkowski played in one of the games. It was neat to see this giant guy play with kids. He sat down and read to them. He engaged in lots of different conversations about whatever the kids asked for.
"I also went to NRG Center where there was a tailgate party for the presidents and owners of teams," he said. "I coordinated the activities that happened there, as well."
The SHSU students were paid $10 an hour for their positions, which was set up by Brent Estes, associate professor in the Department of Kinesiology at SHSU.
"Our professor has good connections in Houston and received an email saying they were looking for area managers to help out in the area," Barnes said. "We got the opportunity to interview and were all accepted.
"It was a good experience for us and it's something great to put on our resumes," she said. "It was awesome being around everyone and the community."
Henderson was surprised by fast-paced life of being a sports area manager.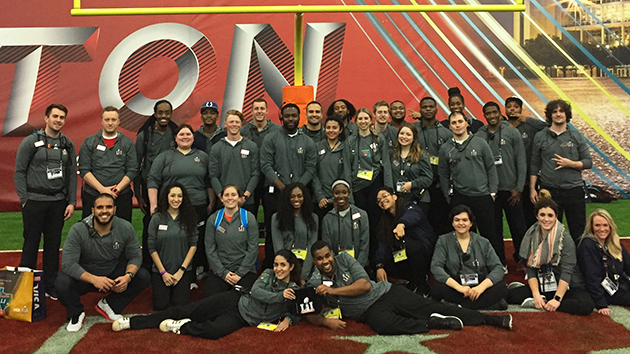 SHSU students and other volunteers pose for a photo on the field during the Super Bowl week events.
"Everything was constantly moving," he said. "You have to make sure all the parts are moving smoothly or the whole thing will crash and burn underneath you. I learned to deal with adversity because we had technology malfunctions and had to figure out ways to modify activities to make the people happy."
The experience they shared is not something that can be simulated in the sports management classroom, according to Mathews.
"Managing a large number of people and overseeing an area that, in some cases, had upwards of 60,000 people in it at any given time is an experience you can't really fathom until you are in that situation," he said.
After the week was over, Barnes realized being in the sports world is not always going to be easy.
"There were many times when we were short on volunteers or had to be really quick to solve problems," she said. "We couldn't just call somebody and have them do it for us. I definitely learned you have to adjust to the environment that you get and treat the people who work for you the best you can because they're the ones helping the most."
Mathews said the entire experience was amazing.
"I was fortunate enough to meet a number of great people with many unique backgrounds," he said. "I was able to build strong relationships with many of them in such a short period of time. The people that stuck out the most were Mark Wahlberg and Emmitt Smith."
Henderson was able to meet one of his favorite NFL players during the events.
"The player that I 'oh my goshed' about was Drew Brees because I'm a big New Orleans Saints fan," he said. "He came to my station and threw the kids some passes. I got to walk with him while he was being escorted to his private room and we talked for a little while about football.
"The most interesting person I met was the owner of the New England Patriots, Robert Craft," he said. "He sat and talked to me for a while about the ins and outs of how the organization runs."
Barnes met NFL commissioner Roger Goodell.
"He came with his family to my station and threw passes," she said. "He was the coolest person to meet because he's the top boss. There were kids and parents in line when my boss said to let Goodell ahead of everyone, but he insisted on waiting in the back of the line while the kids went.
"He took the time to kneel down to talk with them and take pictures," she said. "It was cool to see someone with such a high pay grade take the time to spend just a few minutes with the kids. It was nice of him to not use his VIP-status."
The three hope the experiences they had during Super Bowl Week will help them in their future sports careers.
"I'm looking into high school coaching and to someday do some athletic director work," Henderson said. "I just like the environment of sports. I've been around football all my life and don't know anything else other than sports. I figured being an athletic director at a high school would be the perfect situation for me."
"My goal is to work in professional sports or collegiate athletics," Mathews said. "I don't have a specific location that I am focusing on; however, I plan on focusing my career in sponsorships and partnerships."
"I'd like to get a marketing or finance position with a professional sports team," Barnes said. "I'm not specific on the sport, but I played basketball at Sam, so my heart has always been with basketball."
- END -
This page maintained by SHSU's Communications Office:
Director of Content Communications: Emily Binetti
Communications Manager: Mikah Boyd
Telephone: 936.294.1837
Communications Specialist: Campbell Atkins
Telephone: 936.294.2638
Please send comments, corrections, news tips to Today@Sam.edu