SHSU Study Earns Top Award From Policing Journal
June 29, 2017
SHSU Media Contact: Beth Kuhles
A study conducted by Sam Houston State University researchers on eyewitness identification procedures used by the Robbery Division at the Houston Police Department received the 2017 Award of Excellence from Emerald Publishing.
The study was published by "Policing: An International Journal of Police Strategies" and won the Award of Excellence from the journal. A collaborative study between researchers from Sam Houston State and the Houston Police Department that examined gun violence also received this award in 2013.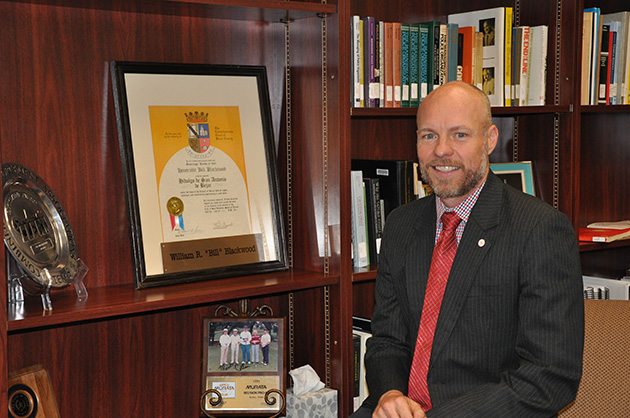 The research at Sam Houston State University by William Wells, Bradley Campbell, Yudu Li and Stryker Swindle examined 975 witnesses who participated in eyewitness identification procedures, including photo spreads, live lineups and video lineups.
"Research is leading to changes in eyewitness identification methods that police use," said Wells, chair of the Department of Criminal Justice and Criminology at SHSU. "Our study contributes new knowledge because we use a large set of data collected from real-world robbery investigations in Houston."
During the study, half of the witnesses who participated in an eyewitness identification procedure did not select anyone from the lineup. When a witness made a selection, they picked the suspect in 78 percent of the cases. Of those who made a selection, 62 percent indicated they were positive in identifying the suspect and, in fact, 94 percent did choose the suspect.
"The results show that robbery witnesses face a challenging task," Wells said. "It is common for identification procedures to be used when witnesses view a robbery that involves a weapon, when the robbery involves a perpetrator of a different race or ethnicity than the witness, when there is a seemingly large age difference between the witness and perpetrator, and when many days have passed between the robbery and identification procedure."
When witnesses were exposed to a gun or offenders of a different race or ethnicity, they made fewer identifications and more rejections than in robberies that did not involve a weapon or had a suspect of the same race as the witness.
The distance between offender and witness as well as the time of exposure also had a significant effect on eyewitness identification. In the Houston study, witnesses with a better view were more likely to select the suspect. Also, witnesses who made immediate selections were more likely to identify a suspect, rather than a filler on the panel.
Although many eyewitness identification studies are done in the laboratory, this study was based on real-life work in the field.
"This study provides an example of how criminal case data can be used to describe eyewitness procedures in actual cases and provide basic, yet important information," Wells said.
"The Characteristics and Results of Eyewitness Identification Procedures Conducted During Robbery Investigations in Houston, TX" can be found in "Policing: An International Journal of Police Strategies & Management."
- END -
This page maintained by SHSU's Communications Office:
Director of Content Communications: Emily Binetti
Communications Manager: Mikah Boyd
Telephone: 936.294.1837
Communications Specialist: Campbell Atkins
Telephone: 936.294.2638
Please send comments, corrections, news tips to Today@Sam.edu