Sproat Named President Of Texas Association Of Museums
April 13, 2017
SHSU Media Contact: Megan Buro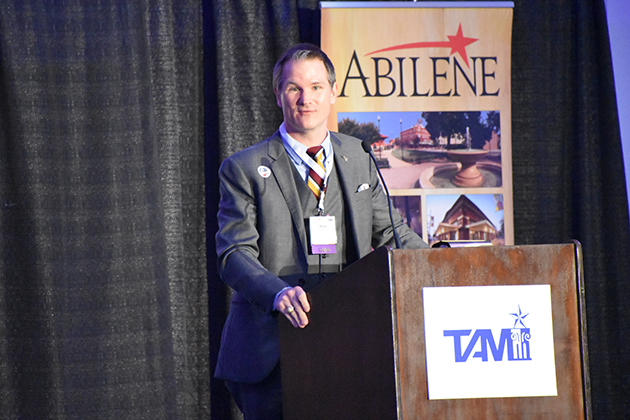 Mike Sproat, new president of the Texas Association of Museums, speaks at the statewide conference in Abilene April 4-7.
Mike Sproat, curator of collections at the Sam Houston Memorial Museum, was recently named president of the Texas Association of Museums.
An active member, Sproat has served on the communications and membership committees and as chair of the programs committee. After his two-year term as president of TAM, he will serve two years on the TAM executive committee.
"It feels wonderful to know that I have the respect of the membership, which includes individuals, cultural and arts organizations, and museums and institutions all across the state," Sproat said. "I also feel a great weight of obligation knowing the magnitude of responsibility for the organization's programming content, financial governance and sheer size of the museum network in Texas."
Sproat will have the opportunity to oversee more educational programs across the state during his commitment as president.
"I'll be presiding over an annual business meeting, quarterly meetings with the elected council members and an amazing statewide conference (recently in Abilene April 4-7, and in Houston in 2018)," he said.
"Beyond that, I'll be heading up the governance-side of the association, which conducts workshops, forums, town hall meetings and other networking events across the state that encourage best practices and standards for all disciplines within the museum profession," he said.
Sproat will be traveling more often to see the many museums across Texas, which he says will be the most fun.
"This means a great deal to me," he said. "Texas is big and has so many different and wonderful museums that are no-two-the-same. Some are big, with huge endowments and hundreds of staff. Some are small, with maybe one or two staff (if they are even paid), and barely able to keep the doors open.
"It doesn't really matter if you work at an art museum, history museum, science museum, big museum, small museum, or are located along the border, in a big city or out in the panhandle," he said. "Every museum has a story to tell. The educational and networking opportunities that the organization offers are the best in the country, and TAM is one of the best ways to strengthen the ability for the museums in Texas to tell their story well."
With over 700 members, TAM is one of the largest, most respected, state museum associations in the United States. Its members conduct workshops throughout the year around the state that focus on relevant and important topics. TAM provides many resources, including education and employment opportunities.
For more information, visit http://texasmuseums.org/.
- END -
This page maintained by SHSU's Communications Office:
Director of Content Communications: Emily Binetti
Communications Manager: Mikah Boyd
Telephone: 936.294.1837
Communications Specialist: Campbell Atkins
Telephone: 936.294.2638
Please send comments, corrections, news tips to Today@Sam.edu