Unique Collaboration Results In Modern Day Business Fable
June 20, 2017
SHSU Media Contact: Tyler Pointer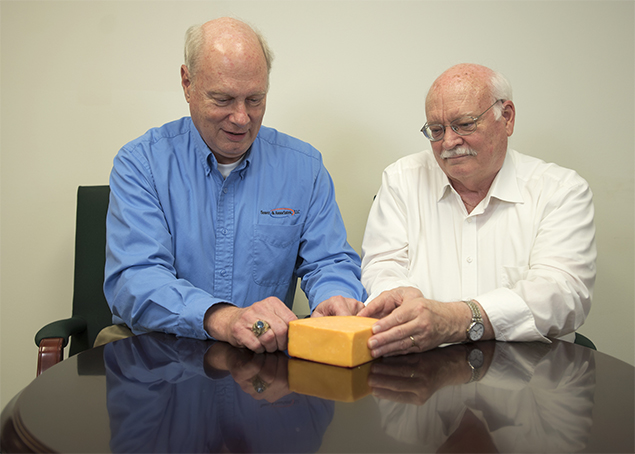 Distinguished Professor Emeritus of Operations Management Victor Sower (left) and Distinguished Professor Emeritus of Philosophy Frank Fair have written a book with a catchy title about seeking wisdom and understanding to survive and thrive in the business world. -- Photo by Brian Blalock
More than 2,000 years ago, Plato, the founder of the first institution of higher learning in the Western world, said, "Knowledge is the rediscovering of our own insight."
Those words might very well apply today to a common philosophy, which was a catalyst for the beginning of a friendship and a unique combination between two Sam Houston State University professors.
Distinguished Professor Emeritus of Philosophy Frank Fair and Distinguished Professor Emeritus of Operations Management Victor Sower—both of whom are also Minnie Stevens Piper Professors—met through serving on the Honors Council for the Elliott T. Bowers Honors College at SHSU and connected through an appreciation of Plato.
Fair with a background in philosophy and Sower with a background in management and chemistry seemed an unlikely pairing when it came to disciplines. However, they both had an interest in answering the questions on how insight relates to quality.
"We wrote a paper and our editors loved it," Sower said. "They used it as the lead article in the Quality Management Journal. Frank and I met for another two or three cups of coffee and decided to write a book called 'Insightful Quality'."
After writing their first book, Fair and Sower both felt the need to continue to answer these questions relating to insight and wanted to address change in the workplace and how a middle level employee can get their ideas across.
"I had read a fable called 'Who Moved My Cheese?' by Spencer Johnson, which is a classic for training programs and businesses," Sower said. "I loaned my copy to Frank and we both agreed that it didn't go far enough."
Sower and Fair wanted to answer the lingering questions from "Who Moved My Cheese?" in the same way that the book was written. The problem was that neither knew anything about writing a fable.
"We called in some help," Fair said. "We told Scott Kaukonen from the (SHSU) English and creative writing department that we had a few ideas, but were really clueless about how to get started and make the story work."
"I was trying to take the management approach of doing an outline, storyboard and everything that's going to happen and he said 'create the characters, create the basic story and then let the characters take it where they want to'," Sower said. "We struggled with it. It took us a year to write our first book, which was three times the size of this one that took us four years."
After approaching the story in many different ways, Sower and Fair still were not satisfied.
"We finally took the advice we had been given and started letting our characters react in their own way," Sower said. "We put ourselves in the position of each character and determined how they would solve the problems before them. After that, the characters started to write their own story. I'd like to say I have a greater appreciation for writers of fiction than I had before."
Since they were co-writing the fable, Sower and Fair would often debate and answer the questions to the main story over meals.
"We said 'OK, it's a maze. Does it have a top on it? Or is it open to the sky?' Every little thing makes a difference," Fair said. "It's like, 'how do you decide these things when you haven't even written the story?'"
As with most fables, unexpected events and cliffhangers are essential to the story Sower and Fair began to tell, all while including lessons in proactively dealing with change.
"It was an entirely different discussion relative to any other book either of us has written," Sower said.
Sower and Fair entitled their story "We Move Our Own Cheese! A Business Fable About Championing Change," which was finally published this year. A prologue and epilogue were added to help the reader understand more of the underlying lessons within the story.
"Rather than just springing a fable on readers, we wanted to give people a forewarning, which is why there is an extended prologue," Fair said.
Sower believes that the epilogue is very important for the reader to answer their own questions about the lessons and their lingering thoughts from the story.
"The epilogue tries to put the lessons of the fable into perspective," Sower said. "There are certain things the reader will be able to recognize and immediately apply to their job."
The pair also brings in cultural references from history, literature and mythology while basing story scenarios on their own personal experiences.
"My concept of philosophy is seeking knowledge," Sower said. "Digging deep and not just accepting things at face value. Hundreds of years ago we didn't have chemists or engineers; we had philosophers. It's the mother discipline of all of the rest. There are many things that I didn't understand in my own discipline that Frank could see in a different light. The beauty of our partnership is that we don't look at things in the same way—we look at them completely different."
Fair believes philosophy is an essential part of problem solving within the workplace.
"If you want to understand why things work and why they don't, you are going to be philosophically inclined," Fair said. "Our characters in 'We Move Our Own Cheese!' are seeking wisdom and understanding to see how their community will survive and thrive."
According to the two, those who can benefit most from reading the fable are those who are not at the top or bottom of the "food chain," but those in the middle who want to be able to understand situations better and observe and create different solutions to the problems that arise in working in teams. And top managers seeking to make their organizations more open to new ideas and more able to translate those ideas into innovations would also benefit from reading the book.
Fair thinks that the book is unique compared to existing books containing similar ideas and is hopeful that major organizations and businesses will include "We Move Our Own Cheese!" in their training programs in the future.
"The book is in its second printing at the American Society for Quality," Sower said. "We would like to see reviewers read our book and write about its content. We hope more people know it exists and find value in it, if it's there. We had a really good time writing this book and working together."
"We Move Our Own Cheese!" can be purchased online from amazon.com, asq.org or Sower & Associates, LLC at saascs.com.
- END -
This page maintained by SHSU's Communications Office:
Director of Content Communications: Emily Binetti
Communications Manager: Mikah Boyd
Telephone: 936.294.1837
Communications Specialist: Campbell Atkins
Telephone: 936.294.2638
Please send comments, corrections, news tips to Today@Sam.edu