'Silent Sky' Shines Light On Female Astronomer
Oct. 6, 2017
SHSU Media Contact: Lane Fortenberry
Story by Teddi Cliett
Henrietta Leavitt discovered how to measure the universe. Although her turn of the century findings were the foundations for scientific breakthroughs, Leavitt's name is hardly mentioned in modern-day science classes.
Now, the Sam Houston State University Department of Theatre and Musical Theatre is celebrating Leavitt's life on stage in their upcoming production of "Silent Sky," scheduled to run Oct. 11-14 in the James and Nancy Gaertner Performing Arts Center's Dance Theatre. Admission is free.
The play, written by Lauren Gunderson, based on the book "Miss Leavitt's Stars" by George Johnson, explores the untold true story of just one of the women who worked as a "computer" at Harvard in the 1900s.
Leavitt and her female colleagues measured the brightness of stars under the supervision of astronomer Edward Pickering, a man who calculated time in "girl hours" and had no tolerance for female input. Despite never being allowed to touch a telescope, Leavitt and her colleagues made calculations that would forever alter astronomy.
"Henrietta's story is important because it's about the disenfranchisement of women at the turn of the century who were passionate about science," said Tom Prior, SHSU acting professor and director of the play.
Leavitt's discoveries were later used by renowned scientists such as Edwin Hubble, for whom the Hubble Space Telescope was named. Hubble utilized Leavitt's information to calculate the distance to the Andromeda Galaxy, a revolutionary advancement in the astronomy field.
Although somewhat surprising to modern day readers, Leavitt's story is not an isolated one. While "Silent Sky" specifically focuses on Leavitt, the play captures the struggle for equality that female scientists faced throughout history and continue to face today.
"I think it's a story of women," said senior theatre major Analia McEnelly, who plays Leavitt. "It's not necessarily a straight out feminist piece, but it shows a lot of injustices that women face even today and how we move past it and how we can continue to strive forward without beating you over the head with it."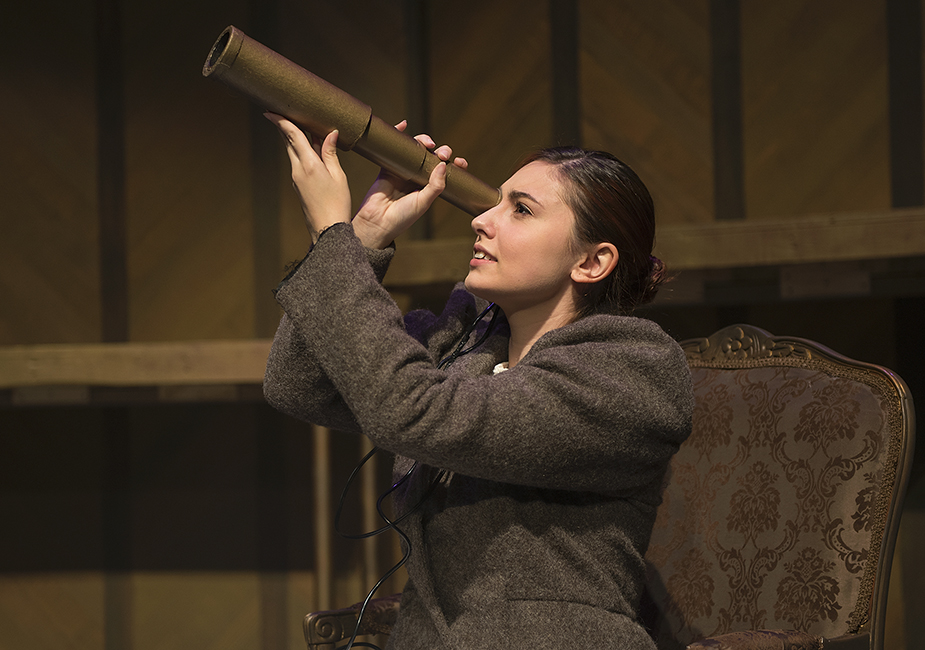 As audience members learn about Leavitt's work, they will also be exposed to her personal life outside of Harvard, family responsibilities and the possibility of love.
This intimate story is told by an equally intimate cast of just five student-actors, each of whom have committed to extensive research for the play while simultaneously working around the struggles that Hurricane Harvey brought to Huntsville.
Damages to the University Theatre Center and university-wide closures at the beginning of the semester left the cast without a rehearsal space, and eventually wondering when they would be able to perform their work, if at all.
However, in an act of comradery and generous public service, the Huntsville Public Library waived their conference room fee, allowing the cast to have a makeshift rehearsal space down the street from campus until they could get back in the GPAC.
Although the rehearsal location wavered, the students' bold, creative decisions on stage remained steady.
"I have a cast of students who gel as an ensemble, which is really important in the theatre," Prior said. "They get up on stage and they make these strong, creative choices and it's just been a joy to witness that. I'm a man director and this is a feminist play, but I think I've latched on to something with them that is really going to carry over into the audience."
Both McEnelly and Prior said they were brought to tears the first time they read the script, and hope to translate that raw emotion to audience members of all ages.
"Whenever I read the script for the first time before auditions I cried because it just spoke so loud to me," McEnelly said. "I think it will touch a lot of people when they come see it. The script is so well written, the characters are so well developed and it's just been amazing to be a part of history."
"Silent Sky" will run from Oct. 11-14 at 8 p.m. each day, with a 2 p.m. matinee on Saturday, in the James and Nancy Gaertner Performing Arts Center Dance Theatre.
Ticket fees for "Silent Sky" are waived as the College of Fine Arts and Mass Communication encourages patrons to donate what would be a ticket price or more to hurricane relief efforts.
For more information about "Silent Sky," contact the SHSU Box Office at 936.294.2339.
Photos by Michael Ray
- END -
This page maintained by SHSU's Communications Office:
Director of Content Communications: Emily Binetti
Communications Manager: Mikah Boyd
Telephone: 936.294.1837
Communications Specialist: Campbell Atkins
Telephone: 936.294.2638
Please send comments, corrections, news tips to Today@Sam.edu