Husband, Wife Duo To 'Reflect' In Concert
Feb. 10, 2017
SHSU Media Contact: Tricia Sims
Sam Houston State will host husband and wife duo Brian and Alaina Graiser for the faculty recital "REFLECT harp+percussion" on Saturday (Feb. 18) at 7:30 p.m. in the Gaertner Performing Arts Center Recital Hall.
Brian, a percussion instructor at SHSU, and harp player Alaina join together to make the duo REFLECT harp+percussion. The group's musical identity revolves around their mutual passion for the French impressionist music of the Belle Époque and Fin de Siècle periods, in the early 1900s.
"We 'reflect' this passion in two ways: by looking back and preserving the music of those periods through innovative and faithful transcription for our instruments and by harnessing the surge of creativity and experimentalism of that time in the promotion of new works for harp and percussion today," Brian said.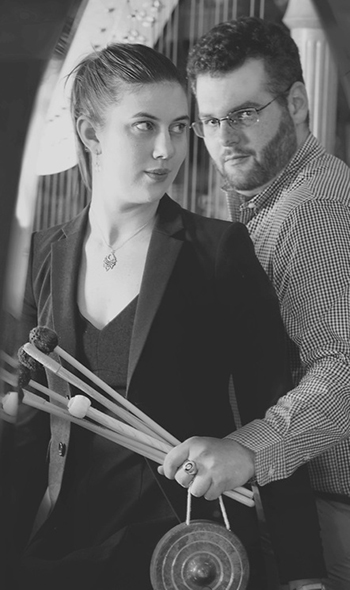 SHSU percussion instructor Brian Graiser and his wife Alaina, who teaches at the University of Cincinnati, Graiser comprise the duo REFLECT harp+percussion. —Photo from briangraiser.com
In addition to performing older, more classical works, REFLECT harp+percussion also showcase modern pieces of music.
"We generally try to split our concerts 50/50 between French Impressionist transcriptions and contemporary pieces," Brian said.
The first piece that will be performed is "Reflets dans l'eau" ("Reflections in the Water") by Claude Debussy, which was composed in 1905. The piece was originally written for solo piano, but REFLECT harp+percussion transcribed it for harp and extended-range vibraphone.
Another piece that the duo will perform, "We Measure in Victims," was composed by Brian himself in 2016, in remembrance of those killed or wounded in the November 2015 Paris terror attacks.
"In the moments immediately following the Paris terror attacks, #PourteOuverte ("Open Door") started trending on French social media; at a time when it would have been easy for people to lock their homes and hide, instead there was an uprising of people who wanted everyone outside to know that they were opening their doors to provide shelter during those terrible hours," he said. "I feel this is a particularly important thing for us to remember, especially given the recent actions our own government has taken regarding offering aid and shelter to foreign victims and refugees."
Other pieces will include "Scintillation" (1936) by Carlos Salzedo, "Entre Funerailles II" (1999) by Mark Applebaum, "Fantaisie pour violon et harpe" (1907) by Camille Saint-Saëns, and more.
"Part of our mission as a duo is to advocate for our respective instruments by contributing one solo work each to every program," Brian said. "So in addition to the Impressionist and contemporary duo works, there will also be a harp solo and a vibraphone solo."
The duo has an unusual situation this academic year, both personally and professionally since Alaina currently serves as adjunct harp instructor at the University of Cincinnati.
"As you can imagine, living 1,000 miles apart has been a challenge both personally and in terms of our duo, but between our touring experiences last year, being together during the winter break, and our daily phone communication, we're confident that the concert here will go well," Brian said.
Brian received his Bachelor of Music degree in music performance and music composition at the University of Georgia, and Alaina received her Bachelor of Music degree in music performance at the University of Texas in Austin.
They met while perusing their master's degrees at the University of Toronto and then both received their Doctor of Musical Arts degrees at the University of Cincinnati.
The two married in 2011 and began touring as a duo spring of 2016.
Admission to the recital is free.
"Those who attend this concert are guaranteed to see and hear something special," Brian said. "The combined passion behind this concert, from the composers who originally wrote the works to the countless hours REFLECT harp+percussion has spent perfecting every note, every swell, every gesture, I promise that it will be a memorable experience."
For more information, contact the School of Music at 936.294.1360.
- END -
This page maintained by SHSU's Communications Office:
Director of Content Communications: Emily Binetti
Communications Manager: Mikah Boyd
Telephone: 936.294.1837
Communications Specialist: Campbell Atkins
Telephone: 936.294.2638
Please send comments, corrections, news tips to Today@Sam.edu