College Of Education Brings Starfish Legend To Life With Relief Initiative
Nov. 7, 2017
SHSU Media Contact: Tyler Pointer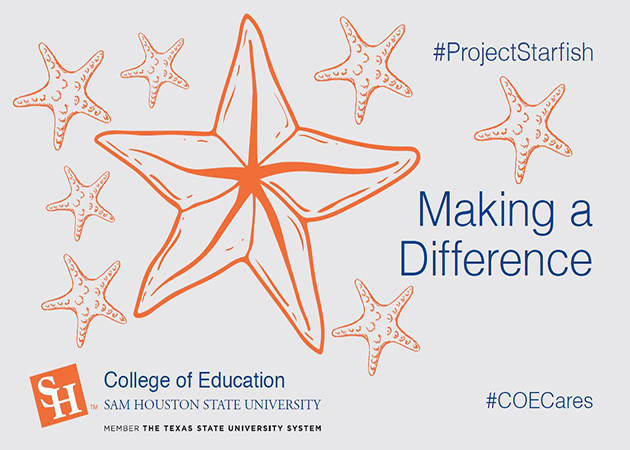 There is an old tale often called "The Legend of the Starfish" which tells the story of a child tossing beached starfish back into the ocean. In the story, a man approaches the child and asks why they're doing it when there are too many starfish in need of saving? What difference could they possibly make?
The boy replies to him by saying, "It makes a difference to that one," after tossing another starfish into the ocean.
The College of Education at Sam Houston State University is bringing this story to life with "Project Starfish," an effort and fund to provide monetary and emotional support to its many students who were impacted by Hurricane Harvey.
An immediate response was issued from Dean Stacey Edmonson to students in the COE within the days following the storm, letting students know the college was aware there were students who were affected by the storm and that they were concerned for their well-being. The response was a video message accompanied by a survey.
The survey was titled "COE Cares" and asked students how they were impacted and what kind of assistance they needed, if any, according to Associate Dean for Planning and Assessment Jannah Nerren.
"We formed a committee of faculty and staff from the COE after the survey was sent out. The College Harvey Response Team (CHaRT) reviewed all the responses to the survey and developed a plan to meet students' needs," Nerren said. "Different people with different ideas came together and that is how Project Starfish was born. Our committee works deliberately to disperse the money as soon as we get it. Most of the gift cards have been delivered through the mail, but some of them, as well as cash donations, have been personally delivered so that we assure that our students receive the funds as quickly as possible."
Project Starfish has raised over $8,000 since its creation, which only includes cash donations and gift cards. A box made for donations follows the college to events and offers a free Project Starfish t-shirt for donations more than $20.
"We've seen so much support from outside of our college to help with this effort," Nerren said. "We worked with IT@Sam to lend laptops to our students who lost some of their electronics in the aftermath. The campus bookstore worked with us to assist students in replacing damaged textbooks. The COE Counseling faculty offered free support for students who were in need of emotional support."
With the help of the funds, students who have been affected by the hurricane have been able to start mending some of the damages they face. Things like groceries, beds and even paying rent have been some of the ways students have used the funds.
To donate, or if your campus group would like Project Starfish representatives at an event, contact Nerren at jannahnerren@shsu.edu or visit the COE Welcome Center in the Eleanor and Charles Garrett Teacher Education Center for drop-offs.
- END -
This page maintained by SHSU's Communications Office:
Associate Director, Communications: Emily Binetti
Telephone:936.294.4406
Communications Manager: Mikah Boyd
Telephone: 936.294.1837
Communications Writer: Campbell Atkins
Telephone: 936.294.2638
Thomason Building: Suite 102
Please send comments, corrections, news tips to Today@Sam.edu