Professor of Agricultural Education Finds Serving Others As Calling
May 1, 2017
SHSU Media Contact: Tyler Pointer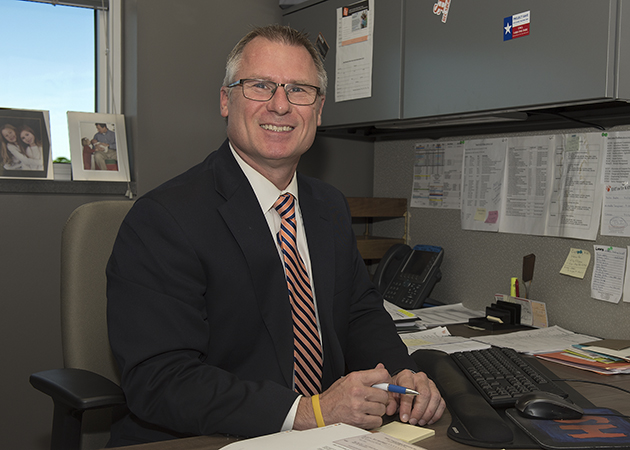 Dwayne Pavelock, professor of agricultural education, received the Faculty Excellence in Service Award in 2016. —Photo by Brian Blalock
Story by Tyler Pointer
One phrase resonates strongly with the Sam Houston State University community and all those who may hear it: "The measure of a Life is its Service."
But whether or not someone lives up to this motto is for him or her to decide.
Dwayne Pavelock, professor of agricultural education at SHSU, decided early in his life that he would go above and beyond in finding his own definition of service.
With a bachelor's and master's degree from SHSU and a doctoral degree from Texas Tech University, Pavelock learned from his college educators of the dedication it takes for a profession that is all about helping others; but the influence of teachers came long before his days in college.
"My mother was a teacher and two of my biggest influences were my ag teachers," Pavelock said. "I grew up in an agricultural environment and was very involved in FFA and ag in high school."
When Pavelock graduated high school, he started off attending another university majoring in engineering, but had an epiphany and asked himself, "What do I really want to do?"
With the influences around him, teaching was a natural fit for Pavelock because of his love for helping others.
"I said to myself 'This is what I want to do. I want to work with kids and make sure they have opportunities to have a good life,'" Pavelock said.
Now in his 16th year teaching at SHSU, Pavelock has gained further insight into the devotion and duty involved in teaching.
"You're always going to be a teacher of life first and teacher of agriculture second," Pavelock said. "We all seek our calling in life. I realized when I was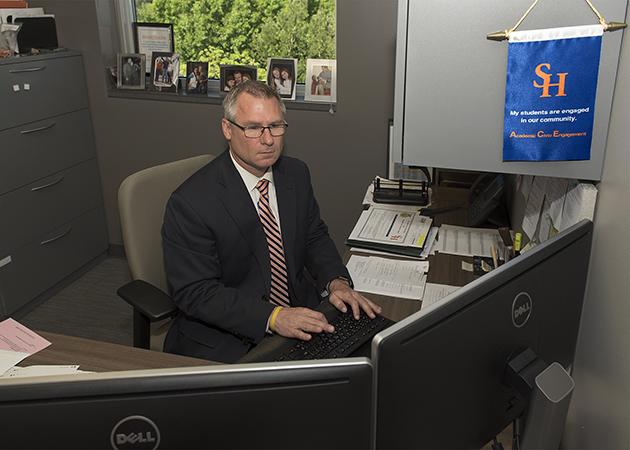 teaching high school agriculture that I had made the right choice. I worked with kids who learned what it means to help the community and gave them the outlets and opportunities for them to prosper. I loved teaching them all of it."
In his time at SHSU, Pavelock has served on various committees and councils throughout the university and still continues to devote himself for the betterment of the university and community.
"It's an opportunity for the department to be known and represented," Pavelock said. "I have a lot of colleagues who participate across the university, as well, and even across the community and state."
Of his many service projects, Pavelock and his department work year-round with the Texas FFA in bringing in over 5,000 junior and high school students per year to the SHSU campus for various competitions, conventions and events and exposes, some of those students to a college atmosphere for the first time.
"With those students who come to campus, about 40 percent of them are interested in agriculture," Pavelock said. "The other 60 percent could be interested in something else our campus has to offer."
Even with the constant flow of service-related events outside of his job as a professor, Pavelock does not grow tired and wants to improve himself everyday as a teacher and human being.
"It's not about what we did yesterday, it's about what we do today and tomorrow," Pavelock said. "The fulfilling part of the day is when you know that you've made a difference in someone's life. With teaching in general, there are teachers who wonder if they could be doing something differently. However, there is nothing that can be more rewarding than being a teacher itself."
For Pavelock, the role of a teacher goes beyond the classroom.
"Keep the door to your office open so when someone needs you; you can be there. Your job goes beyond the four walls of a classroom. There are students who need the mentorship and guidance to help them through academic challenges, or even life challenges. Help them in whatever way they reach out to you, because we are not here just to teach, but to help our students succeed."
As a teacher of agricultural education, Pavelock knows that offering students an understanding of what their profession means is important.
"When training future high school ag teachers, I try to instill those values my teachers influenced me to live," Pavelock said. "Nothing is more rewarding than being able to teach. There are kids out there who need you as a parent, counselor, teacher or as a big brother or sister. There is always someone waiting for you. It's exciting to know that my students are about to go on and change someone's life.
In 2016, Pavelock received the Faculty Excellence in Service Award for the positive impact his service activities have had on SHSU over the years.
"I was very humbled and honored because I know some of the honorees who have received this award before," Pavelock said. "I love this institution and the opportunities it has provided me. I've learned that life is not about getting things for yourself, but giving to others."
Even after the recognition Pavelock has received, he wants his students to know that they cannot rest on their laurels and always must be helping others.
"It may be 20 years down the road when someone realizes what you did for them," Pavelock said. "But that's not what it's about. You have to know that what you're doing in life is what you're called to do."
Pavelock believes that the best part of working at SHSU is getting to know and help the students.
"There are plenty of great institutions, but we really connect with our students," Pavelock said. "We don't know them by their number, face or name. We truly know them by heart. It's great to hear them say that they appreciate the family atmosphere that my colleagues and I have worked to provide at SHSU."
After finding his calling, Pavelock hopes that others realize what they really want to do in life.
"You may have a vision of a certain job, with a certain income, in a certain place, but are you going to look forward to going there the next day?" Pavelock said. "If you find something you enjoy doing, whether it's agriculture, teaching or something else, don't be afraid to pursue it."
- END -
This page maintained by SHSU's Communications Office:
Director of Content Communications: Emily Binetti
Communications Manager: Mikah Boyd
Telephone: 936.294.1837
Communications Specialist: Campbell Atkins
Telephone: 936.294.2638
Please send comments, corrections, news tips to Today@Sam.edu