SHSU Club Team Lifts Each Other To Success
Feb. 1, 2017
SHSU Media Contact: Lane Fortenberry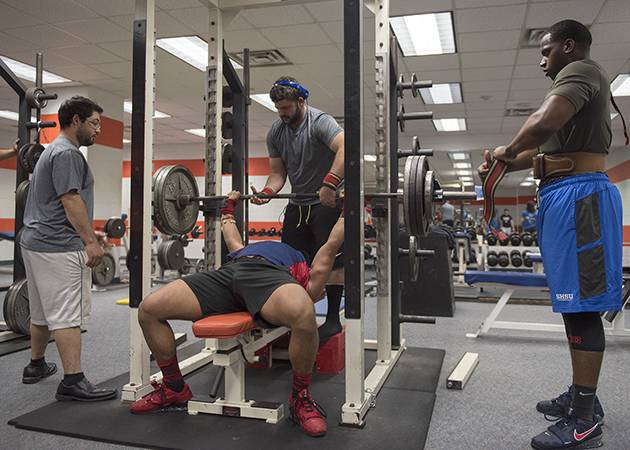 Sam Houston State University's men's powerlifting team member Carlos Lucio bench presses while Dakota Cooksey spots him. —Photos by Michael Ray
Powerlifting has been practiced as a form of strength training since Roman and Greek times. It became a sport in the 1950s as people began doing various lifts that eventually developed into the three major categories—the deadlift, squat and bench press.
Today, many people lift weights as a form of exercise, while some do it to build muscle. Others enjoy the thrill of competing against others and themselves by exceeding their powerlifting goals.
Sam Houston State University powerlifters are no different, but the men's and women's club teams have picked up success while lifting competitively.
"I absolutely love powerlifting; I lift everyday so I can get stronger," said sophomore education major and team member Jenica Flores. "I love that this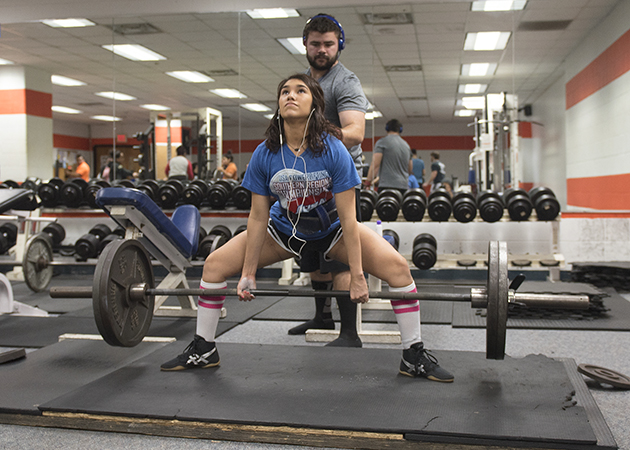 Powerlifter and sophomore education major Jenica Flores deadlifts while Dakota Cooksey spots her.
sport makes you push yourself past your comfort zone and surprises you by how much you can lift.
"I'm a small girl and my size has always put me in a disadvantage when it comes to sports," she said. "I decided to give powerlifting a shot because you get to compete against people around your weight. It's a sport I don't have to worry about being too small for."
Ashley Vasquez, a senior health care administration major and recruiting chair of SHSU's women's powerlifting team, said family played an important role in powerlifting.
"I have two twin sisters and we're all powerlifters," she said. "I have great family support. My drive is beating myself by setting goals and reaching them. I start with short-term goals. This year I deadlifted 385 pounds and next year I want to add 50 more pounds."
The sport also helps build character and strength. It helps him strive to be the best he can be, according to Nathaniel Flores, a sophomore mass communications major and vice president of SHSU's men's powerlifting team.
"The passion is being able to overcome good and bad situations," said member Jordan Glenn, senior business management major. "It's correcting yourself whenever you're wrong and being consistent whenever you're right. I'm going on nine years now and it's been a great adventure."
As a lifter on the team, each person participates in a squat, bench press and deadlift in their respective weight class. Each person gets three tries for each lift. At the end of the event, whoever has the highest total of weight lifted wins.
"It's a numbers game because you don't want to go too heavy and not make the weight," said member Alex Smith, a senior kinesiology major. "It needs to be just the maximum you can lift, because five pounds can be the difference between winning and losing."
"Competing as a team is important because you have your teammates there to support you," Jenica said.
"I recently had a bad meet; I was really down about it and the team knew that," she said. "They all bought me flowers, my favorite candy and wrote me notes to make me feel better. I can always count on them to cheer me up. We normally go out to eat and celebrate our victories together."
Vasquez said the team support is a lot like her family's support.
"In practice, the team helps me get ready for my lifts, adjust my suits and tie my belts," she said. "They tell me, 'Let's get this, Ashley. You got this. If you don't get it this time you will the next time.'"
The women's and men's team recently placed first at the Longhorn Invitational in Austin, continuing a success that began for the women's team when they placed fifth in their first nationals appearance.
"Competing as a team helps get our name out there as a school and lets people know how we're doing," Nathaniel said. "It's great winning as a team. Having your teammates right behind you when you're squatting 600 or 700 pounds is a great feeling. It inspires you to do even more every time."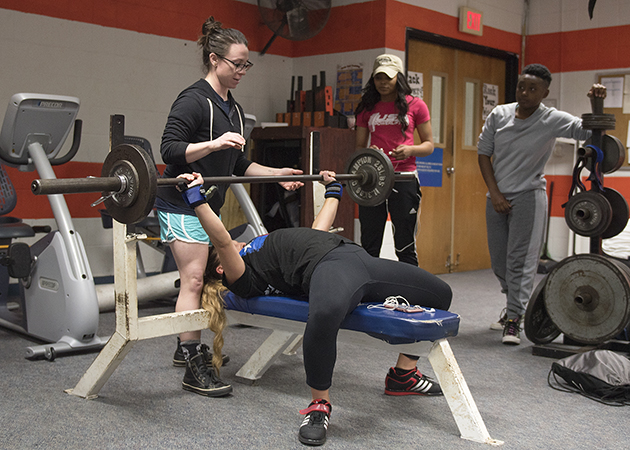 Kelsey Ewart bench presses while Ashlee spots her. The women's team placed fifth in their first nationals appearance.
"When you win as a team, it shows everyone worked together and made it work," he said. "When you have the right people, you can accomplish anything if everyone plays their part."
As one of the oldest members of the team, Smith sees the progress the team has made over the years both in size and success, since its founding in 2003.
"I've watched the team and their hard work grow. It's great seeing something start small and grow into something bigger," he said.
"From the outside looking in, it may seems like an individual sport because it's you on that platform," he said. "What people don't realize is it takes a team to help everybody do this together and to achieve goals. Everybody brings something different to the table that helps."
The men and women's team will compete in the USA Powerlifting Collegiate Nationals in San Antonio in April.
As the recruiting chair of the women's team, Vasquez encourages others to get involved in powerlifting.
"I think all women should lift because it's not just a men's sport," she said. "A lot of people in high school don't know there's powerlifting in college. We encourage them to continue it.
"Everybody has always asked me, 'Why do you lift? You're a girl,'" she said. "Basically, I want to do what people say we can't do."
- END -
This page maintained by SHSU's Communications Office:
Director of Content Communications: Emily Binetti
Communications Manager: Mikah Boyd
Telephone: 936.294.1837
Communications Specialist: Campbell Atkins
Telephone: 936.294.2638
Please send comments, corrections, news tips to Today@Sam.edu