Museum Demonstration Focused on 19th Century Photography
Nov. 13, 2017
SHSU Media Contact: Emily Binetti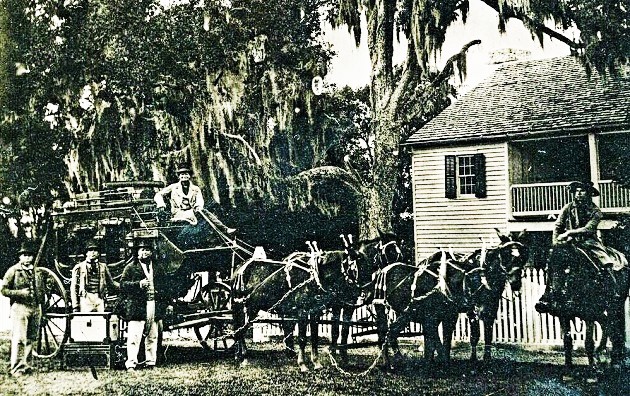 An image using wet plate photographic process from the Fanthorp Inn State Historic Site in Anderson, Texas. Photo by Cody Mobley.
Visitors are invited to explore 19th century photography as The Sam Houston Memorial Museum hosts a free demonstration on Nov. 18. Cody Mobley, from the Texas Historical Commission, will discuss an early, groundbreaking method of photography known as the wet collodion process.
Currently serving as site manager of the Fort McKavett State Historic Site in Menard County, Mobley has had a lifetime interest in early mid-19th century history and has intently studied the photographs of the period.
In 2015, Mobley built his first camera and began to teach himself the wet plate photographic process. He now travels throughout the nation demonstrating the process using the original chemicals and lenses to produce images of silver on glass.
Invented by Frederick Scott Archer around 1851, the wet collodion process is considered an important contribution to the development of photography in the first twenty years of its existence. Archer's discovery revolutionized photography by introducing a process far superior to any then in existence. Preceding the modern gelatin emulsion, the wet collodion process greatly increased the accessibility of photography for the general public.
The demonstration was planned by museum staff to connect visitors to historical photography methods and the current-day photography now on display.
"I wanted to bring Cody to Huntsville and the museum to work in conjunction with the museum's photo contest exhibit that is on display in the exhibit gallery; a historic tie-in to our modern show," said Derrick Birdsall, museum curator of education.
The photography demonstration will take place from 10:00 a.m. to 2:00 p.m. on the lawn of the Woodland Home, the family home Sam and Margaret Houston built when they lived in Huntsville. The demonstration is a free come-and-go event. Cody will take visitor photos if they would like, but there is a charge.
The photo contest exhibit is on display in the exhibit gallery at the museum's Katy & E. Don Walker, Sr. Education Center until January 14, 2018.
For more information on the demonstration, please contact Megan Buro, museum marketing coordinator, at 936-294-3839 or email mlb044@shsu.edu.
- END -
This page maintained by SHSU's Communications Office:
Associate Director, Communications: Emily Binetti
Telephone:936.294.4406
Communications Manager: Vacant
Telephone: 936.294.1837
Communications Writer: Campbell Atkins
Telephone: 936.294.2638
Thomason Building: Suite 102
Please send comments, corrections, news tips to Today@Sam.edu