Mesoamerican Magic—An 'Incredible' Educational Experience
May 5, 2017
SHSU Media Contact: Tricia Sims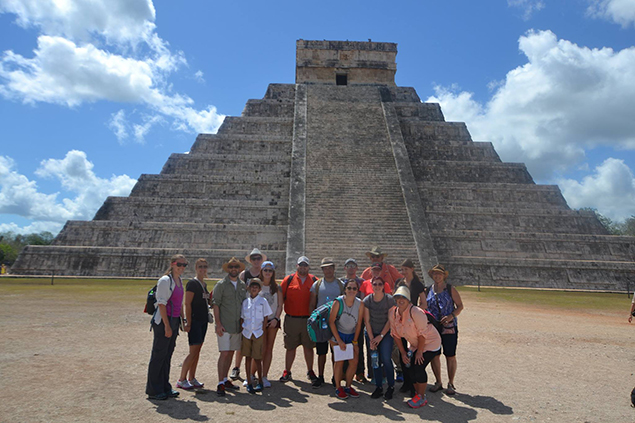 O
n the itinerary for SHSU students who will be traveling to Mexico this summer for study a
broad is Chichen Itza, a complex of Mayan ruins on the Yucatan Peninsula. Pictured behind the group who went last year is the massive step pyramid known as El Castillo.
Life changing, challenging, magical, and rewarding.
Through the years, students who have experienced study abroad have used these words, and others, to describe what it has been like to leave their familiar, comfortable environment and take on a new life, temporarily, where the language, culture and mind-set are, indeed, foreign.
"You have this feeling that you are living in part of the past," Sam Houston State University history senior Serena Barbieri said. "You can get the borders between what is past and what is actually happening and they are intermingled and it leaves you breathless."
Barbieri was one of the students who participated in the university's study abroad trip to Mexico last year.
According to Barbieri, the trip last year challenged her both educationally and emotionally.
"This trip means going outside your comfort zone and going for a whole month traveling around with other people," Barbieri said. "It requires a lot of willingness to have a good social interaction with people. At the same time it is challenging to you because you have to have an open mind, forget what you are leaving behind, and try to embrace the most that you can of something you don't know. So it is really an incredible educational experience. I think it can really change how people relate to each other when they come back home."
This summer, 19 students will have the opportunity to be a part of this program and travel to Mexico.
This is the second year for the Mexico study abroad program, which started under the direction of Charles Heath and Jeffrey Littlejohn, both associate professors of history at SHSU.
A few years ago Heath traveled to Mexico to complete a fellowship for the National Endowment for the Humanities Summer Institute called "Revisioning the Maya." The fellowship was a five-week intensive interdisciplinary study and travel program in the Yucatan Peninsula and state of Chiapas in Mexico and in the jungles of Belize.
This fellowship inspired Heath to look into taking students to Mexico.
"This developed from a NEH fellowship I had in 2011 with the university," Heath said. "I've always wanted to do the same thing I did with the NEH with my students."
The students will travel to 20 different sites across Mexico including Cancun, Tulum, Calakmul, Palenque, Oaxaca, and Mexico City.
"During the height of Maya civilization, from about 300 C.E. to about 900 C.E. four major cities dominated the area we know today as Mexico, Guatemala, and Honduras. And, we are visiting two of them: Calakmul and Palenque," Littlejohn said.
One of the most unusual places the group will visit is Calakmul. It was the capital of the Kan (or Snake) Kingdom during the classic era of Maya history and today sits in the largest bio-reserve in Mexico.
"The site is huge," Littlejohn said. "During the seventh century C.E., it served as home to one of the most powerful Maya communities. In fact, Yuknoom Cheen II, the ruler of Calakmul from 636 to 686, may have been the greatest Maya ruler ever. His forces conquered another regional superpower, Tikal (in modern-day Guatemala), and built some of the most spectacular architecture in pre-contact Native America.
According to Heath, the trip funding is available from several generous university sources. One of the trip sponsors is the Elliott T. Bowers Honors College. Honors student and accounting sophomore Chloe Henze has the opportunity to go on the upcoming trip because of the college.
"I received an email from the Honors College saying that there were a few spots on the trip and that I could potentially earn Honors credit for going," Henze said. "I am an accounting major that has a passion for history—the two just don't mix. The opportunity to study something that I care about a lot with the chance of earning credit for my degree was something that I couldn't pass up."
During the time abroad, students will take classes from both Heath and Littlejohn.
Littlejohn's class is on public history, and the students write, illustrate, and post their own historical essays at http://www.historicalmx.org.
"The website is a way we combine scholarly research and literary expression," Heath said. "This is a literary discipline that we are in and so the students get a chance to find a topic on the trip—three topics of their own personal interest that they want to teach themselves so to speak. We guide them towards sources, and then Dr. Littlejohn helps them with posting the final project to the web."
Heath's class will be the history of Mesoamerica in which students will learn the indepth history of all the places to which they are traveling.
The trip begins on May 31 and goes through June 23.
"I try to share my passion for Mexico with my students," Heath said. "Study abroad wherever you go is life-changing. Students tend to never forget their study abroad experience."
For more information on the study abroad trip to Mexico contact Littlejohn at 936.294.4438 or Heath 936.294.4430.
- END -
This page maintained by SHSU's Communications Office:
Associate Director, Communications: Emily Binetti
Telephone:936.294.4406
Communications Manager: Mikah Boyd
Telephone: 936.294.1837
Communications Writer: Campbell Atkins
Telephone: 936.294.2638
Thomason Building: Suite 102
Please send comments, corrections, news tips to Today@Sam.edu