Cajun Mardi Gras Festival Set For Feb. 23
Feb. 17, 2017
SHSU Media Contact: Lane Fortenberry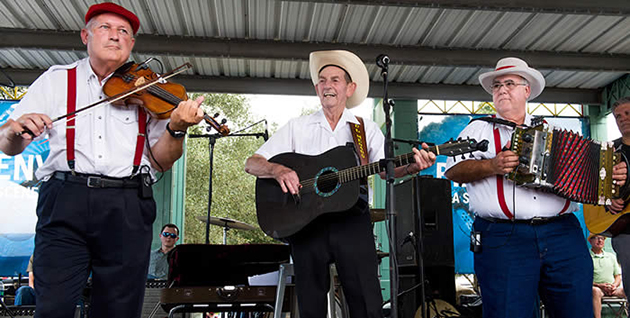 D.L. Menard and the Jambalaya Cajun Band will return to SHSU to perform for the annual Mardi Gras celebration on Feb. 23. —Photo by David Simpson
Sam Houston State University will highlight the music and culture of Mardi Gras during the annual Cajun Mardi Gras Festival on Thursday (Feb. 23).
Festivities will include a symposium on Mardi Gras, Cajun music and culture, as well as the annual Mardi Gras dance.
The symposium, which will begin at 6 p.m. in Evans Building Room 105, will feature a panel discussion with Jambalaya Cajun Band members Terry Huval and Reggie Matte, as well as Huval's son Patrick, Cajun music hall of fame member and Grammy nominee D. L. Menard, and moderator and Cajun historian Terry Thibodeaux, professor of communication studies at SHSU.
The group will discuss the history of the Cajun people, its music and the tradition of Mardi Gras.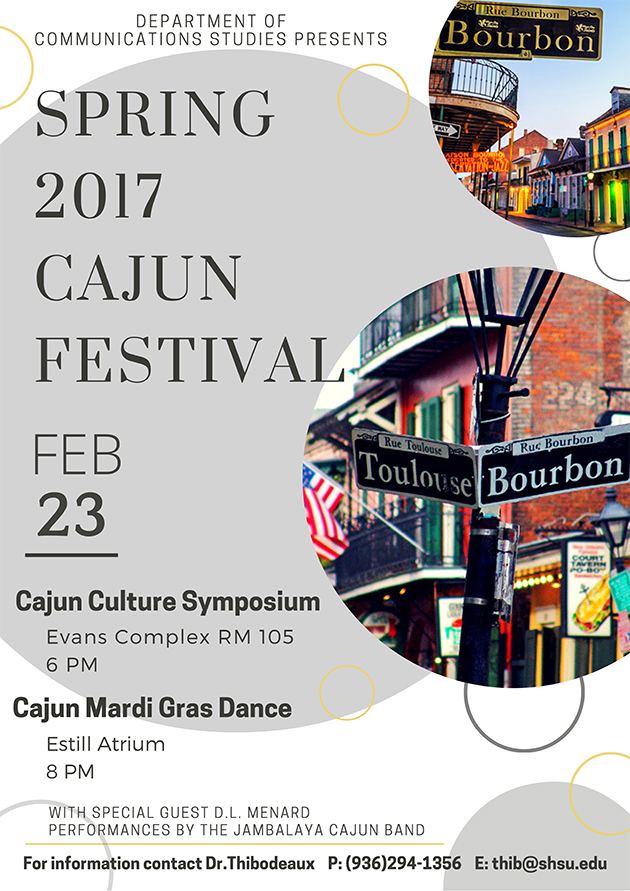 "D.L. Menard always brings a certain humor and charm to the proceedings," said Thibodeaux, who created the festival at SHSU in 2003. "Songs will be played and discussed by the musicians to illustrate the various traditional and popular Cajun styles of music."
The symposium is open to the public, who are encouraged to ask questions and participate.
That evening, the five-member Jambalaya Cajun Band, from Lafayette, Louisiana, joined by Menard, will play a traditional dance in the "fais do do" style during the Cajun Mardi Gras Dance, starting at 8 p.m. in the Estill Building Atrium.
"The 'fais do do' style has chairs around the edges of the room and dancers wind their way around the center as they dance in the traditional counter-clockwise pattern found at any Cajun dance anywhere in Louisiana," Thibodeaux said.
"Regulars at the SHSU dance are happy to show rookies how to do the Cajun version of the waltz and two-step," he said, "and dancers often find themselves dodging not only other dancers but also Terry Huval as he occasionally plays his fiddle amidst the dancers.
"They play some wonderful dance music, and we have a good time every year."
Admission to both events is free.
For more information, contact Thibodeaux at 936.294.1356.
- END -
This page maintained by SHSU's Communications Office:
Director of Content Communications: Emily Binetti
Communications Manager: Mikah Boyd
Telephone: 936.294.1837
Communications Specialist: Campbell Atkins
Telephone: 936.294.2638
Please send comments, corrections, news tips to Today@Sam.edu