Abounding Love For Poetry
March 20, 2017
SHSU Media Contact: Lane Fortenberry
Many kids grow up aspiring to be professional athletes or musicians performing for thousands of people or actors on the big screen. Nick Lantz had a different aspiration than those kids.
The assistant professor of English at Sam Houston State University and new editor of the Texas Review fell in love with writing and poetry during his teenage years.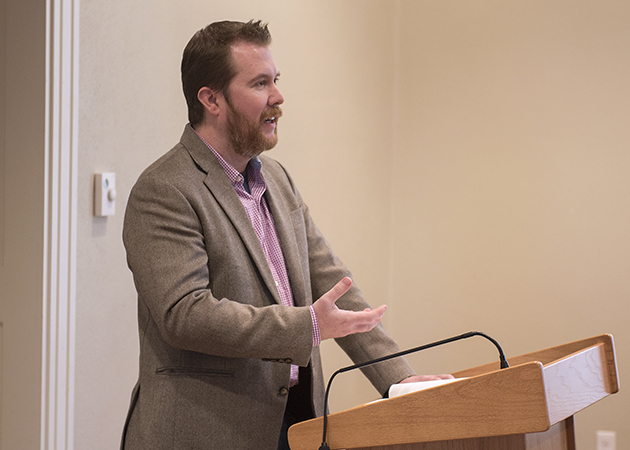 Nick Lantz, assistant professor of English at Sam Houston State University, read from his latest book of poetry, "You, Beast," on Feb. 21 in Austin Hall. —Photo by Brian Blalock
"When I was 15, I was at a flea market looking at books and saw a book titled 'The Pill Versus the Springhill Mine Disaster' by Richard Brautigan," Lantz said. "I was just taken by the title, so I picked it up and started reading poems­—and I got hooked. The poems in it were funny, casual, weird, and not at all what I'd been led to think poetry was like.
"I started writing my own poems and my parents encouraged me to keep going," he said. "They recommended other books and poets to me, and that helped. They also took me to art galleries and museums when I was a little kid and that kind of exposure at a young age really encouraged me to see art as something I could do—something worth doing."
Though he began writing at a young age, Lantz struggled with the process before entering high school.
"I had a couple of really terrific English teachers and my parents were both readers and artists," he said. "I was lucky enough to grow up in a city where there was a strong literary community. I wasn't an athlete or a musician, but writing was something I fell in love with."
While Lantz pursued poetry, becoming a teacher or professor wasn't necessarily in the plans.
"I went to grad school at the University of Wisconsin and part of the funding I received required that I teach creative writing and composition," he said. "I was really nervous—I was only a couple years older than most of my students, I'd never taught before, and I wasn't comfortable speaking in front of people. But as I got more comfortable with it, I really grew to love it.
"I worked as a copy editor in publishing for a few years after grad school, but, ultimately, I really missed teaching and the constant engagement in conversations about writing," he said.
Lantz has published three collections of poems and his fourth, "You, Beast," was released March 7.
"I try to develop a theme or obsession for each book and it varies from book to book," he said. "'You, Beast' is about animals, and our relationship to them in literature, science, and domestic life. On a more abstract level, it's about the limits and extent of empathy."
Lantz has several favorite poets, but one in particular always draws his interest.
"One of my absolute favorites is Jamaal May," he said. "I find that his poems balance accessibility and surprise so deftly. They're complicated and reward rereading the page, but they have a great sound read aloud."
Lantz also has found that his talents lie beyond poetry, working with his wife, Victoria, assistant professor of theater at SHSU, on a play.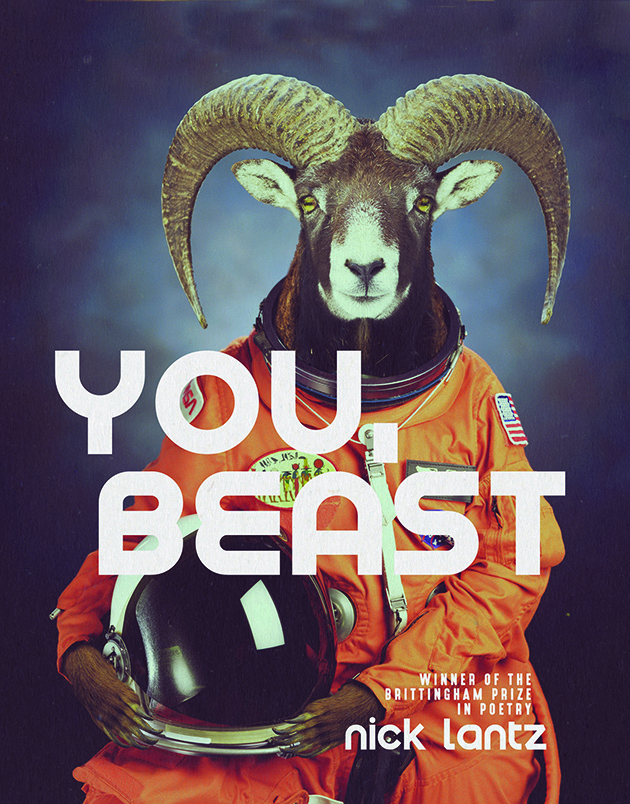 He wrote his own adaptation in spring 2016 of the 19th century German play "Woyzeck," by Georg Büchner. The Lantzs received a EURECA/FAST grant from SHSU to develop the project over summer 2016. Victoria directed their version titled "Woyzech, On and On" in August 2016.
"I don't write many poems about my wife, though she makes occasional appearances," he said. "Poems need conflict, and my marriage, thankfully, is pretty conflict free. I joke with my wife that if I put her in more poems, I'd have to invite weird problems. But my wife is a theatre scholar and professor, and I'm also a playwright, so we have opportunities to do creative work together.
"This past summer, she directed a play that I wrote," he said. "We have a very similar sensibility and artistic interests, so it's wonderful working together."
To help further his success as a writer, Lantz was selected as a recipient of the 2017 National Endowment for the Arts Literature Fellowship.
The program offers $25,000 grants to published writers that assist in setting aside time for writing, research, travel and general career advancement. Only 37 were selected from the 1,800 applicants.
"It's wonderful—and kind of shocking," he said. "I wasn't even going to apply, but my wife convinced me to do it. The fellowship provides funding that, on a practical level, just gives me more time to write. But there's also an element of external validation.
"As a writer, most of my work is just me at a desk by myself, and even when I send work out in the world to contests and literary magazines, that work is declined and rejected the vast majority of the time," he said. "When you get used to that, every award or publication is such a pleasant surprise. The NEA is a national award, so I hope that will help bring some attention to the Texas Review and to our MFA program in creative writing, editing and publishing."
Lantz's interest in literary magazines drew him to the editor position of the Texas Review.
"For the last few years, I've been teaching a lot of courses in publishing, and I've really become fascinated with literary magazines as a genre," he said. "Literary magazines are doing so much work to bring new writers and new work to public attention, and I want very much to be directly involved in that process.
"The Texas Review is 40 years old—older than I am," he said. "I'm taking over after Paul Ruffin, the founder of the magazine and our colleague here in the English Department who passed away last year. There's a lot of history to the magazine, and I want to do right by it."
Lantz has plans in store for the publication going forward.
"I want to expand the scope of the magazine in terms of the writers we publish," he said. "Our namesake stake is big, complicated and diverse, and I want the magazine to reflect that—stylistically, ideologically and demographically. I feel really fortunate that my creative writing colleagues here at Sam have agreed to take on roles as fiction, poetry and nonfiction editors. We're relaunching the magazine this year with the spring/summer issue.
"I'm also excited about the opportunity to incorporate the Texas Review more fully into the MFA program at Sam to give our grad students experience working on a real literary magazine."
- END -
This page maintained by SHSU's Communications Office:
Director of Content Communications: Emily Binetti
Communications Manager: Mikah Boyd
Telephone: 936.294.1837
Communications Specialist: Campbell Atkins
Telephone: 936.294.2638
Please send comments, corrections, news tips to Today@Sam.edu