Profs Showcase 'Ke Aloha Hawaii' (A Love For Hawaii)
Jan. 25, 2017
SHSU Media Contact: Lane Fortenberry
The Hawaii Field Course group stands on a cliff overlooking a black sand beach in Pololu Valley in Kapa'au.—Submitted Photos
When you think of Hawaii, long strands of beautiful beaches to sink your feet into may come to mind first. Maybe Instagram-worthy sunsets are next, or stunning waterfalls. But some of the best spots come with a challenge—actually getting there.
Sam Houston State University has a field course that allows students to explore those hard-to-reach places in Hawaii for their geographic and cultural significance. The course is unique because an instructor originally from Hawaii teaches it.
Ava Fujimoto-Strait, instructor of geography, co-teaches GEOG 4075: Hawaii Field Course during the fall semester with her husband John Strait, who also is a professor and geography program coordinator. At the end of the course in December, students are led by Fujimoto-Strait and Strait on a seven-10-day trip to Hawaii to explore the state's human and physical geography.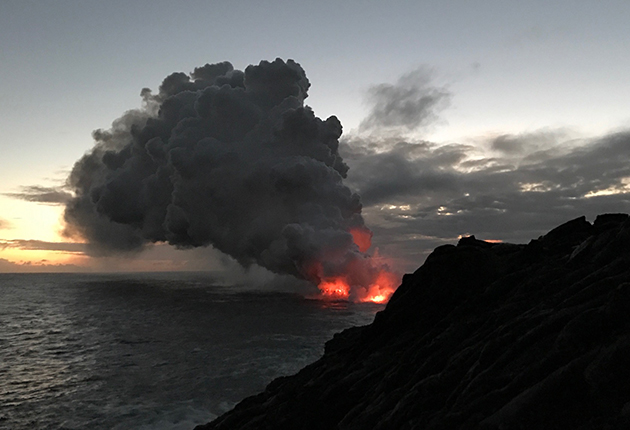 Lava flows into the ocean in Kalapana.
"I have a love for Hawaii, just like anyone from Texas has a love for Texas," Fujimoto-Strait said.
During the fall semester, the class covers the basics of the human aspects of geography in Hawaii, which include culture, language, religion, history and food, as well as the physical aspects.
"The unique thing of the Big Island is you have 10 of the 14 world biomes on one island," Fujimoto-Strait said. "The landscapes are constantly changing and as a result, the plants, animals, climates and really everything is affected by it."
Last semester the group traveled to places that tourists normally don't visit—much harder places to reach.
"Of course it's Hawaii, so you get to go to the beach, but you don't go to ordinary beaches—you hike three or four miles to get there," said Kevin Shelton, a graduate student in the geographic information system program. "I really enjoyed the fact that we did things that weren't so touristy. We got off the path and did more localized things. We went to Waipio Valley and worked with some farmers by tending fields."
Students hiked in strenuous conditions such as heavy rain, mud, high winds, and steep hills.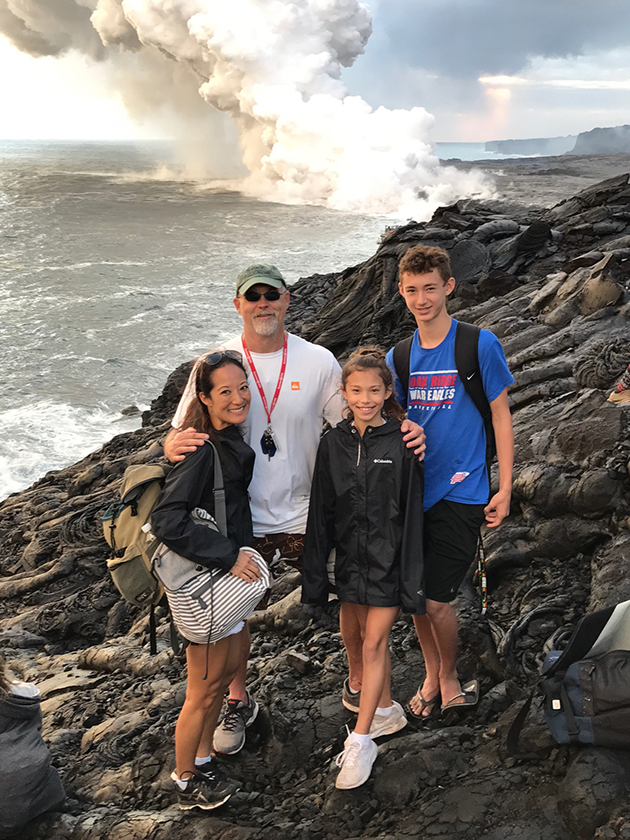 The Straits stand on a lava delta in Kalapana. The area collapsed into the ocean ten days after the picture was taken.
"I really liked all the hiking because all the destinations we went to typically had a cultural significance, which was pretty interesting to learn about, but you had to meet the challenge of getting to that place," Michelle Harris said, who graduated in December with a degree in environmental geography. "Coming out of Waipio Valley is a 25-degree angle uphill hike.
"It was wet and rainy on the winding road that's so steep traffic has to yield to one-way because you can't really stop coming up or down," Harris said. "Your ankles almost want to roll when you walk. A lot of the people had gotten a ride back up, but I guess we missed that."
Because of those aspects, it makes sense for a geography class to travel to the Big Island to witness the nature that happens there, according to Fujimoto-Strait.
"You're literally on a big rock in the middle of the Pacific Ocean, so you're susceptible to hurricanes, tsunamis, earthquakes, and volcanic eruptions," Fujimoto-Strait said. "Back long ago, for the ancient Hawaiians, those natural events were so intertwined with their lives that their religion and culture evolved together with it.
"The students learn about some of the Hawaiian practices, which I think could be used in other places to make the environment more sustainable," she said. "In a lot of teachings, there's conservation intertwined with what they do. For example, when I was young and went fishing, you didn't keep the first three fish; you put them back as a way of keeping it sustainable. It's also part of a belief that if you took and didn't give back there would be no fish in the future. Growing up I didn't think anything of it. When you go away, you realize that was actually environmental conservation going on."
These kinds of cultural observations are why Shelton took the course.
"For me, going on the trip was more for the cultural side, to learn about the people there and how they do things," Shelton said. "I really enjoy exploring places and getting to know who inhabits them."
Harris, who also presented research on the marine aquarium fishing industry there during a science seminar, took the field course for the physical aspect of geography, but her interest changed during the trip.
"I was more interested in the history of how the island was formed and how it came to be, but once we got there I can really say it switched more to the cultural aspect because of the locals we met," Harris said. "The culture of the food was one of my favorite parts because it comes from all different regions of the world."
The group participated in a cultural chant during their trip to Waipio Valley.
"When we met up with the farmers, it was raining really hard and we could hardly see through the fog," Shelton said. "A group of students from Japan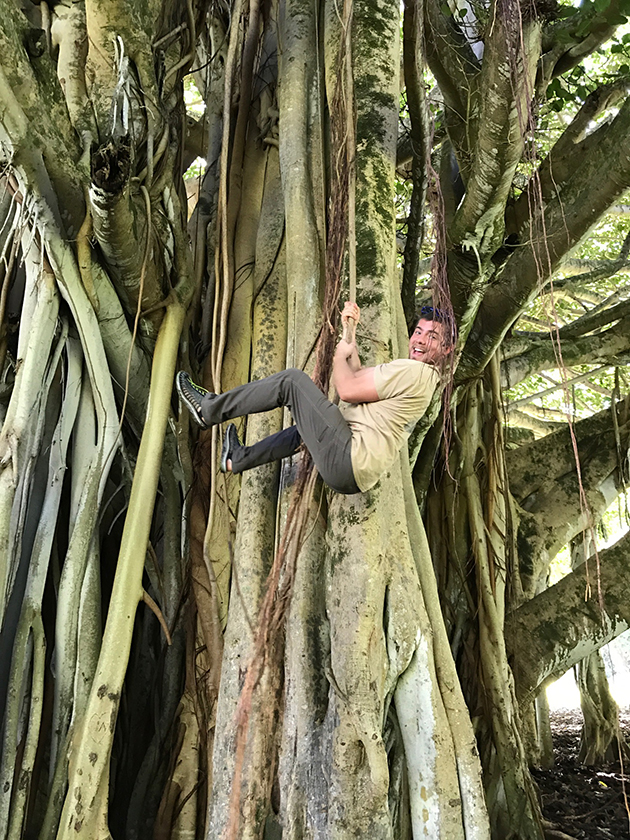 Kevin Shelton climbs a banyan tree in Laupahoehoe. The area was devastated by a tsunami in 1946.
were also there. The leaders of our groups led us in a native Hawaiian chant, which asks permission to go into the valley, to have productive workday, for safe travels into the valley, and to clear the rain.
"We started doing this chant, this hauntingly beautiful thing that has a very beautiful sound," Shelton said. "I kid you not, the sun came out, the rain stopped and the clouds rolled away. It stayed dry until we left. It was an amazing experience."
As a way to give back to the Big Island, the group partnered with Pohaha I Ka Lani, a nonprofit organization, and cleared an ancient taro patch of exotic plants for the planting of taro.
But they had fun, too. The group went cliff jumping at South Point off a 50-foot cliff, but the jump didn't go the way Harris had hoped it would, which was one of her highlights of the trip.
"After we checked the tides and everything a few people jumped; then I followed," Shelton said. "Michelle talked herself up then finally jumped, and as soon as her foot left the cliff she kind of locked in this goofy frog position and went sideways into the water. Her leg was all bruised up."
Shelton had an embarrassing story to reflect upon, too.
"On our way to the airport we stopped at another cliff called the End of the World," he said. "It led into a cove with waves coming in and out. I got up there and kind of psyched myself out.
"I didn't have a swimsuit, so I was in my underwear," Shelton said. "A tour boat full of people passed and they all started yelling and cheering for me. Surely I couldn't just stand there after that, so I jumped off."
Shelton and Harris both said they liked witnessing things that Fujimoto-Strait did as a child, while also experiencing some of the things they learned in the classroom.
"You can't beat the experience they have sharing their passion," Shelton said. "For Ava to take you to Hawaii, where she's from, is a special treat because you're going to do and see things that she grew up with. She's so open and excited to share it with people.
"Experiencing it from her point of view was amazing," Harris said. "She went above and beyond in making sure we all enjoyed it and had a wonderful experience while learning at the same time."
Fujimoto-Strait wants students to appreciate geography and traveling after the field course.
"What's really neat is they learn to appreciate geography and traveling to a new place, especially the ones who have never left Texas," she said. "So, to be thrown in a new environment makes them learn about themselves. It's a very good learning experience especially for an average-age college student. I think it gets them excited about learning more about the world and wanting to travel more. They take what they learn there and start applying it, which is the goal."
Harris encourages people to take a field course class while in college, even those outside of geography.
"You have to go in with an open-mind and open to experience everything that's being thrown at you," Harris said. "If you went into this trip with a very closed-mind, you wouldn't have experienced half of what we did."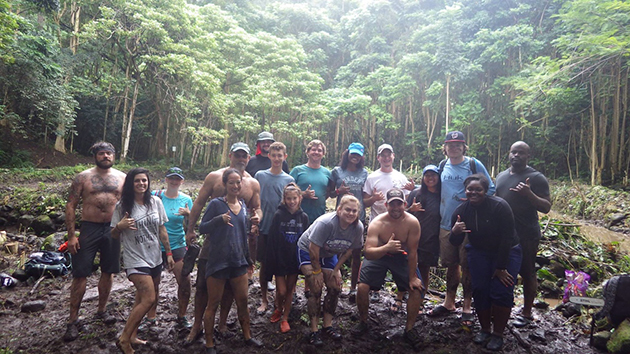 The group helped clear an ancient taro field with Pohaha I Ka Lani in Waipio Valley.
- END -
This page maintained by SHSU's Communications Office:
Director of Content Communications: Emily Binetti
Communications Manager: Mikah Boyd
Telephone: 936.294.1837
Communications Specialist: Campbell Atkins
Telephone: 936.294.2638
Please send comments, corrections, news tips to Today@Sam.edu