Forensic Science Bridges East and West
Oct. 30, 2017
SHSU Media Contact: Emily Binetti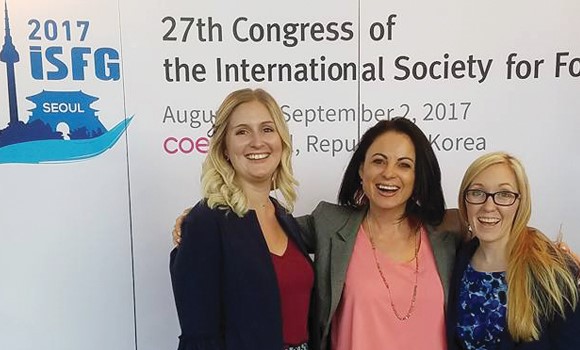 Two Ph.D. students and a faculty member from the College of Criminal Justice recently traveled to an international conference in South Korea to present their research on new techniques and technology to improve the DNA identification process in missing person cases or mass disasters.
Assistant Professor Sheree Hughes-Stamm and Ph.D. students Amy Sorensen and Kyleen Elwick presented their research to the 27th Congress of the International Society for Forensic Genetics in Seoul, South Korea at a conference entitled "Bridging East and West."
Sorensen provided a poster on a new method to collect and preserve DNA samples at room temperature and a lecture on evaluating new commercial kits for investigating degraded DNA samples.
Hughes-Stamm and Elwick presented a seminar on the use of Massive Parallel Sequencing technology for enhanced DNA investigations. Elwick also delivered a talk comparing different technologies for processing challenging DNA samples. Both research projects were funded by the National Institute of Justice.
The conference included some of the top forensic geneticists in the world and provided perspectives on the techniques and research questions of importance on different continents. One of the key topics of the conference was using cutting-edge methods to solve missing person cases and identify victims of mass disasters such as hurricanes, tsunamis, wars and acts of terrorism. Forensic geneticists are looking at ways to improve the process of identifying victims to bring closure to families and communities.
"I had the opportunity to network with top forensic geneticists in the field and it was so beneficial talking to international people about what their interests are in the forensic genetics field," said Elwick.
Hughes-Stamm and Sorensen are working to improve the collection and preservation of human DNA samples at room temperature and to speed up the DNA identification process. During disasters, recovery and identification efforts sometimes are complicated by harsh environmental conditions, which may include limited facilities and loss of electricity and refrigeration.
Elwick is evaluating the next generation DNA instruments for crime labs that may better analyze DNA from decomposing bones and tissues in missing person and disaster cases. Massively Parallel Sequencing tests DNA data more thoroughly and gets more information that would not normally be possible using traditional DNA genotyping methods. Elwick's study was recently accepted for publication in the International Journal of Legal Medicine. Elwick was awarded a travel scholarship from the ISFG to present her research at the conference.
This was the first trip abroad for Sorensen and Elwick, and they took the opportunity to visit cultural sites such as a traditional temple, an ancient palace, the marketplace and a village to eat local fare, like Korean barbecue and authentic Asian dishes.
- END -
This page maintained by SHSU's Communications Office:
Associate Director, Communications: Emily Binetti
Telephone:936.294.4406
Communications Manager: Vacant
Telephone: 936.294.1837
Communications Writer: Campbell Atkins
Telephone: 936.294.2638
Thomason Building: Suite 102
Please send comments, corrections, news tips to Today@Sam.edu