Weeklong Events To Explore Bearkats' Financial 'Life'
Feb. 3, 2017
SHSU Media Contact: Dawine Bergeron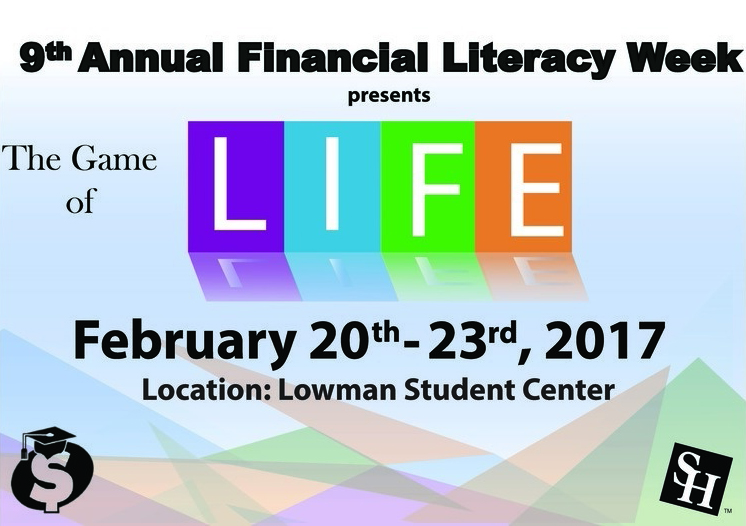 Sometimes, life throws us unexpected curveballs, and sometimes, they're financial.
While they can't help us with every problem we may face in life, Sam Houston State University's Student Money Management Center will guide students on how to handle the financial ones through a series of workshops and presentations during the ninth annual Financial Literacy Week, Feb. 20-23.
The week will include 10 workshops and presentations, one movie night and one game night, which will all take place in the Lowman Student Center.
"These workshops and events focus on topics such as investment, taxes, insurance, budgeting, saving and so much more," said SMMC program coordinator Haley Riley. "While our students learn a great deal in the classroom, they often have questions related to everyday financial decisions. Financial Literacy Week offers students the opportunity to explore many of these financial topics and how their decisions will affect them in the short term and long term."
Activities will begin on Monday in the LSC Theater with "Car Insurance 101" from 1-2 p.m. Gene Roberts, Student Legal and Meditation Services director, and Patsy Collins, SMMC director, will join forces to discuss legal and financial aspects of car insurance.
At 2:30 p.m., an "Employee Benefits" workshop led by SMMC peer coach Nicole Smith will help students look at the "bigger picture" by discussing topics such as insurance, retirement plans, flexible spending accounts, and paid vacation.
"When students are comparing job offers, they have to realize that all of the benefits aren't necessarily included in the paycheck," Collins said.
At 3 p.m., "Who Wants to be a Millionaire?" will be presented by Mary Funck, SHSU assistant professor in the College of Business Administration for the Department of General Business and Finance.
"Professor Funck presented information about the time value of money during the 2014 Financial Literacy Week. Her topic was phenomenal and the student ratings were excellent," Collins said. "She was gracious enough to come and speak with us again this year and we are excited to work with her."
At 4 p.m., coupon expert Tiffany Ivanosky and her husband Paul will present "Extreme Couponing."
"Not only do the Ivanoskys teach the methods for utilizing coupons, they also teach about the various price reduction marketing cycles that further enhance these coupons," Collins said.
On Tuesday, students can head back to the LSC Theater for three workshops and then stay for SMMC's first movie night.
The first workshop, "Short Term Investments," will begin at 1 p.m. Peggy Winkelmann, owner of Winkelmann Asset Management in Huntsville, will discuss short term investments and how such investments can set investors up for financial success.
At 2:30 p.m., the "Tax Planning: Now and For Your Future" workshop will focus on tax planning as it relates to students, and at 4 p.m., Winn Wilson, Edward Jones financial adviser, will share his knowledge of investing.
"He will address different types of accounts including taxable, tax free and tax deferred—as well as the various types of instruments within these accounts—including stocks, bonds and mutual funds," Collins said.
Finally, at 6 p.m., students will be able to relax and watch "Money Monster," featuring George Clooney and Julia Roberts as financial television show hosts who are put in an extreme situation when an irate investor who has lost everything forcefully takes over their studio.
The highlight of Financial Literacy Week will be the Game of Life Challenge, which will take place on Wednesday at 6 p.m. in the LSC Ballroom.
During the game, students will be able to explore the concept of living within their means by evaluating potential salary and expenses such as housing, utilities, car notes, and student loans.
"By attending this workshop, students will have the opportunity to work with a basic budget and learn how everyday decisions can positively or negatively affect that budget," Riley said.
Students who complete a scoreboard will be entered into a contest to win a $1,000 scholarship. The contest winner will be announced at 7:45 p.m. and students must be present to win.
Thursday's workshops—all located in the LSC Theater—will kick off with a "Building Your Brand" interactive workshop led by Ja'Net Adams, a certified financial coach, owner of EMACK Consulting and the author of "Debt Sucks."
"Ja'Net conveys unique information about skill identification and communication methods that will help students build their niche as they graduate and seek full-time employment," Collins said.
After Adams's workshop, Financial Literacy Week will wrap up with two more workshops, "Relationships and Money" at 4 p.m. and "All About You" at 6 p.m.
Two students who attend Financial Literacy Week events will be selected to win $650 scholarships. To qualify, students must attend at least four of the workshops, excluding the Game of Life Challenge.
In addition, two SHSU student organizations also will be selected to win $1,000 each. To qualify, organizations must earn points by having at least 40 percent of their registered members (via the OrgLink roster, as of Feb. 2) attend each Financial Literacy Week event.
For more information about Financial Literacy Week, contact the SMMC at SMMC@shsu.edu or 936.294.2600.
- END -
This page maintained by SHSU's Communications Office:
Director of Content Communications: Emily Binetti
Communications Manager: Mikah Boyd
Telephone: 936.294.1837
Communications Specialist: Campbell Atkins
Telephone: 936.294.2638
Please send comments, corrections, news tips to Today@Sam.edu