SHSU Receives Grant To Develop East Asian Studies
Aug. 9, 2017
SHSU Media Contact: Lane Fortenberry
The One Asia Foundation, a Japanese organization that supports academic programs and research, recently awarded a $50,000 "Grant for Opening a Course on the Asian Community" to history professors Eric Vanden Bussche and Thomas Cox to promote East Asian studies at Sam Houston State University.
Vanden Bussche, a China scholar, and Cox, a specialist in early U.S.-China trade, will use the grant to enhance instruction in their history capstone course on Modern East Asia during fall 2017. They have invited 12 leading scholars in East Asian studies to share their research with Sam students on a variety of topics, including the decline of the Qing dynasty, Japanese imperialism, the 1949 revolution in China, and the Korean War.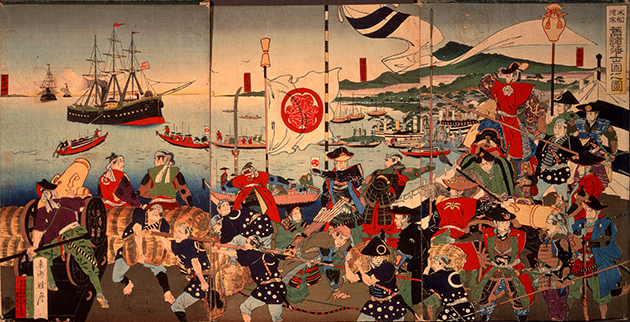 "Students will have the opportunity to interact with top scholars and examine Japan, China and Korea from 1800 to the present through a comparative lens," Vanden Bussche said. "They will gain an in-depth understanding of the historian's craft. The grant will also be used to augment our library resources in East Asian history."
The roster of guest speakers features high-profile historians in the field, including Bruce Cumings of the University of Chicago, Stephen Platt of the University of Massachusetts, Huaiyin Li of the University of Texas-Austin, and Xiaoyuan Liu of the University of Virginia. Three of the scholars will also provide lectures for SHSU's inaugural Asian Studies Lecture Series in September and October, which will be open to the general public.
"I've noticed a growing interest in East Asian history at our university," Vanden Bussche said. He observed that this past spring when one of his history students at SHSU gained admission to graduate programs in East Asian studies at the University of Michigan, Stanford and the University of Chicago.
"I hope this student is the first of many to be admitted into top graduate programs in East Asian studies," he said. "The number of history majors at Sam has been on an upward trend during the past few years. This grant will benefit students interested in East Asian and world history, as well as global studies."
Vanden Bussche sees this grant as a pivotal step forward in building a strong East Asian history curriculum. He pointed out that the grant parallels attempts to expand course offerings in Chinese and Japanese history at both the undergraduate and graduate levels.
"We often notice that Sam students have grown up in a popular culture saturated with Asian imagery," Cox said. "From movies such as 'The Last Samurai' and 'The Great Wall,' to manga and martial arts, our undergraduates have a fascination in all things Asian. In this course we hope to take such enthusiasm and channel it into an examination of Asia's rich and complex past."
SHSU is currently only one of three American universities to receive such a grant.
"This grant has funded similar projects at prestigious universities throughout Asia and Europe," Vanden Bussche said. "We're incredibly fortunate to have received it to further develop our program."
For more information, contact Vanden Bussche at ericvb@shsu.edu or Cox at thc001@shsu.edu.
- END -
This page maintained by SHSU's Communications Office:
Director of Content Communications: Emily Binetti
Communications Manager: Mikah Boyd
Telephone: 936.294.1837
Communications Specialist: Campbell Atkins
Telephone: 936.294.2638
Please send comments, corrections, news tips to Today@Sam.edu