Delta Theta Chapter Donates Coats, Books To Children
Feb. 22, 2017
SHSU Media Contact: Lane Fortenberry
Sam Houston State University's Delta Theta chapter of Kappa Delta Pi, an international honor society in education, has been a part of the university for 80 years. Over the years, the chapter has hosted a number of programs that benefit the community, including "Change for a Change in the Weather" and "Literacy Alive."
During the annual "Change for a Change in the Weather," developed by Delta Theta, the chapter collects change to buy winter coats to donate to the Huntsville Head Start program. The coats were donated on Feb. 8.
"After our regional director at Kappa Delta Pi publicized our initiative, other chapters across the country began participating in their own coat drives,"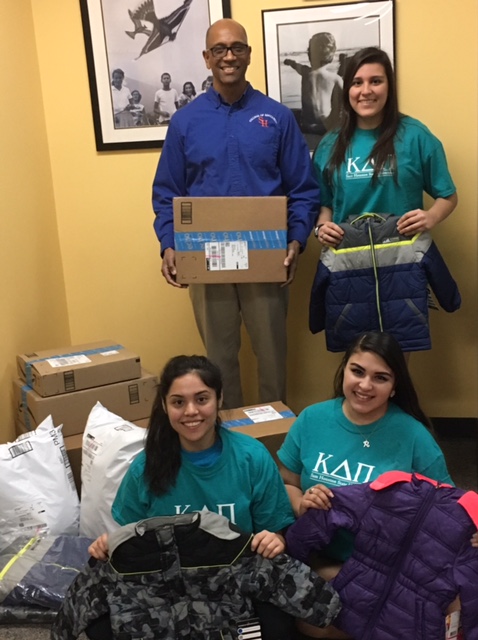 Kevin McGowan, (clockwise from back left) Sam Houston State University Early Childhood Education program coordinator, and Delta Theta students Marlene Ramirez, Ruby Ibarra and Kavina Lovo donated winter coats to the Huntsville Head Start program on Feb. 8. —Submitted Photo
said Donna Cox, associate professor in the language, literacy and special populations department and faculty adviser of KDP. "We set a jar out by our sign-in sheet and members drop what change they have into it.
"Sometimes, when family and friends of members learn about the drive, they will often contribute," she said. "We've been able to donate 20 coats per year for the boys and girls."
Ashanti Rouse, SHSU's KDP's chapter president, feels strongly about the program.
"Kappa Delta Pi is about giving back," Rouse said. "We're a service organization, so it's very important to us to give back, especially if it's to children."
"Literacy Alive" is an annual event that's been around for about a decade and usually takes place the first Friday in April. The event originated from KDP.
"Our book donation is part of 'Literacy Week,'" Cox said. "We share our program with a second grade class in a local elementary school. Members of our chapter read a book to the students then provide five activities that tie into the story.
"At the end, we give each student three books to take home," she said. "Our chapter members donate these books throughout the year, and over the past nine years, more than 2,500 children's books have been given to Huntsville second graders from our chapter. We love it and it's one of the most fun service projects we do."
The last few years, the chapter has donated books to Stewart Elementary.
"We've read a book called 'Mr. Tiger Goes Wild' and after the reading, they all participate in stations," Rouse said. "They might make a mask or bookmarks and play a matching game.
"A lot of our members are teachers or future educators in a variety of different subjects," she said. "We knew we wanted to give back because we're going to be doing that for the rest of our lives. Our service projects always involve giving back."
These service projects allow the chapter members to practice leadership and service, which aligns with SHSU's motto.
"Kappa Delta Pi is guided by and promotes the principles of scholarship, leadership and service for the benefit of humanity," Cox said. "SHSU has a long, rich partnership with education, since its founding was a 'normal' school—a school for educating future teachers.
"Delta Theta's long presence on campus reflects where we, as a university, have come from and where we want to go," she said. "Our mission as an organization and a university is to honor achievements and promote excellence. The culture of SHSU positively impacts our chapter and, in turn, we can have a positive impact on our profession and our community."
- END -
This page maintained by SHSU's Communications Office:
Director of Content Communications: Emily Binetti
Communications Manager: Mikah Boyd
Telephone: 936.294.1837
Communications Specialist: Campbell Atkins
Telephone: 936.294.2638
Please send comments, corrections, news tips to Today@Sam.edu