Compliance Officer Speaks At Texas A&M University
May 18, 2017
SHSU Media Contact: Lane Fortenberry
A friendly gesture by Sam Houston State University's new compliance officer Joseph Agins turned into an opportunity to share his knowledge about best practices with other compliance professionals at Texas A&M University's quarterly compliance meeting in College Station earlier this month.
The offer to present to them came from efforts to build contacts in the compliance world, Agins said.
"Some of the finest institutions in the country are in Texas, and one of them is right down the road in College Station," Agins said. "These are premiere institutions that are very large and have robust compliance programs in place. They've allocated and dedicated a lot of resources into building that, so why not leverage those individuals?
"I reached out to A&M and wanted to understand more about their compliance program and who was in charge so that we might connect and learn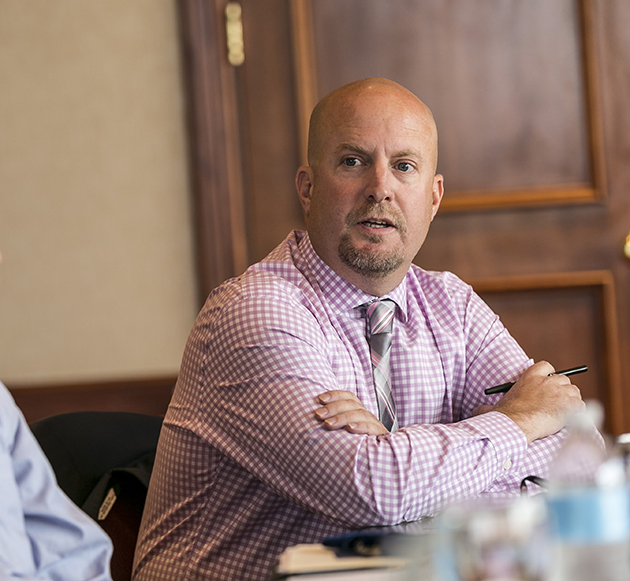 from one another," he said. "Through that process they were able to learn about my experience. There are a lot of people doing great compliance work, so I would be remiss if I didn't reach out to connect and hopefully share best practices with these folks."
Agins has 20 years of experience in the compliance and ethics field, with 10 years of that experience in higher education.
"They asked that I come and talk specifically about compliance hotlines and how to leverage the backend data to help gauge institutional culture," he said. "I've done a lot of research and presented in the past in that area and they were interested in leveraging this to improve their current hotline program. We also participated in a roundtable discussion.
"I was able to talk about where we are at SHSU and what we're building," he said. "Our program is much less mature, and they've been there and are able to offer a lot of help and information learned from their experience."
Agins said A&M was interested in understanding how to measure the data from hotlines to better understand their organizational culture.
"The data can help gauge and measure not only where you are as an institution amongst your peers, but also help to identify compliance gaps or hot spots in your institution," he said. "It's about leveraging the data and using the hotline as more than simply a reporting vehicle.
"Employees may have some sort of an issue and feel comfortable bringing it forward to their supervisor, so they do and the issue gets handled," he said. "There may be other situations when they don't feel comfortable bringing it forward or want to do so anonymously, so they need an alternative way in which to report that concern, and that's what the hotline provides.
"It is important that the university is able to receive such reports so that we may rectify any issues," he said. "At the end of the quarter or year, you're also able to take the cases you've received and take certain measurements to learn more about your organization."
Agins was brought into SHSU to help build and manage our institutional compliance program to help coordinate the university's numerous existing compliance efforts.
"There are literally hundreds of compliance, rules and regulations that apply to different industries, and we have multiple industries within the university," he said. "When you think of all the different areas, a university is kind of like a city onto itself.
"Our university is committed to the highest ethical standards and compliance with the law and we need a strong and robust compliance program to make sure we don't fall into something that causes us a great deal of financial harm, or worse, reputational damage."
Regulations change every day at the federal, state and local levels.
"We need to stay on top of that," he said. "Having a robust compliance program in place is going to help protect us from fines and help us not step into damaging issues. It's ultimately about doing the right thing and protecting our students, staff and faculty."
Agins said much of his job is socializing the value proposition for compliance to help people understand why it's so critical to SHSU's academic mission.
"It's nice that there's a good collegial relationship," he said. "When it comes to compliance, we understand that sharing best practices and working with other institutions is for the betterment of all."
"We're certainly willing to play our part," he said. "Now that we've done this, if we need them down the road, I feel sure they will be more than willing to help us. For us to build a best in class compliance program, we need to leverage our relationships with those around us."
- END -
This page maintained by SHSU's Communications Office:
Director of Content Communications: Emily Binetti
Communications Manager: Mikah Boyd
Telephone: 936.294.1837
Communications Specialist: Campbell Atkins
Telephone: 936.294.2638
Please send comments, corrections, news tips to Today@Sam.edu