Study Abroad Examines The Culture And Economics Of China
Oct. 25, 2017
SHSU Media Contact: Tyler Pointer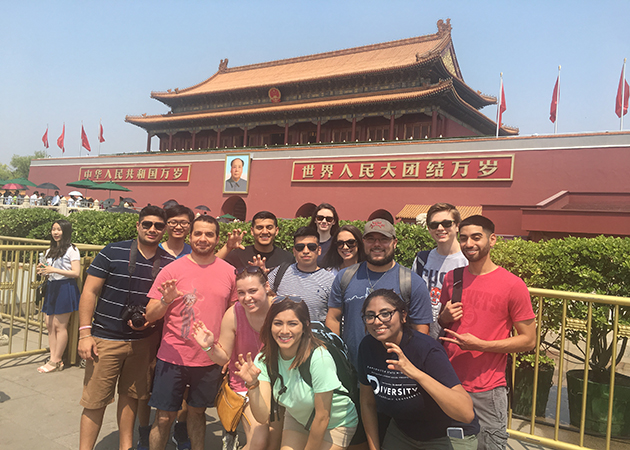 Sam Houston State University students stand at the entrance to The Forbidden City during their study abroad in Beijing, China.
Story by Tyler Pointer
Across the oceans. Across the globe. Across cultures.
A group of students from Sam Houston State University experienced the trip of a lifetime during their study abroad to Beijing, China this past summer with the Department of Economics and International Business.
Led by Associate Professor of Economics Fidel Gonzalez, the group of 11 students spent over three weeks at the China University of Mining and Technology exploring a variety of information in economic geography, finance, international trade, colonialism and socialism to name a few.
"The students took two upper level classes in economics," Gonzalez said. "The first class was about the economic rise of China as an economic superpower. We talked about the economic and political situation of China from the first dynasty to the present. The second class covered environmental economics with a focus on the Chinese situation. In this class, I first provided a framework to think about the environment from an economic perspective and later I provided many applications to the Chinese case."
Beijing, China's enormous capital with a population of over 21 million, is a historically and culturally rich city with countless points of interest and wonder as far as the eye can see, but was not the only part of China that students were able to experience.
Sarah Lowney, a senior business administration major, was amazed by the amount of sights and experiences that she and her fellow classmates were exposed to.
"Before leaving for the study abroad, I did a lot of research on sightseeing and culture," Lowney said. "Everything told me that the Great Wall of China would take my breath away. I found it hard to believe. However, the Great Wall did, in fact take my breath away. Being able to walk along a structure with so much history and world-renowned fame is a truly unexplainable feeling."
When the students were not in the classroom, they were experiencing things up-close and personal, according to Gonzalez.
"Our hotel was literally a two-minute walk from our classroom. Were centrally located next to other universities, restaurants, shopping malls and grocery stores," Gonzalez said. "I think that students to be immersed in a totally different culture, with different language, food and customs is the biggest possible gain from this experience. Our students learned how to be independent in a completely foreign country and made incredible friendships with Chinese students by playing sports, studying, eating and experiencing new things together."
As a faculty leader, Gonzalez was able to develop a great relationship with his students.
"As a faculty leader, you take on many roles," Gonzalez said. "You are a teacher, tour guide, counselor, friend, accountant and a little bit of a policeman too. It was fascinating to me to see the students immersing themselves in the Chinese culture. For example, before class some of our students would usually play basketball with the Chinese students, while others played football and even I participated in a soccer game."
Gonzalez believes the experience also helped him grow as a professor.
"As an academic and particularly as an economist, it was very enriching to visit China," Gonzalez said. "It is the second, soon-to-be the first, largest economy in the world and its rise to an economic superpower is the most important economic event of the 21st century. To be able to see this transformation is to understand it and become better prepared to talk about these topics with my students."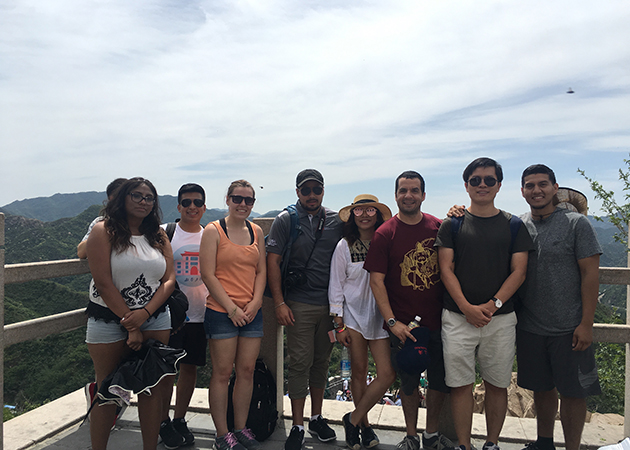 Yesica Jaimes, Aaron Serrano, Lindsey Buras, Luis Heras, Ana Vargas, Associate Professor Fidel Gonzalez, Xing Yi and Richard Mengel pose for a photo while touring the Great Wall of China.
Lowney is glad she made the decision to study abroad, as it truly was a life-changing experience and highlights the importance of venturing outside your comfort zone.
"Leaving the comfort zone of your friends, families and the usual academic and workplace environments is so important to allow yourself to grow," Lowney said. "During the trip, I never felt unsafe or scared. The trip will change anyone's life, regardless of who you are or where you come from."
According to Gonzalez, these courses can shape students to understand and appreciate international business and cultures.
"I feel that when students are in a foreign country, they are able to learn about themselves and where they come from too," Gonzalez said. "They become more tolerant of other points of view and customs. I think they can obtain first-hand knowledge of one of the most important economies and cultures in the world and that can absolutely help them when they go out into the job market and life.
"There is no equivalence between taking the courses on campus and actually experiencing the study abroad yourself. Study abroad classes are not just about the academics, but about immersing yourself in the topic of study. It is not the same to talk about the Chinese economy than actually go to China and visit the Hyundai production plant, for example, and learn about their production processes, marketing and regulatory issues from the actual company themselves."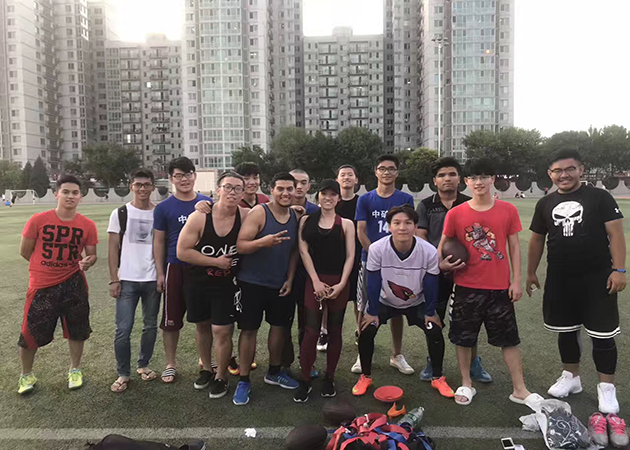 SHSU student Richard Mengel (center) poses for a picture with local students after a friendly game of football.
For students interested in studying abroad in China, Gonzalez urges that they get in contact with him as soon as possible, as space is limited.
"This is the most affordable study abroad program at SHSU," Gonzalez said. "The program fee is only $500 and it includes all field trips, hotels and some of the meals and taxis and visits to the cites of Shanghai and Xian. Moreover, students in good academic standing are eligible to scholarships from the Office of International Programs and the College of Business Administration."
"This is truly a life-changing experience," Gonzalez said. "One of the great things I was able to experience is to see how each student has their own unique set of amazing qualities. Each of them found their own way to socialize and experience China. I am convinced that each of them has grown because of this."
- END -
This page maintained by SHSU's Communications Office:
Associate Director, Communications: Emily Binetti
Telephone:936.294.4406
Communications Manager: Vacant
Telephone: 936.294.1837
Communications Writer: Campbell Atkins
Telephone: 936.294.2638
Thomason Building: Suite 102
Please send comments, corrections, news tips to Today@Sam.edu