Bexley Recognized With Regents' Professor Designation
Jan. 3, 2017
SHSU Media Contact: Tricia Sims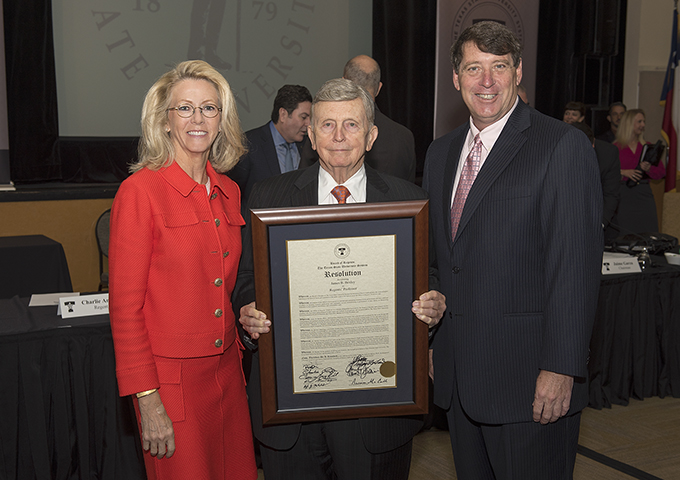 Distinguished Professor of Finance Jim Bexley (center) was recognized for his career of outstanding research, teaching and service in November with the Texas State University System's Regents' Professor Award. With Bexley are SHSU President Dana Hoyt and College of Business Administration Dean Mitchell Muehsam. —Photos by Brian Blalock
Surrounded by awards and honors in his office, Sam Houston State University Distinguished Professor of Finance James Bexley reflects over a successful career that has spanned decades and, last year, led to his receiving the highest recognition given to a professor in the Texas State University System—the TSUS Regents' Professor Award.
"It really is a great honor," Bexley said. "It has been a good year. I got the lifetime achievement award from The Texas Bankers Association. I was named a Distinguished Professor just last year. Lots of good things (have happened)."
Bexley's accolades are the result of a 35-year career as a chief executive officer of several banks around the country and more than 20 years of bank consulting and teaching at SHSU.
In addition to the valuable experiences he shares with his students, Bexley has impacted SHSU's College of Business Administration through his instrumental assistance in building the college's banking program, as well as in pioneering the curriculum for the university's Executive Master of Business Administration degree in banking and financial institutions.
He sees his continued connections in the banking profession as beneficial to both SHSU and himself.
"Dealing with young people keeps you young," Bexley said. "I am still able to do a lot of consulting for banks, so that keeps me current. It is kind of a win-win for me. I have the best job in America."
Throughout his career, Bexley said he has helped more than 500 students get their first job in banking and more than 1,000 students get an internship while attending college.
"It is fun working with young people and making a difference in their life," Bexley said. "It is kind of like MasterCard says, 'Priceless;' you get to see them succeed. Over the 20 years now, I have had some who are presidents of banks and some who have gone on to higher levels in banking. It is great."
Bexley also has stayed current in the field by publishing 110 journal articles and four books. In 2015, he also did some work in counter terrorism research for the State Department. Prior to that, for about six years he was on the Federal Reserve board in which he worked on many economic and financial projects with them.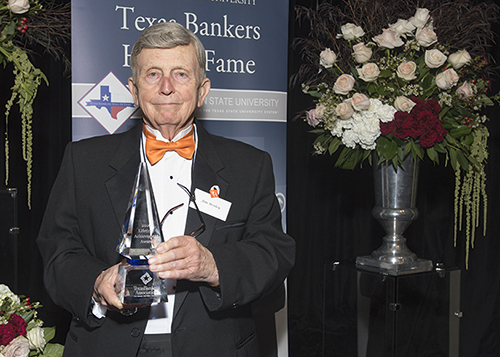 Bexley was honored with the Texas Bankers Association's "Lifetime Achievement Award" during the

Texas Bankers Hall of Fame gala, held on the SHSU campus, in April.
When he was first considering teaching, Bexley spoke to his friend who was a dean at Texas State University. The friend told him about the new banking program that SHSU was starting.
"I had lunch with him and he said Sam Houston has something we don't have," Bexley said. "I asked what is that. He said they have a million dollars to start a banking program."
The friend made a few calls and then Bexley was on his way to meet with the executives who were planning the banking program.
"(In the banking industry) I specialized in taking over problem banks and turning them around so that they became profitable," Bexley said. "I decided I wanted to give something back. There are people that helped me get where I was and so I thought this (teaching) is a good way to give something back."
After becoming a finalist, Bexley presented a plan on what he envisioned for the new banking program. A week later he was notified that he had received the job offer.
"We started creating course-by-course degrees," Bexley said. "When you have good support people, it is amazing what you can accomplish. I love Sam Houston. It is a great school. My joke is I didn't go here, but I got here as quick as a I could."
These accomplishments were among the reason Bexley was selected among faculty from the eight universities in the TSU System to be a Regents' Professor, a designation that recognizes professors whose performances shine on three main objectives—outstanding research, teaching and service.
He was presented with a commemorative medallion, a certificate and a check at November's board meeting. Along with the award, recipients of the Regents' Professor Award maintain this title for the duration of their service within the system.
"I think it is good for you to strive to be recognized with things like this," Bexley said. "It improves the quality of the profession when you have a mark to shoot for."
Despite his accolades, Bexley does not plan on slowing down or retiring anytime soon.
"I plan on teaching till I die," he said. "It is really just a lot of fun dealing with young people and teaching them and guiding them in jobs. It is very fulfilling."
- END -
This page maintained by SHSU's Communications Office:
Director of Content Communications: Emily Binetti
Communications Manager: Mikah Boyd
Telephone: 936.294.1837
Communications Specialist: Campbell Atkins
Telephone: 936.294.2638
Please send comments, corrections, news tips to Today@Sam.edu