Modern Society Reflected In SHSU's 'As You Like It' Production
Feb. 17, 2017
SHSU Media Contact: Emily Binetti
Story by Teddi Cliett.
Students have been rehearsing for the Feb. 22-25 production of William Shakespeare's "As You Like It," set in 1989 Prague during the Velvet Revolution, since the beginning of the semester. —Photos by Michael Ray
"Art should be used to comfort the disturbed, and to disturb the comfortable," wrote Banksy, a modern English artist and political activist.
The Sam Houston State University Department of Theatre and Musical Theatre's upcoming performance of Shakespeare's "As You Like It" fits right into that description; the 1500s Shakespearean piece focuses on defying social norms and challenging a government that one does not agree with, much of which is reflective of modern day American society, according to senior Tanith Albight, who pays Celia.
"I believe 'As You like It' is, while quoting Hamlet, 'holding a mirror up to nature,'" Albright said. "It is a mirror image of what we see today with the Women's March and protests about our current political state. 'As You Like It' tells us that it's OK to be upset and rebel against unfair governing."
The SHSU production, directed by theatre professor Thomas Prior, takes place in 1989 Prague in the midst of the Velvet Revolution. It will be presented in the University Theatre Center's Erica Starr Theatre Wednesday through Saturday (Feb. 22-25) at 8 p.m., with an additional 2 p.m. showing on Saturday.
The characters are a Czech acting troupe putting on the piece, like a frame story, according to senior Alexandra Jackson, who plays Jacques in the production.
However, with a change of location comes a change of language, which was a challenge to the cast members, who had a little less than a month to rehearse.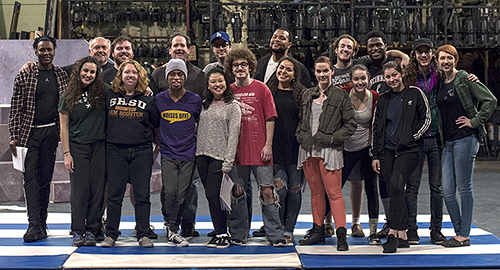 The cast of SHSU's production of "As You Like It."
"The dialect is incredibly difficult, if only because of Prague's location," Jackson said. "It is so close to a multitude of cultures and languages: Polish, Russian, French, German, and others. That influence means that no Czech accent is the same."
In addition to mastering a Czech accent, the cast also had to digest Shakespearean text, which is no easy task.
"You can't skim on the language because then you're doing a disservice to the message you're trying to send," Albright said. "Shakespeare talks a lot, but he makes very valid points."
Although Old English is used, the cast members want to reassure audience members that their version of "As You Like It" is unlike any Shakespearean play seen before.
"This is not your grandfather's Shakespeare," said senior Kenneth Mann, who plays Adam. "Those attending should expect to be constantly entertained, to laugh a lot and to expect the unexpected."
The cast of 18 has been rehearsing non-stop since the semester started in order to prepare for their debut. Nevertheless, in spite of their packed schedules and grueling rehearsal times, the actors said it has been nothing if not pure entertainment.
"I cannot begin to express how exciting it is to be a part of a creative team that collaborates well together," Jackson said. "We all get along and have strong work ethics, which makes the rehearsal process a lot smoother than most."
Complexities like the set location, language, musical additions, and comedic attributes differentiate SHSU's "As You Like It" from other productions, but the core message remains simplistic and unchanged.
"I think love is a running theme throughout," Albright said. "Love for your sisters and brothers, love for your friends and coworkers, and love for your art and your country. There should never be an absence of love in anything that is done–it is the driving force that inspires greater change."
Tickets are available through the university box office, shsu.edu/boxoffice or by calling 936.294.2339.
- END -
This page maintained by SHSU's Communications Office:
Associate Director, Communications: Emily Binetti
Telephone:936.294.4406
Communications Manager: Mikah Boyd
Telephone: 936.294.1837
Communications Writer: Campbell Atkins
Telephone: 936.294.2638
Thomason Building: Suite 102
Please send comments, corrections, news tips to Today@Sam.edu