SHSU Update For Week Of April 23
April 21, 2017
SHSU Media Contact: Lane Fortenberry
Prof Developing Lab Test For Synthetic Opioids
With the nation in the midst of an opioid pandemic and more synthetic drugs flooding the market, an assistant professor in Sam Houston State University's Department of Forensic Science is researching a new method to detect these synthetic substances in death and criminal investigations.
Madeleine Swortwood is developing a testing method to identify four synthetic opioids in toxicology labs using saliva. These drugs, readily found on the

Internet, mimic the effects of morphine, fentanyl or prescription pain pills, but are much more potent. The Drug Enforcement Administration temporarily banned one of these synthetic drugs in November after it was implicated in 46 deaths in New York and North Carolina and identified in 88 crime labs across the country.
"Synthetic opioids can be hundreds or thousands of times more potent than heroin and can produce severe intoxication and even fatalities when abused, especially when cut into heroin unbeknownst to the user," Swortwood said. "While heroin and opioid abuse is common, synthetic opioid use has risen dramatically, causing a public safety concern."
Swortwood was awarded a $15,000 enhancement grant from the university to develop a method using saliva, a convenient sample source that would allow testing for multiple drugs from a single specimen. The method is proposed for use in a federal research project to detect synthetic opioid use among prisoners, arrestees and those suspected of driving under the influence.
"Saliva is really easy to collect," Swortwood said. "Unlike a blood sample, it does not require a nurse to draw it. There are also privacy issues for the collection of urine. This method uses a swab to collect one milliliter of saliva, which along with the buffer provides four milliliters for testing. These samples could be tested on various types of machines and instruments."
This method could help save time and money in the laboratory by allowing multiple drugs to be tested using a single sample, and by providing greater flexibility in testing by using saliva. The method also could be used for workplace testing and drug treatment programs. Synthetic opioids often are used as an alternative to heroin or prescription drugs to avoid detection, Swortwood said.
According to the Centers for Disease Control and Prevention, the death rate for synthetic opioids other than methadone increased by 72 percent from 2014 to 2015. In November, the DEA placed a temporary emergency ban on one of those, citing an "imminent threat to public health and safety."
Unlike heroin, which is derived from the poppy plant, synthetic opioids are manufactured. They originally were developed in pharmaceutical labs as a possible alternative to morphine, but later abandoned. They now are manufactured illegally in China, according to Swortwood.
Hollywood Superhero Returns To The Big Screen
Story by Teddi Cliett
The Sam Houston State University Department of Mass Communication invites students, faculty and the Huntsville community to revisit Hollywood's original superhero at the free screening of the 1978 film, "Superman," at Old Town Theatre on Monday, April 24 at 6 p.m.
The screening will be introduced by mass communication graduate student Scott Stamper, who will give more background on the movie, and will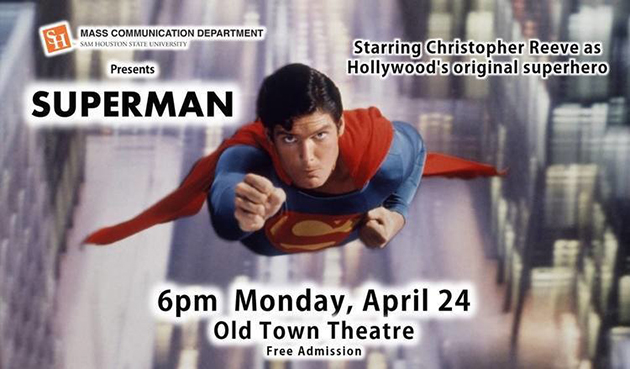 conclude with a discussion led by mass communication assistant professor Grant Wiedenfeld to expand on the audience's understanding of the film, which differs greatly from modern-day superhero movies.
"The 1978 film has a different character from today's Superman and superhero movies," Wiedenfeld said. "On the one hand it has a kitsch style that recalls the comics, cartoons and b-movie serials of the 1940s. On the other hand, the 1978 movie has an optimism and sincerity that stands apart from the dark and cynical superhero movies we often see today. In this sense (actor Christopher) Reeve's hero and the comic villain feel like a breath of fresh air."
In addition to the movie being the first of its kind, the film also possess some musical qualities that viewers could find impressive.
"The movie was directed by Richard Donner with a famous score by John Williams, who also wrote the soundtrack score for Star Wars and Jaws, the other groundbreaking movie franchises of the 1970s," Wiedenfeld said.
Superheroes have been an American staple for almost 90 years, and the original Superman movie will take audience members back to the roots of the good versus evil storyline that everyone knows and loves.
"Superheroes took hold on American culture in the 1930s and 40s through comic books, of course, but they were not important for cinema until 50 years later," Wiedenfeld said. "The 1978 movie starring Christopher Reeve was the first superhero movie of the type we know today, and in that sense he is the 'original superhero.'"
Old Town Theatre is located at 1023 12 St. in Huntsville. For more information, contact Wiedenfeld at grant.wiedenfeld@shsu.edu.
Student Art Association To Host Auction
The Student Art Association of Sam Houston State University will host its annual Student Art Auction at the Satellite Gallery in downtown Huntsville.
A silent auction will be held April 24-28. To close out the auction, a reception will follow on April 28 from 6-8 p.m., with a live auction at 7 p.m.
The proceeds from the auction go to the artists participating, as well as toward helping the organization fund future events and student scholarships.
The auction is an opportunity for the members and other students to showcase and sell their work, as well as bridge the gap between the students of SHSU and the community of Huntsville.
SAA is a non-profit student governed organization that is dedicated to the artistic and professional development of its members. SAA creates opportunities for student scholarships, exhibits and the public sale of member's artwork.
The Satellite Gallery is located at 1216 University Ave. in Huntsville. Hours are 4-8 p.m. on Thursdays and 10 a.m. to 2 p.m. on Fridays and Saturdays.
Compliance Officer Speaks At Ethics Conference
Joseph Agins, compliance officer at Sam Houston State University, spoke at the Todays General Counsel Institute's Compliance & Ethics Conference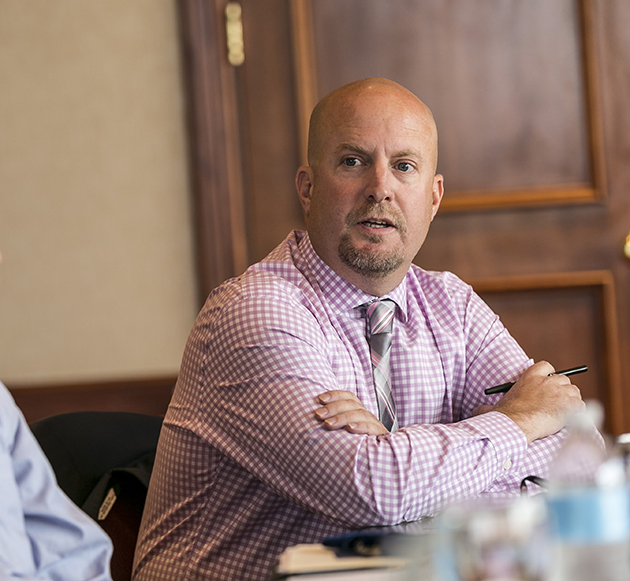 in Houston on April 13.
The colloquium provides a deep understanding regarding major compliance and ethics challenges facing organizations.
The conference featured round-table discussions with counsel and compliance officers.
"Not only was I able to present and share my thoughts and best practices for compliance programs, but the opportunity also allowed me to meet many of the top compliance officers and legal counsel from the Houston area," Agins said.
"I consider such connections invaluable, especially when trying to build a new compliance program, as we are currently doing here at Sam."
Agins was one of several speakers and thought leaders invited to speak to those in attendance on best practices in the compliance and ethics arena.
He spoke about best practices with regard to not just building, but enhancing and maintaining existing programs and getting the most out of them.
Student Makes Texans Cheerleading Squad

Sam Houston State University student Ashlyn J, senior engineering tech major, has made the 2017-2018 Houston Texans Cheerleading Squad.
Of the 1,000 people who auditioned for a spot on the roster, only 35 were selected on April 11.
"It was such a surprise getting to make the team," she said. "This being my first time trying out and not having a professional dance background—it was a shock.
"It wasn't until they gave me my uniform that I realized this was actually happening," she said. "I am so excited and grateful for this opportunity. My coach and teammates are wonderful and I'm looking forward to an amazing season."
Ashlyn will be representing the Texans at different appearances and events throughout the year, as well as cheering from the sidelines.
SHSU To Remember Holocaust Victims April 24
Sam Houston State University's second annual Yom Ha'Shoah Holocaust Remembrance Day will be Monday, April 24, from noon-5 p.m. in the Lowman Student Center Theater.
The university will reflect as attendees honor and remember those who died in the Holocaust.
Students and faculty will read victims' names. Victim profiles, stories and poems will also be shared.
For more information, contact Zach Doleshal, professor of English, at zad007@shsu or 936.294.2233.
SGA To Host Spring Fling
Sam Houston State University's Student Government Association will host a Spring Fling on Wednesday, April 26, from noon-3 p.m. in the Lowman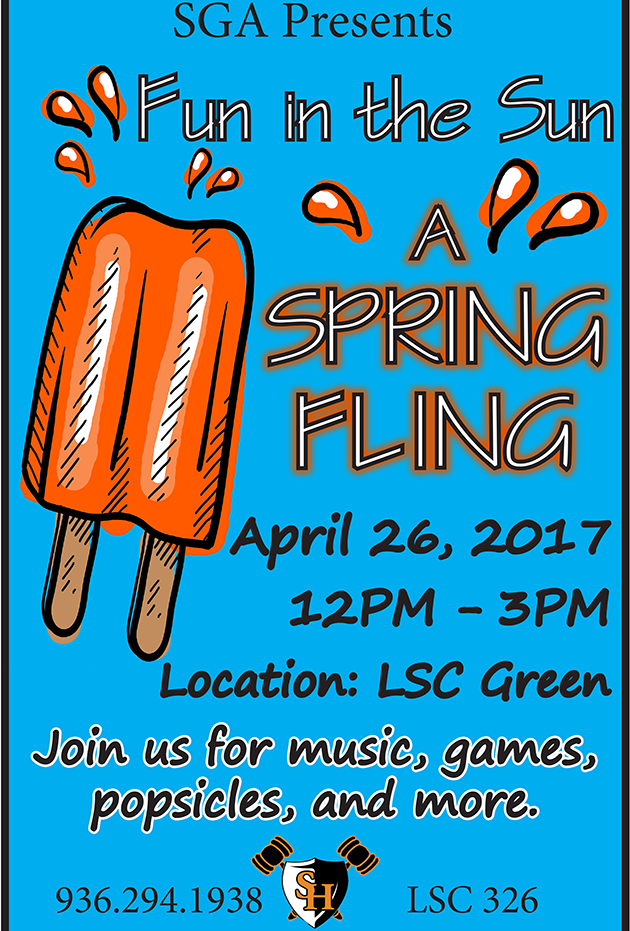 Student Center Mall Area to help wind down the semester.
This will be a carnival-style event created for students to distress before their rapidly approaching finals.
Spring Fling is expected to have something fun for everyone, according to Vanessa Roberts, chief of SGA's Student Affairs.
"There will be music, games, treats, and inflatables for the students to enjoy," Roberts said. "It's free fun to interrupt the monotony of an otherwise normal school day."
Through Spring Fling, SGA hopes to show students that they are an organization which conducts serious matters, while knowing how to enjoy themselves.
"We are hoping that this event will help some of the students become familiar with SGA and be encouraged to want to make a difference on their campus," Roberts said.
The event is free and open to all SHSU students who wish to learn more about SGA and distress before finals in May.
For more information, contact SGA at 936.294.1938 or visit their office in LSC 326.
Outdoor Recreation To Visit Utah
Sam Houston State University's Outdoor Recreation will host a trip to Utah May 17-26.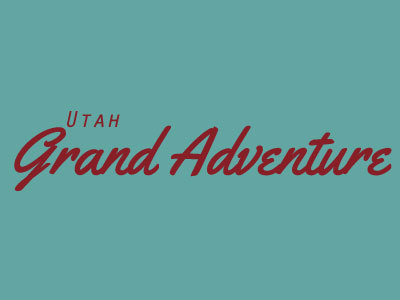 Attendees will be able to explore national parks, rivers and the many trails the state has to offer.
The trip is open to all experience levels.
The deadline to register is May 1. The cost is $475 for students and $575 for non-students.
Trip costs include transportation, equipment, food (except any meals on the road), permits and fees, lodging or camping, instruction, and guides.
Click here to register.
If the trip is full, email Lara Patterson, assistant director of outdoor programs, to be added to the waitlist.
SHSU Food Pantry Distribution Set For April 24
Students in need of food can fill out a food pantry request form online and attend the SHSU Food Pantry distribution on Monday, April 24, from 2-8 p.m.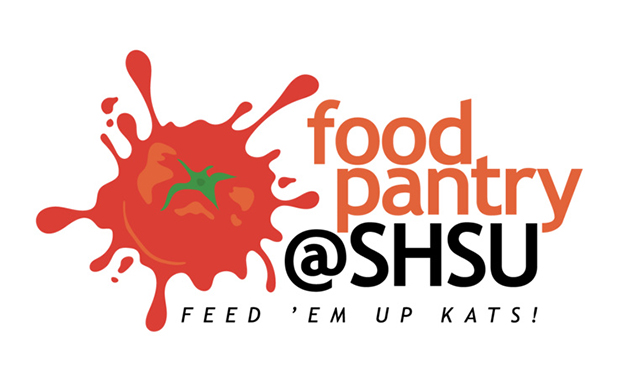 at Academic Building III Room 113.
Requests must be submitted by 11:59 p.m. on the day before the distribution. Walk-in requests are also accepted, but requests are filled on a first-come, first-served basis.
Students should bring bags to carry food in and their Sam ID. The service is free of charge.
Food requests are confidential.
"The purpose of the SHSU Food Pantry is to support students who struggle with food insecurity, to encourage an educational understanding of food insecurity and to provide a space for students to volunteer and network with their peers," according to the SHSU Food Pantry statement.
For more information and to sign up, visit the event page.
Activities Planned For Huntsville State Park
Sam Houston State University's Outdoor Recreation will host a number of activities during "Get Outdoors: Huntsville State Park" on Wednesday,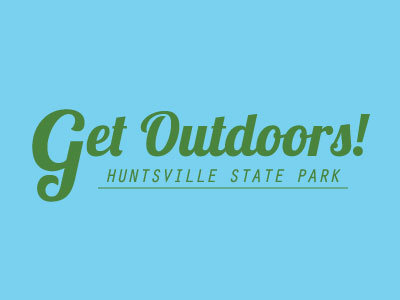 April 26, from 4-8 p.m.
Activities include a cookout, slacklining, stand up paddle boarding and kayaking. The event is a way to encourage attendees to go outside, learn a new skill and meet new people.
The trips and workshops offered by Outdoor Recreation are open to anyone wanting a unique, outdoors experience.
The registration deadline is Monday, April 24.
The cost to participate is $10. There is also a $5 entrance fee to get into the park.
Click here to register.
Send Experts, Story Ideas Here
Are you an expert in a topic might be of interest to reporters? Or even a unique topic? Would you like to have your research interests highlighted or discuss your expertise with reporters seeking interviewees?
The university Communications Office is collecting information and story ideas for its ongoing projects, including the online SHSU Experts Guide, the SHSU home page and Today@Sam.
The SHSU Experts Guide was established as a resource for the media, who turn to university experts lists for potential interviewees for news stories. Faculty who are interested in being a part of the university's database of experts can submit their biographical and personal information, as well as their areas of expertise, through the Experts Guide Submission Form.
Other story ideas, both news and features on faculty or student research and accomplishments can be sent to today@sam.edu. For news stories, please include the date, location and time of the event, as well as a brief description and a contact person.
All information, including news story ideas and update items for Today@Sam, should be sent a minimum of a week in advance of the event in order to make necessary contacts and write a story. Feature story ideas for the SHSU home page ("sliders") should be sent a minimum of two months in advance.
To see a full list of the Today@Sam submission guidelines, or to access submission forms for news and feature stories or hometown releases, visit the guidelines page.
For more information, call 936.294.1836.
- END -
This page maintained by SHSU's Communications Office:
Director of Content Communications: Emily Binetti
Communications Manager: Mikah Boyd
Telephone: 936.294.1837
Communications Specialist: Campbell Atkins
Telephone: 936.294.2638
Please send comments, corrections, news tips to Today@Sam.edu