Prof Uses Childhood Activism To Lead Bearkats By Example
Feb. 21, 2017
SHSU Media Contact: Dawine Bergeron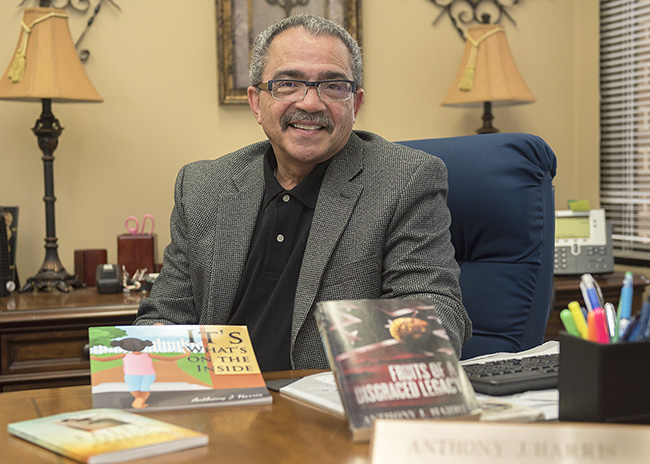 Educational leadership department chair Anthony Harris has written six books, with two more forthcoming, on the Civil Rights Movement and being a positive influence on others' lives, based on his own experiences as a young activist in the 1960s and the philosophies he has adopted since then. —Photos by Brian Blalock
"I want to use myself as an example. My experiences haven't made me mad, angry or try to get even. I want to get ahead."
Those are the words spoken by Anthony Harris, Sam Houston State University professor and chair of the educational leadership department, as he recalled the events and memories from his childhood that caused him to peacefully participate in the Civil Rights Movement as a young boy.
Born in the then-segregated town of Hattiesburg, Mississippi, Harris, with encouragement from his mother, got his start in the movement at the age of 12 on January 22, 1964, also known as Freedom Day. Freedom Day, which later evolved into Freedom Summer, was a day in which citizens of Hattiesburg marched to gain freedom for African-Americans to vote.
Harris was even arrested for marching around the courthouse, which was illegal because of laws that southern states had passed forbidding children to be on the picket line.
"In defiance of that law, my older brother, a friend of mine and I were there on that cold, wet January morning. The police spotted us, threatened us and took us to jail," Harris said.
Despite what he faced that day, he continued his role in the movement by participating in Freedom Summer the following summer. Freedom Summer was a voter registration project in Mississippi, part of a larger effort by civil rights groups to expand black voting in the South.
"The purpose of Freedom Summer was to help with voter registration, start freedom schools, and help with the Democratic National Convention. My family and I had two white college students staying in our home who came south to work in the Civil Rights Movement," Harris said. "It was a cultural experience for both of us. We had never had white people live with us and they had never been around black people that much."
A few years later, from 1966-1970, Harris attended and desegregated all-white schools. Although the Brown vs. Board of Education case declared segregation in schools to be unconstitutional in 1954, separate schools were still used for black and white students and Harris decided to take a stand.
"There were only five of us and none of us had any classes together. I was walking down the hallway one day and a kid spat on me," Harris said. "In that moment, I had to analyze what would have happened if I would have retaliated. I remembered what Dr. King tried to instill in us, that if we continued to have an 'eye for an eye and a tooth for tooth' mindset, we would end up being a blind and toothless society, so I went to the nearest restroom, wiped off my pant leg and went to my next class."
After desegregating schools, Harris was required to attend the predominantly African-American high school closer to his home.
He graduated in 1971 and went on to pursue his degree in political science at University of Southern Mississippi.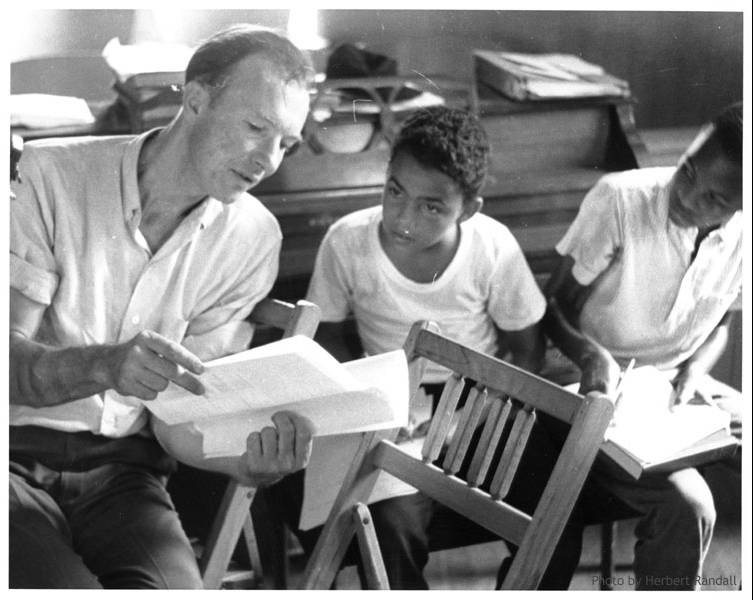 Late folksinger Pete Seeger teaches a young Anthony Harris and his friend Ratio Jones music at the Freedom School at Mt. Zion Missionary Baptist Church in 1964. —Submitted photo
"My original major was political science because I wanted to become a lawyer and a community activist; however, I found it to be very boring and decided to switch to Spanish because I took one Spanish course in high school, made an 'A' and decided that should be my major," Harris said.
When he visited with his adviser to discuss changing his major, Harris was advised not to do so, which only encouraged him more. He also went on to learn Russian, Italian, Portuguese, and Swahili.
After spending the summer in Colombia to perfect Spanish and being unable to find a non-teaching job in his field, Harris pursued his master's degree in counseling at the University of Southern Mississippi, followed by his doctoral degree in counseling from Texas A&M University–Commerce, at the time East Texas University.
"I had never heard of counseling before but I knew I needed to do something with my life, so I enrolled in the program," Harris said. "I came to Texas because I didn't want to continue doing what I was doing at Southern Mississippi for the next five or 10 years, although I loved my work."
While at Texas A&M-Commerce, Harris was one of 50 participants selected to participate in a three-year leadership-development program as a WK Kellogg Foundation fellow.
"When the program wound down, my advisers asked me 'how has all of the traveling and everything you've done made you a better person, a better leader and a better professional?'" Harris said. "We didn't have to produce a paper or anything, but we had to report what we were going to do next. It wasn't a rhetorical question. They really wanted an answer."
Harris responded to that question by looking at the community of Commerce. He noticed things he hadn't seen before.
"I saw young, black boys in elementary and middle school dressing, walking and talking in a certain way," he said. "It wasn't enough to be critical of them. I had to step up to the plate and do something about it. I felt I needed to instill value into those young men because values drive behavior."
Shortly after the Kellogg experience, Harris founded Project Keep Hope Alive, an academically based program that mentored young men of color.
"We had college mentors who were there for them. They instilled in them the notion that they could go to college and excel," Harris said. "Our goal was to keep the kids from getting into trouble at school and prevent failing grades."
After leaving TAMU-Commerce in 1999 and handing the program over to someone else, there wasn't enough money to support the program and it became inactive.
Along with making a difference in the lives of young men, Harris continues his advocacy for youth by writing books that deal with his passion for social justice, equality and inspiring others.
"I was part of the generation of the movement where my age group is the last age group that was actively involved. We have stories to tell because those that are older than us have already deceased or are dying," Harris said.
One book in particular, "Ain't Gonna Let Nobody Turn Me Around," is his recollection of the movement.
"It's told from my lens. It's not a history of the Civil Rights Movement in Hattiesburg, but it's how Anthony remembers it," Harris said. "It doesn't just discuss the movement but also things we did as kids, because life still went on despite all of the Jim Crow things."
Harris also has published five other books, with two more forthcoming.
After working at Mercer University for seven years, Harris thought he would retire, but when he was nominated for the chair of the educational leadership department at SHSU, he applied for the position and returned to SHSU.
"I'm not sure what lies upon the horizon. At this point in my career, I tend to take it semester or year at a time," he said. "I try to stay in the moment and try to do what I can right now as best as I can."
- END -
This page maintained by SHSU's Communications Office:
Director of Content Communications: Emily Binetti
Communications Manager: Mikah Boyd
Telephone: 936.294.1837
Communications Specialist: Campbell Atkins
Telephone: 936.294.2638
Please send comments, corrections, news tips to Today@Sam.edu