Students To Showcase Short Films At Animation Festival
April 25, 2017
SHSU Media Contact: Teddi Cliett
Story by Teddi Cliett
From lighthearted childhood movies to somber documentaries, animation has awed audiences for more than 100 years.
Students in the Sam Houston State University computer animation program spend their semesters emphasizing creativity, experimentation and technical ability to master that intrinsically magical art.
Now, Bearkats and community members will have the opportunity to view completed student projects at the 2017 Animation Festival on Thursday, May 4, from 6-7 p.m. in the Department of Art Building E Auditorium. Doors open at 5:30 p.m. The festival is free and open to the public.
"This event provides an opportunity for students to share their creative vision and talent with other students and faculty from the Department of Art, as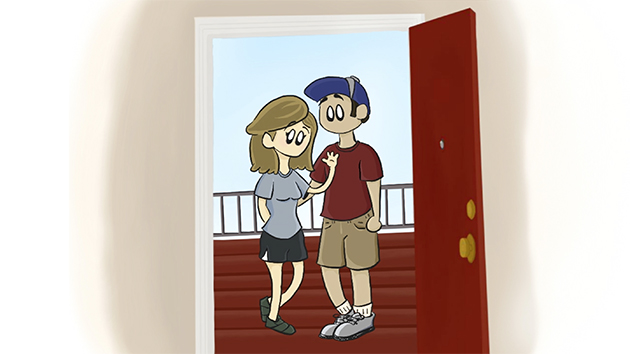 Senior art major Monica Lebeau's short film "Day In and Day Out" will screen during the

2017 Animation Festival.
well as the SHSU and Huntsville communities," said Edward Morin, assistant professor of art. "It is a great way for students to get feedback on their work outside of the formal classroom experience."
Much of what animation consists of borders closely with the production of live-action films, but people often forget that animation filmmakers must create every detail they wish to include.
"Live-action and animated films both have performers, sets, lighting and cameras," Morin said. "In an animated film, every asset, from the sky to the simplest of objects has to be created from scratch. In animation, the animators are the performers, and the performance comes to life one frame at a time. A 3D animation will used models to do this; a 2D animation will use hundreds, or even thousands of drawings."
Morin said the pieces at the festival will reflect the diversity of the courses that the SHSU computer animation program offers and include a variety of approaches to animation, including narrative, non-narrative, 3D, character, 2D, and experimental animation.
In addition, each piece will be an echo of the artist who created it.
Senior art major Monica LeBeau's featured short film, "Day In and Day Out," tells the story of her day-to-day life in a little over 30 seconds.
"It's a 2D animated short that is a compilation of small clips," she said. "Throughout the month of October, I kept track of the things I did every day. Some days had a detailed description, others I wrote down a few descriptor words. The clips are based on whatever I wrote down for that day. So if I quickly wrote down complete nonsense words, I animated some nonsense."
The project took LeBeau about two months to complete, which is about average for student animators, according to Morin.
"It can take weeks, sometimes months, to produce the animations that will be included in the festival," Morin said. "Typically, the animated shorts that are screened in professional film festivals are three to 15 minutes in length. Some of these projects take years to complete."
For more information about the festival, contact Morin at emm026@shsu.edu.
- END -
This page maintained by SHSU's Communications Office:
Associate Director, Communications: Emily Binetti
Telephone:936.294.4406
Communications Manager: Mikah Boyd
Telephone: 936.294.1837
Communications Writer: Campbell Atkins
Telephone: 936.294.2638
Thomason Building: Suite 102
Please send comments, corrections, news tips to Today@Sam.edu