CJ Alumnus Heads Arkansas State
July 25, 2017
SHSU Media Contact: Beth Kuhles
Kelly R. Damphousse started his career wanting to be a Royal Canadian Mounted Officer or a goalie in the National Hockey League. Instead, he has climbed to new heights as chancellor of the flagship institution of the Arkansas State University System.
Damphousse, who received his Bachelor of Science in Criminal Justice from Sam Houston State University in 1987 and returned to teach for two years in 1995, was appointed chancellor of the second largest university in Arkansas in Jonesboro. With a budget of $162.2 million and 1,541 employees, the campus has more than 14,000 students and 150 areas of study, including the largest online program in the state, the second medical school in Arkansas, and the first Americanized residential campus in Mexico.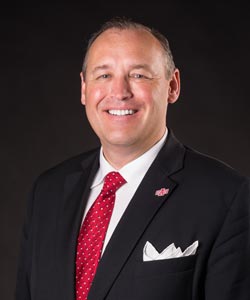 "Sam Houston State University changed my life," Damphousse said. "It showed me that higher education can be life-changing, as it was with me. Sam Houston gave me an opportunity to get a college degree. If not for that, I would still probably be a prison guard."
After studying at a junior college in Canada and then serving three years as a correctional officer in Alberta Correctional Services, Damphousse came to the United States to complete his degree at SHSU so he could become a Mountie. It was here he met his wife Beth, a voice major, who made it clear "she didn't want to marry a cop or live in Canada," he said.
Damphousse said the campus and community in Huntsville embraced him both as a student and young faculty member, especially Paula Lovelace, who guided him to graduate school in sociology and Dean of the College of Criminal Justice Charles Friel, who taught him how to teach statistics.
"I know the impact that a welcoming university can have on a transfer student," Damphousse said. "I learned that at Sam. I had never been to America before and never heard 'y'all' or 'fixin' to.' The people of Huntsville adopted me, and I found a second home at Second Baptist Church. Sam Houston did not just affect me, but also the students I am now affecting. I am paying it forward what Sam Houston did for me."
Friel helped Damphousse get his first job as a security manager at Macy's, and Lovelace guided him to graduate studies at Texas A&M. After earning a Ph.D. in sociology, he worked as an assistant professor at the University of Alabama at Birmingham and at SHSU before joining the University of Oklahoma, where he served as a professor, associate dean, and dean of the College of Arts and Sciences. There, he continued to teach "Introduction to Sociology" to 750 freshmen each year and, along with his wife, served as Family-in-Residence at Headington Hall living with students in the dorm.
While at OU, Damphousse led several research projects, including the American Terrorism Study with Brent Smith at the University of Arkansas, the Arrestee Drug Monitoring Project, and the first field test of detection software designed for voice stress analysis.
Although several graduates from the College of Criminal Justice have served universities across the country as deans and provosts, Damphousse is believed to be the first to lead an entire campus. Among other high-ranking alumni are Laura Moriarty, provost and vice president for Academic Affairs at Monmouth University in New Jersey, and Richard Sluder, who serves as vice provost of Middle Tennessee State University in Murfreesboro, Tennessee. Moriarty was presented the Distinguished Alumna Award at this year's Leadership Luncheon during Honors Day at the SHSU College of Criminal Justice.
Damphousse took the reins at Arkansas State University on July 1. Among some of the highlights of the campus are:
Opening the first American-style residential campus in Queretaro, Mexico, this fall, a hub for medical and aeronautical research and home to more than 1,300 multinational companies
Offering the first College of Osteopathic Medicine in Arkansas through a public-private partnership with New York Institute of Technology
Providing the largest online university in the state
Serving as the entertainment, culture events, and tourist center for Northwest Arkansas with the A-State Convocation Center and Centennial Bank Stadium
Being named an Apple Distinguished Program for the "iPad initiative" which requires the use of iPads and all digital classrooms for incoming freshmen
Being designated the number one nursing program in Arkansas and ninth nationally by NurseJournal.org
- END -
This page maintained by SHSU's Communications Office:
Director of Content Communications: Emily Binetti
Communications Manager: Mikah Boyd
Telephone: 936.294.1837
Communications Specialist: Campbell Atkins
Telephone: 936.294.2638
Please send comments, corrections, news tips to Today@Sam.edu