Seeking Common Ground Through Language
April 18, 2017
SHSU Media Contact: Amanda Horn
Jazmin Camarena contributed to this story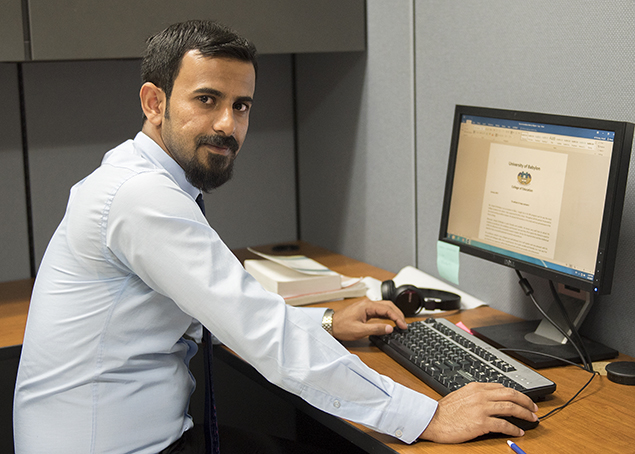 Teaching assistant Amjed Kadhim Al-Rickaby has dedicated himself to unifying different cultures through dialogue, peace and education. -- Photo by Michael Ray
Sometimes doing what you love can have outcomes that you never would have expected. Nevertheless, you become so passionate about that one thing that you will not let anything or anyone stand in your way. All you care about is the journey that the passion takes you on and what lies up ahead.
For Amjed Kadhim Al-Rickaby, a teaching assistant for Arabic at Sam Houston State University and an Iraq native, teaching a language is the passion that drives him.
"My mission is to teach people that through dialogue, peace and education, we can rid the world of numerous problems," Al-Rickaby said.
Al-Rickaby pursued a degree in education at the University of Babylon, one of the most highly regarded universities in the Arab world. Even with the lack of essential learning necessities required to complete a higher-level education, he never gave up.
"There was no modern technology or modern teaching methods," he said. "However, I successfully completed my studies, despite the absence of resources."
After obtaining his degree Al-Rickaby decided to compete for a spot in the Fulbright Foreign Language Teaching Assistant program. The FLTA allows young educators to gain experience and polish their teaching skills as teaching assistants in foreign language classes at various colleges and universities in the U.S.
"I was lucky enough to come to America through this program, which in fact was not an easy road and certainly had its positive and negative outcomes," Al-Rickaby said.
After competing against more than 5,000 candidates, he was one of the few aspirants who were successfully able to move on and finish all the tasks that were given to him. Once obtaining the spot in the FLTA program, he believed that nothing could go wrong. That turned out to be inaccurate.
"Many people were not supportive when they found out that I was coming to the U.S., and unfortunately my plans of getting a Ph.D. were put on hold since the Iraqi government canceled my scholarship," Al-Rickaby said.
Despite the negative effects that his decision brought to him, he decided to continue his plan. He wanted to take advantage of the unique opportunity that he worked so hard for by coming to America to do what he loves most: teach.
"I know that what I did will cause me more problems in the future, but that doesn't matter," he said. "I am here to challenge stereotypes and to strengthen the cultural dialogue between different civilizations."
Al-Rickaby wants everyone to see each other as human beings and not look at the differences.
"There is only one human race," he said. "Yes, we have different colors, religions, languages, and opinions, but these differences are a source of strength. Through these differences we complete each other. We are like a colorful painting, which cannot be complete without the presence of all colors."
Al-Rickaby has high hopes that the problems of criticism based on race, gender and age will be resolved someday.
"The media always talks about bigotry, racism and sectarianism in the Iraqi society," he said. "They portray to the world that Iraq suffers because of these problems. In my opinion, that is a false theory. The Iraqi society is actually a peaceful society that rejects sectarianism and racism."
Growing up in Babylon, Iraq, which is a very religious and conservative province, presented a tough and challenging living situation for him and his family.
"Imagine living in a society that suffers from the scourge of war and terrorism, a society that does not have any real freedom or respect for human rights," Al-Rickaby said.
Witnessing most of the political issues and wars in Iraq affected Al-Rickaby and his country. The Iran-Iraq war, the Gulf wars, the economic embargo imposed on Iraq in the 1990s, and terrorism by Al-Qaeda and ISIS were the issues and conflicts that he grew up under.
"The war against ISIS affected my country politically, economically and socially," he said. "Personally, I have to pay part of my salary to help the government cover the costs of the war."
Experiencing the wars and growing up in the Iraqi society stirred a passion in Al-Rickaby to help people all over the world.
"Living in an oppressed and exhausted society and feeling the suffering of people has given me the motivation to do something for this world," he said. "Day after day I see the need to stand firm against the forces of evil and darkness."
Al-Rickaby is enjoying his time in America and is gaining experience by teaching Arabic to students at SHSU.
"The U.S. is a great country and I feel that America should be an example to the rest of the world," Al-Rickaby said.
To further his degree, Al-Rickaby applied for the Doctorate of Education in Literacy at SHSU.
"The reasons why I applied for this degree is that in my teaching experience, I have realized how the methods implemented by the ministry of education in Iraq are outdated and fall short in producing a satisfying level of literacy," Al-Rickaby said.
However, staying in the U.S. long-term is not part of his future plans.
"I am not planning to live in the U.S. all my life. I will go back to my country to do the next step of my mission once I finish my degree, if I get admitted," he said. "I aspire to change my world."
- END -
This page maintained by SHSU's Communications Office:
Director of Content Communications: Emily Binetti
Communications Manager: Mikah Boyd
Telephone: 936.294.1837
Communications Specialist: Campbell Atkins
Telephone: 936.294.2638
Please send comments, corrections, news tips to Today@Sam.edu