New Program, Student Org Launch To Address Student Well-Being
Oct. 14, 2016
SHSU Media Contact: Tyler Pointer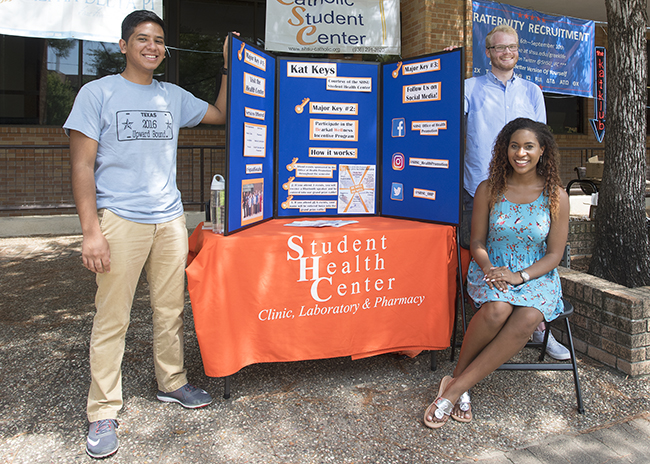 Peer Health Advocates (from left) Edwin De La Riva, Erik Waldbauer and Benita Jones offer SHSU students a "healthy perspective" by recruiting for activities on campus and making recommendations to university officials on behalf of their peers. —Photos by Brian Blalock
"As students, we know the reality of what it is to be a student. Sometimes there is a disconnection based on age when health professionals try to educate others, so they aren't able to get their message completely across," said Sam Houston State University senior biological medicine major Edwin De La Riva. "Since we're the same age as our peers, they can relate to us easier about their health."
De La Riva is a member of the new campus organization Peer Health Advocates, which was created in conjunction with the Office of Health Promotions to allow students to develop skills in peer-health education.
The Peer Health Advocates play a multifaceted role at SHSU. They serve on an advisory committee, through which they offer recommendations to university officials on how to address student health concerns; they also work to actively promote and recruit students to participate in activities their peers may be hesitant to otherwise participate in.
"Students are power," said Edward Gisemba, assistant director for Wellness Programs at SHSU. "During our Get Yourself Tested event, the Peer Health Advocates stood out in the LSC Mall and recruited people; with their help, we had a higher turnout than normal. We tested around 100 students in two hours while the advocates were in the Mall; last year, in 16 hours, we tested 250 people, total."
The Peer Health Advocates also have been working with the Office of Health Promotions to produce the Bearkat Wellness Incentive Program, which rewards students for their participation in the office's events.
"The incentive program is a semester-long series of programs geared toward addressing various areas of wellness and well-being," Gisemba said. "We've strategically placed the programs in a way to emphasize the critical elements of wellness and it pertains to some of the broader concerns related to academic success."
The Bearkat Wellness Incentive Program hopes to highlight all concerned areas of health and define wellness more accurately to students and is replacing the former Alcohol and Drug Abuse Initiative in order to cover a broader aspect on health, according to Gisemba.
"We wanted to take the opportunity to branch out and focus on overall wellness, as opposed to limiting ourselves to only speak about alcohol and drugs," Gisemba said.
The initiative features different events catered to student needs—like past activities such as free STI testing and flu shots, as well as upcoming activities such as de-stressing and smoking cessation programs—throughout the semester.
The goal of the Bearkat Wellness Incentive Program is to ensure that well-being does not get in the way of academic success, according to Gisemba.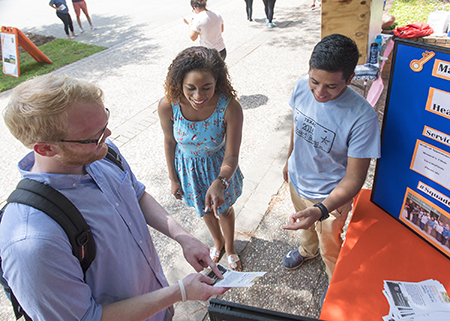 Upcoming Wellness Initiative events Peer Health Advocates will talk to students at include "Stop the Stigma" Mental Health Awareness, Oct. 17-21; the Great American Smokeout, Nov. 17; and the "De-stress Zone," Nov. 30 and Dec. 1.
"In a college environment, it can be very easy to succumb to peer-pressure especially with the party culture that young adults see depicted in the media," Gisemba said.
"(But) Breaching university policies and regulations can easily put a halt to your education," he said. "The fall semester is known for high incidents of alcohol use, and we are hoping to promote full responsibility for those who go out and drink, because being that we're in Huntsville, things are spread out and the only way to make it anywhere is to drive."
And this doesn't just mean physical health; the issue of mental health and the stigma that surrounds speaking about it will also be among the things the group addresses during a campaign that will run through Oct. 21, according to Gisemba.
"Mental health is one of the biggest things that can get in the way of student success because stress is the most prominent issue that our students face," Gisemba said. "They're in an academically rigorous environment and they are on their own for the first time and things such as ADHD, anxiety, depression and eating disorders can greatly affect their social and academic lives."
It's also important for students to take care of their sexual health and practice safe sex, according to Gisemba.
"Fifty percent of all STI infections are amongst college age adults," Gisemba said. "We're trying to show the importance of knowing your status because these infections can lead to long-term effects like sterility in women and low sperm-count in men."
Taking an initiative to stay healthy and make good choices that directly affect your well-being will give the result of a life filled with physical, mental, and economic health, according to De La Riva.
"Health influences every aspect of life, whether it be grades or sociability. If a student is not proactive in their health, they will see a decline in their academic and social lives. Things that don't immediately affect your body can still have a long-term impact in your future," De La Riva said.
Through Peer Health Advocates, De La Riva hopes to provide students a place to interact and learn from the healthcare field.
"It goes hand-in-hand with the school's motto, 'The measure of Life is its Service,' by serving our own community as a median when it comes to our peers' health," De La Riva said.
Potential members of Peer Health Advocates also gain leadership, speaking and healthcare skills and learn to apply them in real-world environments, as they would actually be educating other people about various aspects of their health including mental, physical and sexual, according to De La Riva.
"Peer Health Advocates works by equipping students who are passionate about health with skills to educate other students," De La Riva said. "We will work by advocating for their health and, at the same time, teach them as much as we can. Since we are a new organization we actually have not started on the stage of actual education, but we're currently on the stage of recruitment."
For more information on the Peer Health Advocates and a full schedule of the Bearkat Wellness Incentive Program, visit shsu.edu/dept/student-health-center/health-promotions.
- END -
This page maintained by SHSU's Communications Office:
Associate Director, Communications: Emily Binetti
Telephone:936.294.4406
Communications Manager: Vacant
Telephone: 936.294.1837
Communications Writer: Campbell Atkins
Telephone: 936.294.2638
Thomason Building: Suite 102
Please send comments, corrections, news tips to Today@Sam.edu