SHSU Alumnus Earns Student Teacher Of Year Award
Jan. 6, 2016
SHSU Media Contact: Dawine Bergeron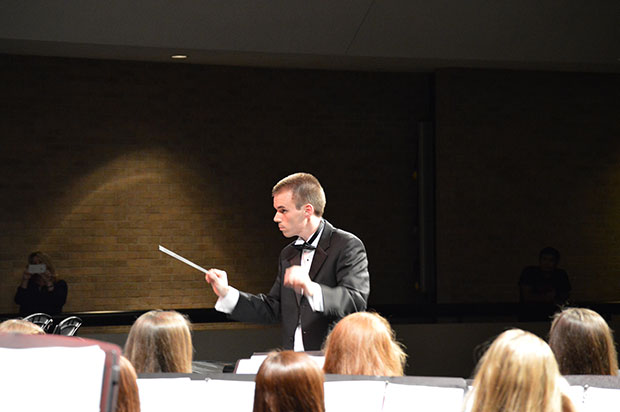 Stephen Van Hooser's skill as a student teacher earned him Texas's "Student Teacher of the Year" award for 2015. He is now associate director of the Mighty Ram Band at Berkner High School in Richardson. —Submitted photos
Looking back, Sam Houston State University alumnus Stephen Van Hooser is grateful for the many teachers who influenced his decision to become a music educator by nurturing his love for music.
Van Hooser took active roles in music-related organizations while in high school, including being the senior drum major in high school and performing with the Houston Symphony, but he credits the immeasurable support of his high school band directors for the time, energy and dedication they devoted to him for his decision to enter the music education field.
"Their passion and love for teaching paved my journey toward music education," Van Hooser said. "Barbara Adams, my high school trumpet teacher, inspired me to be a better version of myself week after week. Her expectations led me further than I could have ever imagined, and I owe a lot of my success to her wonderful teaching."
Adams was also the reason Van Hooser began looking at SHSU when it came time to select a university.
"Mrs. Adams' husband, Randy Adams, who works as a trumpet professor at SHSU, would pop his head into my lessons with Mrs. Adams to see how I was doing," he said. "It was their hospitality and comfort that made me want to pursue a degree at Sam Houston."
At SHSU, Van Hooser thrived, holding leadership responsibilities in the Bearkat Marching Band, studying trumpet and performing in numerous ensembles.
As his academic career began winding down, he completed his student-teacher requirements at Klein Oak High School and Krimmel Intermediate in Klein ISD, where he taught music and assisted in directing the band.
Van Hooser began by shadowing the band director and eventually moved on to directing the band, both supervised and unsupervised.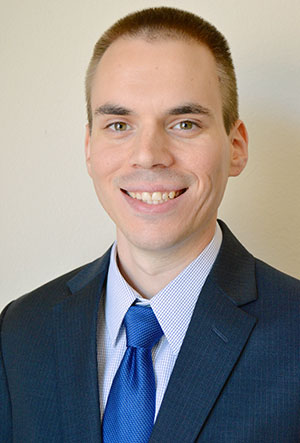 "If you were to walk into the band hall when he was teaching, he would be taken for an experienced teacher," said Cathy Fishburn, former director of orchestras at Doerre Intermediate School in Klein ISD. "When the students begin to lose focus at the end of class, he is a natural at knowing what techniques work in music rehearsal to bring them back for the remainder of the period."
Through his time as a student teacher, Van Hooser saw firsthand the shift between being before the podium as a student and now, being on the podium as an instructor.
"Being a first-year teacher has its fair share of challenges, the majority being the new responsibilities I have as a teacher," he said. "I am no longer relying on my teacher to make me a better player. My students are relying on me to teach them, nurture them and take them to the next level."
Since graduating and taking a job as associate director of the Mighty Ram Band at Berkner High School in Richardson, Van Hooser has found that his passion, skill and education have paid off in unexpected ways.
In October, Van Hooser was recognized by the Consortium of State Organizations for Texas Teacher Education as one of three "Texas Student Teachers of the Year" for his outstanding performance in the classroom.
The award, given by the Texas Directors of Field Experience, recognizes a student teacher who has demonstrated an outstanding ability to develop good classroom management skills and instructional strategies that support the needs of all students, as well as establish effective interpersonal relationships with students, parents, faculty and staff.
"It's an honor and privilege to be recognized as student teacher of the year. I am humbled to represent music education, Sam Houston State University and Richardson ISD," said Van Hooser, who was honored at the CSOTTE conference in Frisco.
Nominees must submit an application containing a lesson plan that was taught during the student-teaching experience, a brief biography and a DVD of the nominee teaching.
"The video we made of Stephen teaching is of him working with the fifth-level band of five performing band," said director of bands at Klein Oak High School Todd Clearwater. "Despite the challenges of holding their attention, keeping them motivated, skill level deficiencies, various discipline issues, and a variety of special needs students, he really managed to get the best out of them.
"It is remarkable how students will work for Van Hooser, not because they fear him but because they like him," said Clearwater.
Of his current position as associate director, Van Hooser said it is a huge responsibility shift that he considers very challenging but doable with a great support system.
"I am extremely blessed and fortunate to have worked with two districts that support fine arts," Van Hooser said. "They both work to inspire their teachers and provide everything they need in order to best serve their teachers and students.
"Student teaching in Klein ISD and working in Richardson ISD has opened my eyes to how music education can benefit the students and ultimately create lifelong success," he said.
He believes in the power of music to create student growth, in any discipline, regardless of the career path a student may choose because class, character and community can be developed through musical excellence.
"The essence of music education is for the students to experience music as a meaningful part of their life so that it will provide them with a lifelong means of musical involvement and growth," Van Hooser said.
- END -
This page maintained by SHSU's Communications Office:
Associate Director, Communications: Emily Binetti
Telephone:936.294.4406
Communications Manager: Mikah Boyd
Telephone: 936.294.1837
Communications Writer: Campbell Atkins
Telephone: 936.294.2638
Thomason Building: Suite 102
Please send comments, corrections, news tips to Today@Sam.edu