Political Science Students Travel With, Research 'The Vagabonds'
Sept. 20, 2016
SHSU Media Contact: Teddi Cliett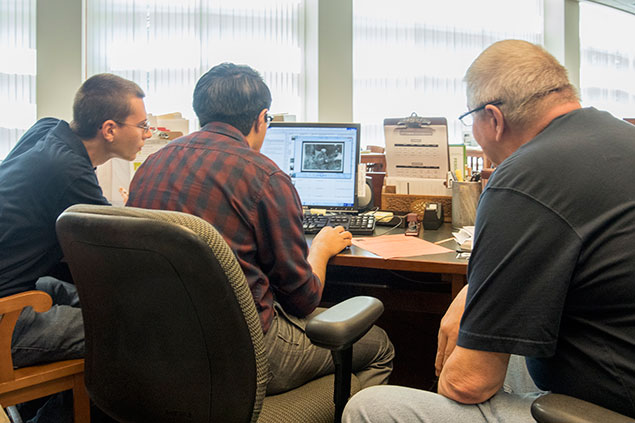 (From left) SHSU political science majors Paul Oliver and Brian Aldaco review images with New York Times-bestselling author Jeff Guinn. Oliver and Aldaco spent the summer sifting through Henry Ford Museum archives and images to create a timeline of the travels of Thomas Edison, Henry Ford, John Burroughs, and Harvey Firestone for Guinn's new book on the four, who were known collectively as

"The Vagabonds." See more images from their travels in the slideshow below. —All photos submitted by Mike Yawn
In 1914, four men who would later be noted in every American history book set out on the first of many summer camping trips. A little more than 100 years later, three Sam Houston State University students joined them.
Over the summer, political science majors Paul Oliver and Brian Aldaco traveled through time (and across seven states) to adventure with "The Vagabonds"—Thomas Edison, Henry Ford, John Burroughs, and Harvey Firestone—courtesy of SHSU's Center for Law, Engagement and Politics.
The two juniors, who were accompanied by high school student Ryan Brim and LEAP director Mike Yawn, drove to Detroit to research alongside New York Times best-selling author Jeff Guinn in preparation for Guinn's upcoming book project, an exploration of the lesser known enterprises of those four well-known men.
Aldaco and Oliver assisted Guinn in that extensive research at the Henry Ford Museum by sifting through archived diary entries, pictures and almanacs. The students even created a timeline of where the men went and how many miles they traveled.
"I learned how much it really takes to research something," Aldaco said. "Jeff Guinn told us he usually takes about a year of research before he even sits down at his desk and starts writing."
Over a span of almost 10 years, The Vagabonds explored destinations from San Diego to the mountains of West Virginia, Tennessee, North Carolina, and Virginia.
On the Road with LEAP
Flip through the album above to see more images from the LEAP travels over the summer (and to learn more about the people and places in the pictures, click here).
Although it was research, Aldaco said it wasn't a chore.
"It wasn't like schoolwork, where you kind of get tired after an hour," he said. "It was stuff we all found interesting."
Not all of the research was from old, paper documents, either. On their last day of research, an employee from the archives noticed the group researching The Vagabonds and offered to show them an original freezer truck used by the men that was under restoration at the museum.
The same truck that seated a former president, a great inventor, a renowned author, and American businessman while they traveled cross-country was parked within eyesight of the students.
"In the picture, it was new, but when it was in front of us, there was definite signs of age," Aldaco said. "It was smaller than what I expected and you could definitely see all the deterioration. In the picture it looks new because it was new, but (when we saw it) it was rusty and falling apart. I think that was the coolest part of the trip."
In addition to research, the students were able to sit in on a few of Guinn's interviews in order to see first-hand how the non-fiction writing process begins. Although they won't have a hand in actually writing the book, Guinn said their researching efforts would not go unnoticed.
"Both Brian and Paul made significant contributions to my research on the Michigan trip—everything from perusing newspapers and documents for relevant information to helping choose the right photos to include in the book from about 400 archive shots," Guinn said. "Both SHSU students will be credited as project researchers in the book's acknowledgments section."
During off periods, the students had the chance to tour some of the Ford Museum's 26 million items, including such Americana artifacts as Mark Twain's and Edgar Allan Poe's writing desks; the bus on which Rosa Parks refused to give up her seat; the limousine John F. Kennedy was riding in while assassinated; and the chair in which Abraham Lincoln sat when he was assassinated.
Yawn said that while it wasn't rigorous work, the opportunity for students to learn how to research thoroughly was valuable.
"The LEAP Center's mission is to provide unique learning opportunities, and having the chance to assist a best-selling author on an important book is a great opportunity," Yawn said. "Mr. Guinn was amazingly generous with his time and insights. I hope, and I think, that the students came back with a new perspective on how the research process works and the resources that are available."
In addition to their work with Guinn, the students traveled across several states, making more than 20 stops along the way at such sites as the World War I Museum and Nelson-Atkins Museum of Fine Arts in Kansas City; Abraham Lincoln's Tomb; the Skydeck in Willis Tower and the Art Institute of Chicago; Thomas Edison's home and President Warren G. Harding's tomb in Ohio; and three state Capitols.
Activities at such eclectic destinations, according to Aldaco, perfectly embody the LEAP Center's goal. While such travels might make them vagabonds of sorts, it puts them among well-educated company that traverses time, distance and disciplines.
"You can't really describe LEAP in one sentence because there's so much that goes into it," he said. "Yes, it is about politics and it is about law, but it's about community engagement and art and community service. It's about learning through experience, and in a classroom."
For more information about the LEAP Center and to read the students' blog from the trip, visit LEAPatSHSU.com.
- END -
This page maintained by SHSU's Communications Office:
Associate Director, Communications: Emily Binetti
Telephone:936.294.4406
Communications Manager: Vacant
Telephone: 936.294.1837
Communications Writer: Campbell Atkins
Telephone: 936.294.2638
Thomason Building: Suite 102
Please send comments, corrections, news tips to Today@Sam.edu