Triathletes To Train At SHSU's Inaugural Ultra-Endurance Pro Camp
Aug. 15, 2016
SHSU Media Contact: Natasha Rider
The ability to exert oneself for an extended amount of time while withstanding fatigue, stress, or pain is not for the faint of heart. Eager to qualify for one of the biggest triathlon events, professional athletes from around the world look for opportunities to put themselves through grueling endurance training.
To answer that call, faculty in the Sam Houston State University Department of Kinesiology have drawn from campus resources to create the first university-hosted professional training camp in North America, which will provide specialized services to select triathletes who have either qualified for the IRONMAN World Championship in Kailua-Kona, Hawaii, in October or have a brutally hot race on the horizon.
During the Ultra-Endurance Pro Camp, Aug. 20 through Sept. 2 on the SHSU campus, professional triathletes and coaches will converge in one location to train under punishing conditions.
(Above) Clinical assistant professor of athletic training Nicholas Grahovec and (below, in front) assistant professor of exercise science Page Glave are among the kinesiology faculty who are active triathletes, a fact that was appealing to QT2 Systems and OutRival Racing in bringing the Ultra-Endurance Pro Camp to SHSU. —
Submitted photos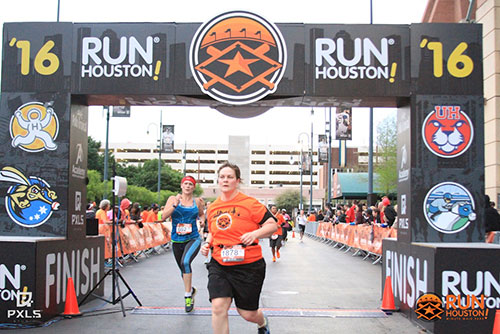 What makes this camp unique is that the athletes will receive specialized exercise physiology and psychological testing by a team of SHSU faculty who are also endurance athletes; in fact, more than half of the full-time faculty and staff in the kinesiology department are endurance athletes.
"We understand what it feels like when an athlete wants to lay down and die because we've been there," said Liette Ocker, associate professor and chair of the kinesiology department, who completed the IRONMAN North America Championship Texas in 2015. "Our collective knowledge and first-hand experience really make us well suited to run a camp like this."
Historically, coaches must gather athletes and services from different locales to conduct this type of intense endurance training in swimming, running and biking.
"With this opportunity everything will be located right here on campus. Essentially, we'll be providing a 360-degree experience," Ocker said.
Participants will live in the University Hotel; eat at Old Main Market, the campus cafeteria that boasts a "fresh-food concept;" and train on campus and throughout Huntsville. Running and biking courses will even extend as far south as Conroe, depending on the particular training distance that day.
"SHSU offers a safe environment and a central location to train in," said Jesse Kropelnicki, founder and managing director of QT2 Systems, a complete endurance event preparation company. "With all the services SHSU is providing, we'll be able to focus solely on being coaches."
Camp coaches, certified in endurance sport, from QT2 Systems and OutRival Racing will help prepare athletes, including at least one who has qualified for the IRONMAN World Championship, in which more than 2,000 athletes will embark on a 140.6-mile journey—including a 2.4-mile swim, 112-mile bike, and 26.2-mile run—along the lava-lined Kona Coast at the championship event.
"It's the ultimate test of body, mind and spirit to earn the title of IRONMAN," Kropelnicki said.
"The weather conditions here in late August and the terrain of Southeast Texas are similar to what it will be like in Hawaii," Ocker said. "These endurance athletes will battle the 'ho'omumuku' crosswinds of 45 mph, 95-degree temperatures, and a scorching sun at the World Championship. This part of Texas is an ideal atmosphere to train in and a perfect place to heat-acclimate in preparation for the environment in Hawaii."
Research opportunities
Because endurance training is important to help improve cardiovascular, respiratory, and muscular stamina during aerobic and anaerobic exercise, SHSU kinesiology and psychology faculty and students will play an active role in the camp by conducting cutting-edge exercise research on the athletes in the areas of core temperature regulation, heat acclimation, and the effects of humidity and hills.
"It's harder to train in heat and humidity than it is to acclimate to altitude," Ocker said.
Because Texas offers these conditions, there is an already established, strong IRONMAN community in the nearby The Woodlands area. The additional research SHSU faculty can conduct will ultimately benefit the entire IRONMAN community, making SHSU an ideal location for the camp, according to Ocker.
Should there be a need for intervention, Mary Williams, assistant professor and athletic training program director, and Nicholas Grahovec, clinical assistant professor of athletic training, also will be on hand to provide the initial on-site evaluation and minor medical treatment. Specially trained to recognize and manage a broad spectrum of musculoskeletal injuries, from basic ankle sprains to the more serious injuries such as fractures or dislocations, the duo will assist with sports medicine and injury prevention.
Additionally, Craig Henderson, professor of psychology, and Dana Formon, a fourth-year clinical psychology doctoral student, will conduct psychological testing and look at how heat affects the ultra-endurance athletes' mentally.
During the camp, Henderson and his team of clinically trained psychologists will provide free, 24/7 counseling for any at-risk athletes.
Other services to be provided during the camp include promotion and marketing assistance for the coaches and the athletes by Ryan Zapalac and Brent Estes, associate professors of sport management, and their graduate students.
- END -
This page maintained by SHSU's Communications Office:
Director of Content Communications: Emily Binetti
Communications Manager: Mikah Boyd
Telephone: 936.294.1837
Communications Specialist: Campbell Atkins
Telephone: 936.294.2638
Please send comments, corrections, news tips to Today@Sam.edu