SHSU Receives Second Tree Campus USA Recognition
Feb. 26, 2016
SHSU Media Contact: Dawine Bergeron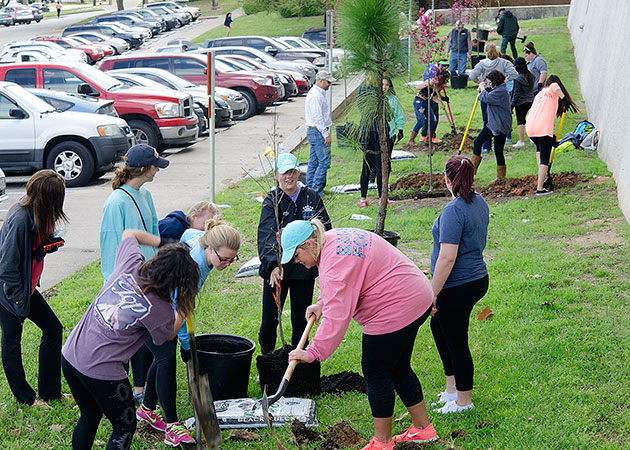 SHSU faculty, staff and students came together last year for Arbor Day by planting trees around campus. This effort was among those that earned the university its second Tree Campus USA recognition from the Arbor Day Foundation. —Photos by Brian Blalock
For the second year in a row, the Arbor Day Foundation has recognized Sam Houston State University as a Tree Campus USA for its commitment to urban forest management and engaging students and staff about the importance of trees.
"The fact that we have been recognized a second time is excellent proof that we are moving in the right direction, not only for our campus trees but also in making SHSU a more sustainable campus," said Evan Anderson, SHSU arborist.
The announcement comes as SHSU is preparing for Sam Houston Arbor Day, which will take place March 31, with activities beginning at 2 p.m. for students, faculty and staff.
Bearkats will be able to participate in educational activities to increase their knowledge about trees and the significance of Arbor Day, as well as plant trees on campus.
This year's "big event" at SHSU Arbor Day will be "SH Arbor Day Adventure II," a game that involves exploring campus, researching and social media.
More information on registration will be available in March.
"Regardless of the result of the game, everyone will get something to take home from the event, besides a love for our campus trees," Anderson said.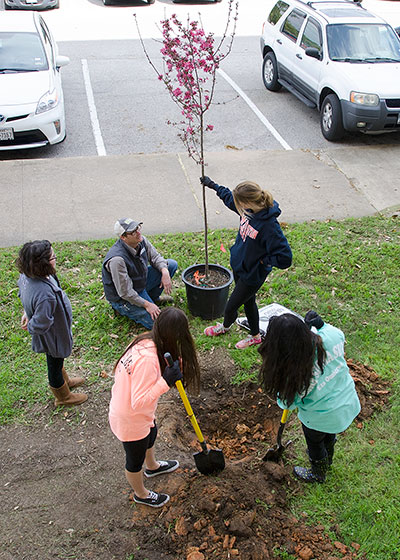 Arbor Day 2016, on March 31, will give Bearkats more opportunities to be involved, while also offering an "Arbor Day Adventure" game that will engage faculty, staff and students. Details on scheduled events are forthcoming.
Tree Campus USA is a national program founded in 2008 by the Arbor Day Foundation to honor universities and their leaders for effective forest management and for engaging staff and students in conservation goals.
SHSU obtained this distinction by meeting the program's five core standards: creating a tree advisory committee, writing a campus tree-care plan, dedicating annual expenditures for the campus tree care program, observing Arbor Day, and having a student service-learning project to engage the student body.
When Anderson began working as SHSU's arborist two years ago, he began working toward the goal of getting the university designated as Campus Tree USA.
Anderson brought experience from working with the Peace Corps, Texas Forest Service and environmental organizations in Texas, California and Australia to the university.
Scott Dolezal, director of Building and Landscape Services, was instrumental in starting the campus tree care program and getting an arborist on staff.
The first thing Evan did at SHSU was write a campus tree care plan to define the policies and guidelines for establishing and maintaining a safe, sustainable, healthy and attractive campus urban forest.
A tree advisory committee was also put in place. The committee analyzes current topics that impact trees on campus, discusses new and existing management techniques, and serves as an open forum for learning.
One of Anderson's goals is to conduct a survey of all trees on campus. He is currently researching the best software and inventory process of SHSU.
"There have been partial inventories in the past, but I'd like to use a software program that gives us more information about every tree on campus, not just what kind it is or its size, but also tells us what the environmental benefits are of having that tree, how much shade it provides and how much energy that saves the university, does it prevent runoff, how many pollutants it's taking out of the air, and how much oxygen it's providing and carbon it's sequestering, etc.," he said.
In addition to Sam Houston Arbor Day, the campus will participate in Texas Arbor Day activities in November.
"We do our big tree plantings on Texas Arbor Day in November, because that's the best time to plant trees in the state of Texas," Anderson said.
Anderson relies on the SHSU Grounds Crew to help with projects, and he collaborates with Physical Plant for planning.
"This is only the beginning for our SHSU Campus Urban Forest Program," he said. "Every year we are adding new techniques, equipment and strategies to ensure that our campus urban forest stays healthy and beautiful."
- END -
This page maintained by SHSU's Communications Office:
Director of Content Communications: Emily Binetti
Communications Manager: Mikah Boyd
Telephone: 936.294.1837
Communications Specialist: Campbell Atkins
Telephone: 936.294.2638
Please send comments, corrections, news tips to Today@Sam.edu