Professor Celebrates Shakespeare With International Performances
April 29, 2016
SHSU Media Contact: Tammy Parrett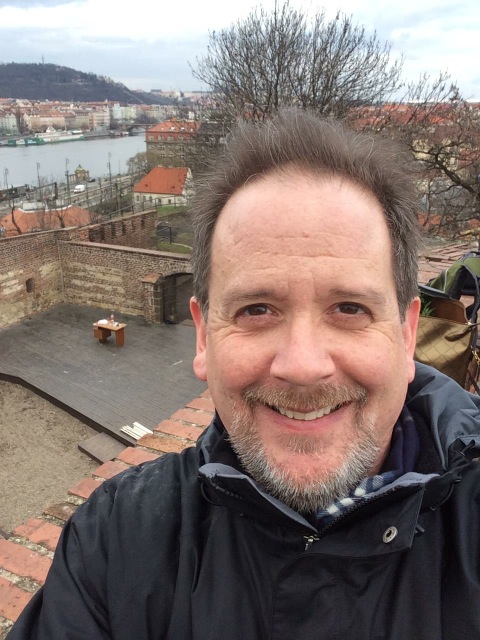 Thomas Prior has visited many theatres—much like this one near Vyšehrad Castlein Prague—during his three-month faculty development leave. —Submitted photo
Thomas Prior, associate professor of theatre at Sam Houston State University, is nearing the end of a three-month faculty development leave, during which he has directed and acted in a play with the Prague Shakespeare Company.
He is taking part in the company's PSC400 series–a year-long celebration of Shakespeare's work–producing John Johnston and Shea Cooper's adaptation of "The Merchant of Venice," set in Auschwitz-Birkenau.
The adaptation follows two Jewish prisoners who are working in the sorting room at Auschwitz and are forced by their Nazi captors to present the play, according to the Prague Shakespeare Company's website. Performing all of the parts, the two prisoners explore their own identity and tribulations through the characters' eyes.
"I chose Prague, and more specifically the Prague Shakespeare Company, because I worked with them five years ago as an actor in Houston," Prior said. "I talked to the artistic director Guy Roberts about coming to work with them as a visiting artist, and he thought it was a great idea. I thought this version might be a different experience for the Prague audience so I went through the casting process and found two wonderful actors."
To prepare for their roles, Prior accompanied his fellow actors Barbora Vacková and Jared Doreck on a trip to the site of the concentration camp Auschwitz-Birkenau to get a better feel for their characters' experiences.
"There are no words to describe being at Auschwitz," Prior said. "You see the horrible photographs of the emaciated and dying prisoners and you read and study it in history classes, but nothing prepares you for actually walking in their footsteps and touching the walls of the gas chambers and barracks where all those people died. It was a life-changing experience, and one that I'll never forget.
"As an actor and a director of this piece, it opened my eyes to the importance of telling the story of the play and the prisoners' story," he said. "Walking on the hallowed grounds of Auschwitz and Birkenau, I had a feeling of entrapment. Yet, the prisoners there must have found seeds of hope and joy somewhere, whether it was conversations with their fellow prisoners or finding simple joys to escape the brutality."
Prior hopes that he will be able to share his experience through his teaching and his art.
"There is a rich history in Prague of cultivating the arts because they feel that the arts belong to everyone," he said. "I've acquired a new perspective on the world. Living here has made me grow as an educator and artist; I'll definitely take what I've learned into the classroom."
Prague Shakespeare Company is central Europe's only professional English-language Shakespeare company, which presents professional theatre productions, workshops, classes, lectures, and other theatrical events.
- END -
This page maintained by SHSU's Communications Office:
Director of Content Communications: Emily Binetti
Communications Manager: Mikah Boyd
Telephone: 936.294.1837
Communications Specialist: Campbell Atkins
Telephone: 936.294.2638
Please send comments, corrections, news tips to Today@Sam.edu