SHSU Adds Thursday-Night Ceremony For May
Feb. 15, 2016
SHSU Media Contact: Jennifer Gauntt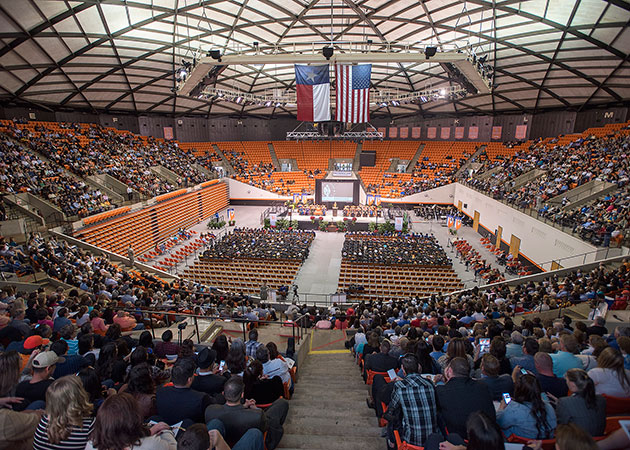 Because the number of students applying for graduation continues to grow each year, administrators have decided to add a fifth commencement ceremony for the spring to ensure that students can have as many guests as they want attending their special day. —Photo by Brian Blalock
As Sam Houston State University's enrollment has continued to climb to historic heights, departments have had to adjust accordingly to make room for the additional students, faculty, staff, and visitors who may attend events on campus.
One of the biggest events, both in size and importance, that has been affected by the enrollment growth is commencement.
In May 2005, for example, almost 1,300 students applied for degrees; last May, 10 years later, more than 2,100 students applied for graduation.
Because of this, SHSU will introduce a fifth commencement ceremony for the spring 2016 semester, which will be held on Thursday (May 5) at 7 p.m., in addition to the traditional Friday and Saturday ceremonies.
"Many years ago we had considered doing a ticketing system, but the majority of our graduates are first-generation and it's a time of great celebration; we don't want to restrict the number of family members coming to the ceremony, so we've rejected the idea of tickets," said Vice Provost Richard Eglsaer.
"Sam Houston is committed to individuals walking across the stage; we're not going to do like some of the bigger schools, where all those getting a degree in each college are merely asked to stand up," he said.
The decision to add the fifth ceremony came when administrators began looking at projected figures for the May graduation.
"Our guiding principle is that for every graduate, we have roughly 10-12 guests," Eglsaer said. "That being said, 550 is what we consider to be a safe number of graduates that we can have for a graduation ceremony. I try to divide graduates as best I can to spread out the ceremonies so that we don't exceed that 550 number."
When Eglsaer examined the May 2016 applications submitted by the 12th class day deadline, he saw that 1,998 students had applied. However, traditionally, a significant number of students apply for graduation after the deadline and pay the late fee associated with doing so—in some cases, as many as 44 percent of graduates in a single college have applied late—and in averaging a 25 percent increase for each college, the number of spring graduates is projected to be at as many as 2,500.
Spring 2016 Commencement Schedule
Thursday (May 5)
7 p.m.: College of Criminal Justice
Friday (May 6)
9:30 a.m.: College of Education
2:30 p.m.: Colleges of Humanities and Social Sciences & Health Sciences
Saturday (May 7)

9:30 a.m.: College of Business Administration
2:30 p.m.: Colleges of Sciences & Fine Arts and Mass Communication
Dividing that number into four equal ceremonies presented a problem because there would be more than 600 graduates in each ceremony, well beyond the capacity of the Bernard G. Johnson Coliseum when considering that each graduate has approximately 10 guests.
The next issue was whether to add the fifth ceremony to Friday or Saturday or move it to a different day altogether.
Although administrators considered having three ceremonies on Saturday, it was determined that SHSU lacked the sufficient resources to do so, so the choice came down to a Thursday night or a Sunday afternoon ceremony. Because spring commencement usually falls on Mother's Day weekend, Sunday might interfere with holiday or religious plans; therefore, Thursday became the best option.
"Thursday night poses a problem because there are still exams going on," Eglsaer said. "This year, (the College of) Criminal Justice only has 33 students taking Thursday night finals, and only two of those are graduating seniors, so we figured that we could work out some kind of special accommodation for those two students."
While the addition of the Thursday-night ceremony will likely be only a spring phenomenon, administrators will have to continue to address the division of the ceremonies as enrollment—and graduation—numbers continue to grow.
"It's a great problem to have, that the number of graduates go up every year," Eglsaer said, adding that it means SHSU is both retaining and graduating its students. "What we will do in the future, we'll have to think about that. Eventually, we will probably have to do a ceremony for each of our seven colleges."
While students may be eager to send out their graduation invitations, the uncertainty of the numbers each semester means that until the application deadline, decisions about the number of ceremonies or the day of each college's ceremony cannot be made until Eglsaer can see the figures and make the appropriate projections.
"There's no way to anticipate a 53 percent growth in criminal justice, for example, so we have to wait to divide them up," he said. "In the past we've asked people to keep these two days free, and now there will be a third day each spring to consider."
Another consideration for students who may be anticipating graduating soon is that with the Johnson Coliseum closing for construction, SHSU's summer ceremony will be combined into one Saturday-morning event. This event, on Aug. 6, will be outdoors, at Elliott T. Bowers Stadium.
Eglsaer said the administration is working on the logistics of that still.
"The speaker will be the same, but the actual number of graduates will be different," he said. "Summer is always the smallest ceremony, so (combining to one,) it may be a two-hour, morning ceremony instead of an hour-and-a-half ceremony."
The full spring 2016 commencement schedule will include: Thursday (May 5), at 7 p.m. for the College of Criminal Justice; Friday (May 6), at 9:30 a.m. for the College of Education and at 2:30 p.m. for the colleges of Humanities and Social Sciences and Health Sciences; and Saturday (May 7), at 9:30 a.m. for the College of Business Administration and at 2:30 p.m. for the colleges of Sciences and Fine Arts and Mass Communication.
For more information, visit the Registar website at shsu.edu/dept/registrar/graduation/commencement.
- END -
This page maintained by SHSU's Communications Office:
Director of Content Communications: Emily Binetti
Communications Manager: Mikah Boyd
Telephone: 936.294.1837
Communications Specialist: Campbell Atkins
Telephone: 936.294.2638
Please send comments, corrections, news tips to Today@Sam.edu