SHSU To Premier Opera For First Time In 300 Years
April 11, 2016
SHSU Media Contact: Emily Binetti
Story by Rebecca Grimes.
Classical musicians spend a lifetime studying and performing works composed across a myriad of time periods. Although they are trained to perform works that are centuries old, musicians also place a great importance on introducing new works into the repertoire.
This week, members of Sam Houston State University Opera and SHSU's Center for Early Music Research and Performance will do both, when on Thursday (April 14) they will present Carlo Agostino Badia's chamber opera "The Sacrifice of Berenice."
The performance represents the first time the opera will be presented since its premiere for the Imperial Court in 1712. It will begin at 7:30 p.m. in the James and Nancy Gaertner Performing Arts Center Recital Hall and is free and open to the public.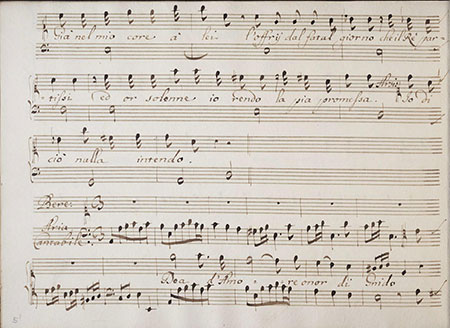 A sample of the original "The Sacrifice of Berenice" manuscript (above), which was plucked from obscurity from the Austrian National Library and transcribed by SHSU assistant professor of musicology Mario Ashauer. It will be performed by SHSU Opera students on April 14.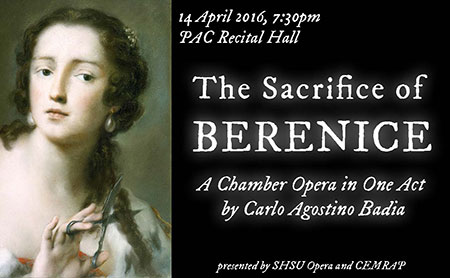 Plucked from obscurity from the Austrian National Library and painstakingly transcribed by CEMRAP director and SHSU assistant professor of musicology Mario Ashauer, the work tells the story of Queen Berenice and her sacrifice to save her embattled husband Ptolomy II.
This particular opera was composed to celebrate the birthday of the empress Elisabetta Cristina, according to Aschauer.
"Berenice very clearly represented both the image but also the expectations of their empress; Elisabetta Cristina was famous for her beauty, but just like Berenice she was expected to readily sacrifice everything in support of her husband in times of need," he said.
It was no coincidence that an opera was chosen to celebrate this young monarch.
"Opera [was] one of the primary means of imperial representation and political propaganda," Aschauer said. "Every marriage and birthday in the imperial family would be honored with a newly composed opera as the cherry on top of the celebrations. Court composers and poets carefully chose classical plots and characters that could serve as 'avatars' for the monarch and his family in their spectacular displays of imperial virtue, greatness and splendor."
This work is no exception; written for four singers, chorus and chamber ensemble, the opera chronicles Berenice's emotional struggle, sacrifice and ultimate immortalization in the heavens.
During that time period, court operas were only performed once and then were stored away in the music archives. The performance on Thursday will be the first time this work has been heard in over 300 years.
For members of the opera and CEMRAP, this project represents more than its historical significance as a chamber work.
"Baroque music provides a unique opportunity for young singers to learn the intricacies of their craft. It is written in such a way that it is healthy to sing, and requires minimal gesture and acting challenges," said SHSU opera director Rebecca Grimes. "This collaboration has provided the singers with musical and artistic growth opportunities that are beyond what they learn in their individual music classes."
Both the singers and the instrumentalists have been working diligently to recreate Baroque musical gesture and language that was unique to that time period, so that the audience will get a sense of what that first production may have looked and sounded like in 1712.
For more information, contact Grimes as 936.294.2314.
- END -
This page maintained by SHSU's Communications Office:
Associate Director, Communications: Emily Binetti
Telephone:936.294.4406
Communications Manager: Mikah Boyd
Telephone: 936.294.1837
Communications Writer: Campbell Atkins
Telephone: 936.294.2638
Thomason Building: Suite 102
Please send comments, corrections, news tips to Today@Sam.edu