Health Educator Utilizes Therapy Dog For 'Canine Counseling'
April 22, 2016
SHSU Media Contact: Chelsea Keller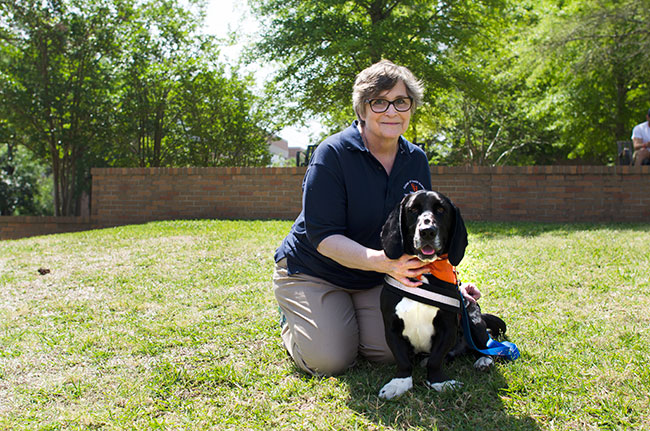 Health educator Daphne Fulton brings Rosoe to campus throughout the semester in an effort to teach Bearkats the importance of therapy dogs in alleviating student stress. —Photos by Brynn Castro
At various times throughout the semester, Daphne Fulton, a lecturer in the Department of Population Health, gives Sam Houston State University students a chance to calm their nerves and take away any anxiety—be it from tests, projects or just life—that they might be feeling.
Fulton and her trusty sidekick Roscoe, a therapy dog she adopted into her family two years ago, can be found during class changes in the Lee Drain Building, lighting up the faces of overworked and stressed students.
"The atmosphere around campus can be really heavy during midterms and finals, and just walking around you can see how stressed some of the students are," Fulton said. "But when they see Roscoe, you can see their spirits lift and see how happy it makes them."
As a health educator, Fulton understands the important role therapy dogs can play on college campuses, and she's not alone.
An increasing number of universities across the nation are starting programs for students that are allowing them to "check out" certified therapy dogs, much like checking out a book in the library. Other universities are setting up "doggie office hours" so students can come and go as needed, she said.
"There is research that shows petting dogs for as little has five minutes helps increase the levels of oxytocin, a hormone that helps reduce anxiety and blood pressure," Fulton said. "I think it's the act of stroking that is calming for people; you have to take a moment and pause what you're doing."
A study that was published last year in the Journal of Creativity in Mental Health, also found that simply playing and spending time with a trained pet therapy animal resulted in a decrease of self-reported anxiety and loneliness in college students.
Because of this, Fulton has worked to incorporate Roscoe into her classroom.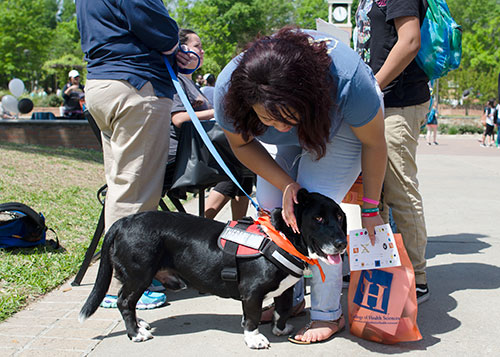 Roscoe was adopted by Fulton two years ago after Fulton and her husband found the dog injured. After nursing him back to health, Fulton worked to have him certified as a therapy dog, and Roscoe now works with students and in nursing homes and hospitals.
"I think he gives the students a sense of calm," Fulton said. "I had one student who was terrified of dogs at the beginning of the semester. By the end, she could at least pet him."
Roscoe's time not only is spent around campus but also hospitals and nursing homes.
"Roscoe and I work with the health department on campus," Fulton said. "When we take him to the hospital sick kids will go from deathly pale to smiling with rosy red cheeks. It also helps the elderly remember their lives when they were younger and it just makes them much happier."
Roscoe came into Fulton's life by happenstance two years ago when her husband was working out at a resort off Lake Whitney.
"We were driving down the road and we saw a dog had been hit by a car. We picked him up off the road and we took him to A&M University's vet," Fulton said. "They said he had a few internal injuries but other than that he was fine. By this time my husband was attached, so there was no going back. Roscoe kind of adopted us and we adopted him."
Fulton's husband has the belief that every animal in a household should serve a purpose. When Fulton was having a hard time teaching Roscoe to sit, she was afraid he wouldn't be useful so she decided to take him to a behaviorist.
"After she worked with him for no more than five minutes, she turned and looked at me and said 'He's going be a therapy dog,'" Fulton said. "I thought to myself, 'Don't therapy dogs have to be smart? Roscoe doesn't even know how to sit.'"
It took only two questions before Fulton and the behaviorist had made up their minds; Roscoe could, indeed, provide numerous educational and health benefits for those with whom he might work.
"All I wanted to know was how much it was going to cost and how long it was going to take. I knew that a therapy dog could be useful, and being in the health field I knew he could potentially help someone," Fulton said. "I just wanted to make sure I had the time to fully commit to it."
After making the decision to pursue Roscoe's certification, Fulton began looking into the steps that needed to be taken. There are different therapy dog organizations that offer certification. However, to gain therapy dog certification, both the owner and dog have to pass a series of tests ranging from basic obedience to a number of supervised visits.
After certification is awarded, therapy dogs are welcome in most public places. They are trained to provided affection and comfort to people, even those who don't know they need it.
"We took Roscoe to a children's hospital and there was a little boy who had been there for about two weeks. The doctors told us he had serious problems and had not spoken the whole time he was there," Fulton said. "We put Roscoe on the little boy's bed and let him do his work. You could really tell he needed some loving.
"After about 20 minutes it was time for us to leave when the little boy said, 'His ears are so soft.' Those were the first words he had spoken in two weeks. I think that shows how special therapy dogs can be, their love is unconditional."
- END -
This page maintained by SHSU's Communications Office:
Director of Content Communications: Emily Binetti
Communications Manager: Mikah Boyd
Telephone: 936.294.1837
Communications Specialist: Campbell Atkins
Telephone: 936.294.2638
Please send comments, corrections, news tips to Today@Sam.edu