Student Uses Personal Experience To Help Others
Feb. 4, 2016
SHSU Media Contact: Tammy Parrett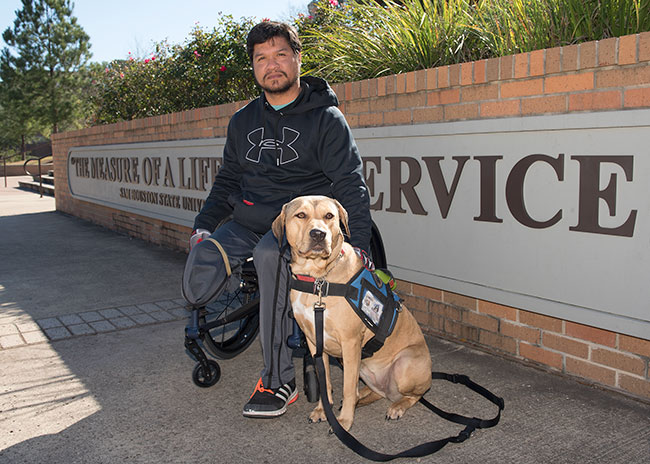 Psychology major Robert Ferguson has devoted his life to service, first as a serviceman; then as an SHSU student through the Veterans Resource Center, Student Government Association and Kappa Sigma Fraternity; and in the outside world by working with animals and as a chaplain for local veterans. His work

earned him a 2015 Sammy award for non-traditional student leader.

—Photos by Brian Blalock
Robert Ferguson, a senior psychology major, decided to keep his family's tradition of military service alive by enlisting in the Air Force right out of high school, serving as an avionics and tech control journeyman.
"We were responsible for making sure that all of the avionics on the planes were in working order," he said. "We made sure the pilots could talk to one another and that the displays worked, as well as navigation, radar, flight controls and other things of that nature worked."
He left the Air Force in 2006 and quickly realized that he was not ready to rejoin civilian life. The next year, he enlisted in the Texas Army National Guard and served as a multiple launch rocket system gunner.
Two years after returning to a military career, his life changed forever when a training mission at North Fort Hood went horribly awry, leaving him in a drug-induced coma for two days. He awoke to find that his right leg needed to be amputated.
At a time when it would have been so easy for him to give up and let this challenge beat him, Ferguson knew that he was not going to go down without a fight.
"I lost my leg June 6, 2009, at 7:45 in the morning," he said. "Six days later, I sat up in my bed, and I wanted to move. My family kept telling me to lie down and rest, but I looked at them and said, 'Get me out of this damn bed.'
"I've never been one to lay down and die, and this was no different. By June 14, I was walking with crutches, and by Sept. 15, I was walking with my prosthetic. I was back in my unit by October. I knew that keeping my leg wasn't an option, so I wasn't going to let that define me."
After his leg was amputated, he was placed into inactive reserve, not assigned to any particular unit.
He grew tired of sitting around and waiting to be called into duty, so he decided to enroll at SHSU, hoping to make some of his other dreams a reality.
His original plan upon entering SHSU was to be a veterinarian. He later decided he wanted to be a physical therapist, but once he saw how much science went into those careers, he knew he needed a new plan.
Ferguson suffers from post-traumatic stress disorder, which affects his memory, making subjects like science, which requires a lot of memorization, incredibly difficult.
"I still wanted to help people, so I asked myself where I would go from there," he said. "People always come to me with their problems, so I thought, 'why not get paid to help them?'"
Since he walked onto the campus at SHSU for the first time, Ferguson constantly sought out opportunities to help his fellow Bearkats.
He reached out to the Veterans Resource Center and began working with them to provide assistance to students who, like himself, struggled with PTSD or their disabilities. He became chief of staff for the Student Government Association and recognized that in this position, he wouldn't have to fight alone.
"I don't see myself as disabled or handicapped, so when I looked around campus and saw students struggling, I wanted to change that," he said.
With Ferguson's help, SGA was able to have handrails installed on the north side of the Lee Drain Building, and a number of wheelchair ramps on campus were installed or restored.
He is a member of the Kappa Sigma fraternity, whose philanthropy focuses on fallen heroes, and the co-founder of Remain Calm, a student organization that teaches students how to act level-headed during emergencies and teaches women the best and worst practices to remain safe on a college campus.
"We want to teach them to not be an easy target," Ferguson said. "It's easy to get too comfortable and forget to do simple things, like not walking around alone at night with headphones in, or wearing your hair in a bun as opposed to a ponytail, as someone can easily grab it and yank you down. By teaching the students how to avoid these situations and creating a knowledgeable student body, it lowers the risk of these types of attacks."
He also works with Operation K-9 to train service dogs for veterans who suffer from PTSD and other disabilities, and recently founded "Paws Fur You," a non-profit organization that will work with local prisons to have prisoners to train service dogs.
"It's great for both parties, because it allows veterans that can't afford a $30,000 service dog a better chance at getting one, and it helps the prisoners learn focus while allowing them to give back to the community while they're still serving their sentence," Ferguson said.
His involvement in so many organizations and his passion for making the world a better place for others earned him a 2015 Sammy award for non-traditional student leader.
"To me, service simply means putting everyone else above yourself," said Ferguson. "It's something that's instilled in you in the military."
In addition to his campus activities, he also serves as chaplain for the American Legion Post 95 in Huntsville, and is a certified peer support visitor with the American Amputee Coalition.
"Brooke Army Medical Center is full of soldiers who have lost legs," he said. "Some of them are only 18 or 19 years old and they've given up. They think their lives are over; they're missing pieces."
Following his graduation this spring, he hopes to further his education by completing his master's degree in counseling at SHSU so he can specialize in PTSD and other mental illnesses.
"I want to help people realize that just because things are bad, life isn't over," Ferguson said. "Life is what you make of it, and you can either sit there and let these problems rule your life, or you can stand tall and carry on with life."
- END -
This page maintained by SHSU's Communications Office:
Associate Director, Communications: Emily Binetti
Telephone:936.294.4406
Communications Manager: Mikah Boyd
Telephone: 936.294.1837
Communications Writer: Campbell Atkins
Telephone: 936.294.2638
Thomason Building: Suite 102
Please send comments, corrections, news tips to Today@Sam.edu