Project Sunshine Raises Money For Trip Of Lifetime
May 23, 2016
SHSU Media Contact: Chelsea Keller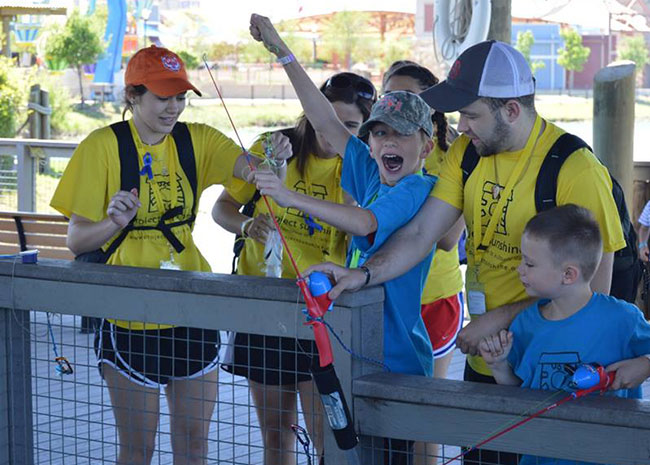 A young buddy fishes at Morgan's Wonderland, as another looks on, with the guidance of SHSU's Project Sunshine members. To see more pictures, see the slideshow below or visit the Project Sunshine Facebook page here. —Submitted photos
Some college students say friends may come and go throughout college, but the memories you make and the lives you change will always stay with you.
For Sam Houston State University seniors Brooke Mendenhall and Bridgette Bennett, joining Project Sunshine gave them the chance to do just that.
Through Project Sunshine—a nonprofit organization that provides free education, recreational and social programs to children and families living with medical challenges—members are paired with a buddy, a child or adult with special needs, and are responsible for watching over their buddy at events throughout the semester to make sure they are comfortable.
As president and vice president of the group this year, Mendenhall and Bennett took on a bigger role in the organization, which included raising money for the organization.
"Everything we have in our budget comes from what money we can raise," Bennett said. "To raise money, we have different events throughout the year. All these events give the community and students a chance to donate and help us raise the funds to take the buddies places."
Last spring, they went to the Ellen Trout Zoo in Lufkin. But this year, Mendenhall and Bennett wanted to do something different.
"About three years ago one of our members told us about Morgan's Wonderland. Morgan's Wonderland is an amusement park in San Antonio that caters to children and adults with special cognitive and physical needs," Mendenhall said. "At the time, there was no way we could have gone; the budget just wasn't in our favor. But this past year, when Bridgette and I got into office, we made it our goal to get the buddies to Morgan's Wonderland."
"We did everything we could. Aside from the normal fundraisers, we sent out letters to donors explaining what our goal was," Bennett said. "We even started GoFundMe pages. The amount of support and feedback we got was overwhelming."
With all the hard work and dedication, Bennett, Mendenhall, and the members of Project Sunshine were able to raise $15,000, more than enough to get them to Morgan's Wonderland.
"To this day we are still in shock we were able to raise enough money," Bennett said. "But we did it, and when the day came around, it was like a dream."
This spring trip was special for more than one reason. Not only was it the first time the buddies would go to Morgan's Wonderland, but the members of Project Sunshine and one adult were the only chaperones.
"Normally, we have a few of the parents come with us to help with diapers and medication. But this time we only had one parent, so everything was left to us," Bennett said. "We wanted to give the parents a much needed day off as well. But it was an honor to see that they trusted us with their children."
Even with all of that responsibility, the trip went off without a hitch.
"Being at Morgan's Wonderland was the best day we have ever had," Bennett said. "I really don't think I have ever seen the buddies smile that much."
"There was no negative feedback from anyone on the trip," Mendenhall said. "Everyone was smiling the whole time. It was the best day ever. I am getting chills just thinking about how amazing it was."
But for Mendenhall and Bennett the excitement didn't stop there. At this year's 22nd Annual Sammys, Project Sunshine was recognized twice by SHSU, for "Outstanding Overall Student Organization" and "Outstanding Special Interest Organization.
The win was even sweeter for the group because, in comparison to other chapters, the SHSU chapter goes above and beyond in the community service and activities they provide for the buddies.
"Most chapters just go to the hospital and volunteer, but we do a few different events throughout the year, like the spring trip," Bennett said. "We also have 'Buddy Idol,' an event for us to raise money but also a time where the buddies get a chance to jump on stage and show off their talents."
"This year we raised $4,000 at 'Buddy Idol' and the buddies loved it," Mendenhall said. "All of the money we raise goes right back to activities and trips for our buddies."
Since Mendenhall and Bennett have joined Project Sunshine, they have seen an increased interest in the organization.
"Project Sunshine is not easy to get into; last year we had 300 interviews," Mendenhall said. "The buddies really depend on you to be there for them, so we really have to make sure we are choosing people with the right heart and aren't just in it for recognition on a resume."
To join Project Sunshine, members not only have to go through an interview process, but once chosen, the national chapter requires every new member to go through a training process.
"During the training process you learn how to do first aid, are provided with information about different disabilities and are taught how to talk to a buddy if they are having a panic attack and need help calming down," Mendenhall said. "New members even have to have a background check done on them."
For Mendenhall and Bennett, joining Project Sunshine was about more than resume recognition.
As a forensic chemistry major with a double minor in criminal justice and biology, Mendenhall's career goals are far from being related to Project Sunshine. But her work with the group is a means of continuing to give back to the special needs community.
"All I've ever wanted to do was know that I was putting a smile on a buddy's face," Mendenhall said. "Even though I am studying forensic chemistry, I want to do something with helping those with disabilities. If I can't do that, then I was thinking about starting a Project Sunshine chapter wherever I end up. No matter what, I just want to be helping. It is so rewarding to be the reason someone is laughing."
Project Sunshine gives Bennett, an elementary education major with a minor in special education, real-life application to what she is learning in her classes.
"When I was in high school I worked with children with special needs in a program similar to Project Sunshine," Bennett said. "One of my friends suggested that I join Project Sunshine at SHSU, and I haven't looked back since.
"It's really hard to put into words what you feel when you make the buddies smile. They let you see the positivity in everything. People tell us we are wonderful people, but the truth is those kids impact us way more than we impact them."
- END -
This page maintained by SHSU's Communications Office:
Associate Director, Communications: Emily Binetti
Telephone:936.294.4406
Communications Manager: Vacant
Telephone: 936.294.1837
Communications Writer: Campbell Atkins
Telephone: 936.294.2638
Thomason Building: Suite 102
Please send comments, corrections, news tips to Today@Sam.edu