Financial Counselor Of The Year Helps Students With Money Matters
June 30, 2016
SHSU Media Contact: Dawine Bergeron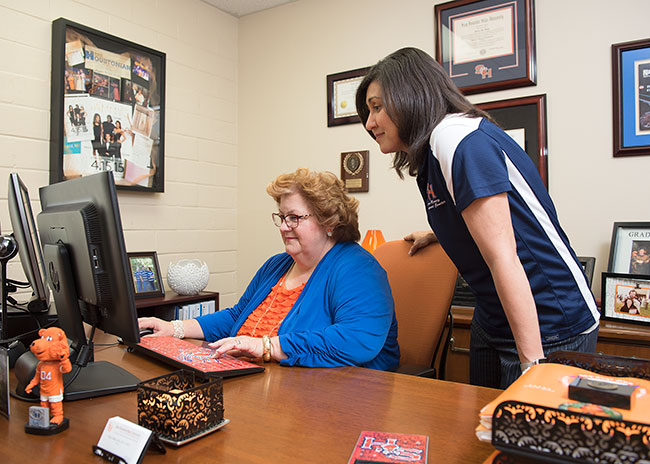 Time and money are two things that a college student never seems to have enough of.
But for eight years, Sam Houston State University's Student Money Management Center has been helping students with one of those by showing them how to budget and "get the most bang for their buck."
SMMC director Patsy Collins knows how to do this, not only because she has 34 years of experience in the finance industry, but also because she is the 2015 Association for Financial Counseling and Planning Education's Counselor of the Year.
Collins learned about the importance of money management at a young age as one of six siblings growing up in a single-parent household.
"My parents divorced when I was 9 years old. I was very lucky because my mom had been a schoolteacher, so she had money, but she also had six children on a schoolteacher's salary, so money was really tight for us," she said.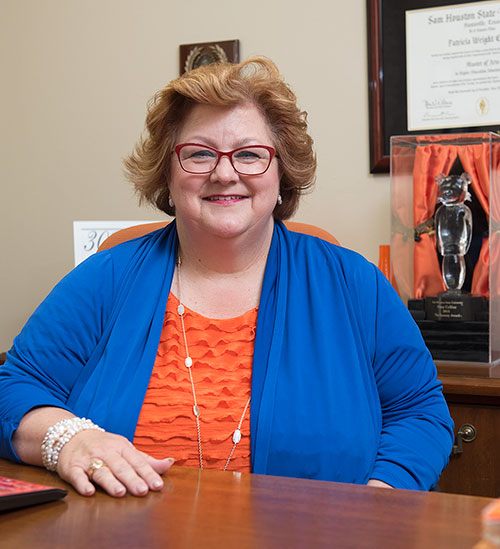 Patsy Collins earned her BBA degree from SHSU in 1981 and worked in the Financial Aid department before joining the SMMC.
After graduating from SHSU in 1981 with a Bachelor of Business Administration degree, Collins moved to Houston and worked in the energy industry for 20 years.
Eventually, she and her family relocated back to Huntsville and she returned to SHSU in 2004 as staff associate in the College of Criminal Justice. She later moved to the Financial Aid department, where she worked for six years as an accountant and senior counselor.
"I learned how to analyze a financial aid package: what should be awarded, how much loan money students can have for various classifications, and how the level of need is calculated," she said. "Because of that, I can help students understand their financial aid package, refund, and fee statement."
Now at the SMMC, Collins and her staff are dedicated to combating financial illiteracy and the growing amounts of debt among college students.
That, she said, has been a goal of the center since it was established in 2008.
"My boss, Dr. Kristy Vienne, would hear students come into the Bearkat OneCard office and talk about what they were going to do with their refunds," said Collins, adding that students often expressed interest in using that money to purchase things not related to their education, as the money was intended. "That's when Dr. Vienne thought there needed to be some financial education."
Collins's two big initiatives are to help new students understand how important it is to be able to pay for college and to teach graduating students how to manage their money.
"I want to help them realize that it is an expensive, four-year commitment to go to college. If you get in and find out you can't afford it, you start working too many jobs and then your grades come down," she said. "Your whole purpose is to make sure your grades stay up and then get a job.
"If I can teach graduating students how to budget and manage money from the first paycheck, that will have a great impact on the rest of their lives," Collins said. "Once I get them thinking differently, I can get them looking at their money differently."
She credits her interests in working with students to her feeling that she can help people.
"Knowledge empowers people. But money also empowers people. I don't think people realize that until they don't have money," Collins said. "As a college student, I don't think people should live paycheck to paycheck. I think they should know how to thrive, not just survive."
One resource the SMMC offers to spread that knowledge is peer coaching.
"We hire students with a minimum GPA of 3.25 and we train them to be certified personal financial accountants," Collins said. "They know where students who are struggling financially are because they've been where they are and figured out how to make it work."
The center also offers scholarships, budgeting sessions, personal consultations, and financial literacy week and financial literacy month activities.
"During New Student Orientation, we plan to sign students up to attend a workshop during the first month of school," Collins said. "The SMMC will review each student's individual accounts with them to help them understand all of these components and ensure their full understanding of their financial aspects of attending college."
During the six workshops that will be offered, students can enter to win a $250 scholarship.
In the future, Collins sees the center doing more personal consultations.
"I try to keep a staff of three to four peer coaches at all times and three full-time staff members," she said. "I think that in less than 10 years, we'll have more than 15 coaches. We'll be reaching many students because they see the relevancy of what we're doing and they're coming in it for it.
"If I can help students understand how to afford college, I think that shows the center is helping our students become successful," Collins said. "I think that it's also an advantage that our students have, because not all universities have an SMMC that works with students like ours does."
- END -
This page maintained by SHSU's Communications Office:
Associate Director, Communications: Emily Binetti
Telephone:936.294.4406
Communications Manager: Vacant
Telephone: 936.294.1837
Communications Writer: Campbell Atkins
Telephone: 936.294.2638
Thomason Building: Suite 102
Please send comments, corrections, news tips to Today@Sam.edu