TRIES Fellow Dives Into Marine Outreach, Research
Oct. 31, 2016
SHSU Media Contact: Jennifer Gauntt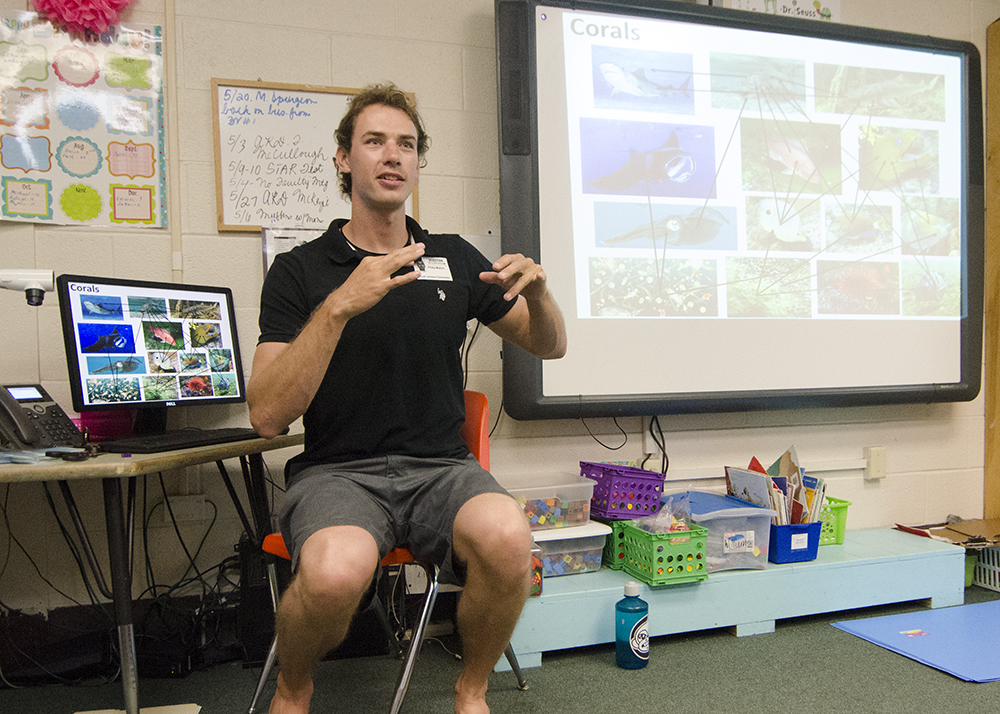 Texas Research Institute for Environmental Studies post-doctoral fellow Philip Matich has brought his knowledge of marine ecology, and particularly that of large ocean predators, to SHSU, where he's spent the past year researching and building programs to highlight the impact humans have on marine environments. —Photos by Brynn Castro
Groups of second graders at Huntsville's Scott Johnson Elementary huddle over blue poster boards, armed with scissors and glue sticks as they loudly and animatedly discuss pictures of sea creatures that correspond to a list of names.
The task at hand for each group is to create a food web of organisms living in one of four marine ecosystems—seagrass, oyster reefs, mangroves, and coral reefs. They must first match each pictured organism with a name from the list; then, they begin to build a food web for their assigned ecosystem by drawing lines toward a creature that consumes another for energy.
"What eats turtles?" one child says. "Sharks eat turtles!" another pronounces. Then they glue each animal to the board with its name and draw their arrows.
Presiding over the excitement is Philip Matich, a post-doctoral fellow at Sam Houston State University's Texas Research Institute for Environmental Studies, who has introduced the lesson to Kimberly Merchant's science classes as a series of outreach sessions designed to encourage student interest in marine science and conservation, while reinforcing lessons they learned as part of Merchant's science curriculum.
This lesson, the second of four, opens up to future sessions on how animals adapt to external factors—such as changes in water quality or fishing pressure—and, ultimately, how these habitats connect and what happens when you unsustainably remove organisms from their ecosystems. The overall goal, Matich said, is help young citizens understand the potential impact humans have on marine environments and limit those that are detrimental to our oceans.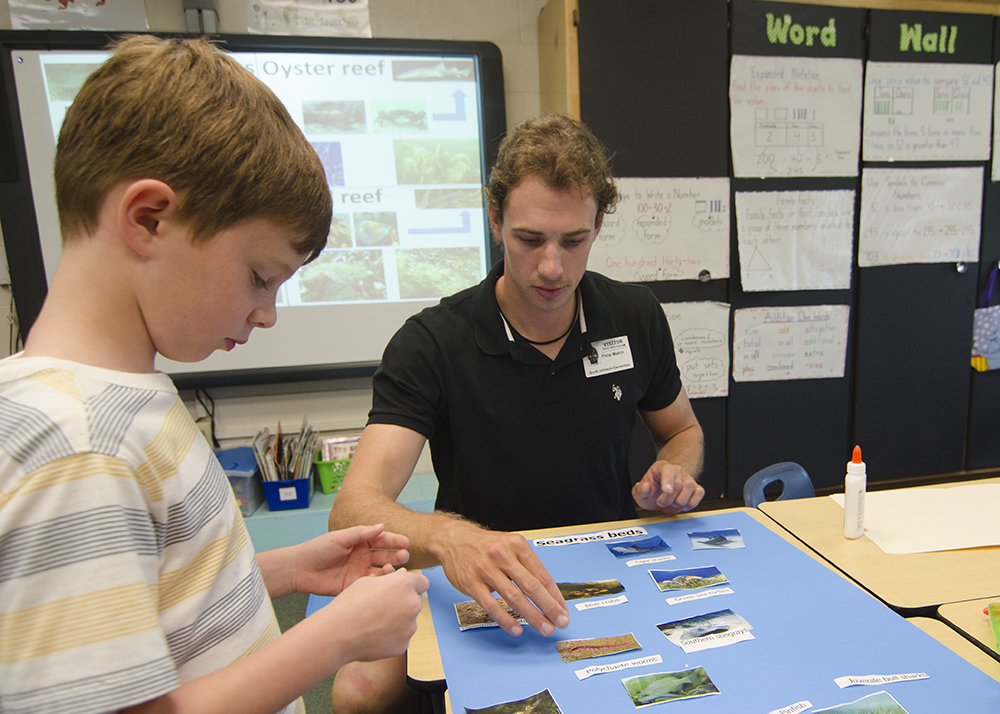 During his outreach program at Huntsville's Scott Johnson Elementary, Matich worked with students to lay out food webs in various ocean ecosystems. Groups created webs of organisms living in one of four marine ecosystems—seagrass, oyster reefs, mangroves, and coral reefs—by drawing lines toward a creature that consumes another for energy.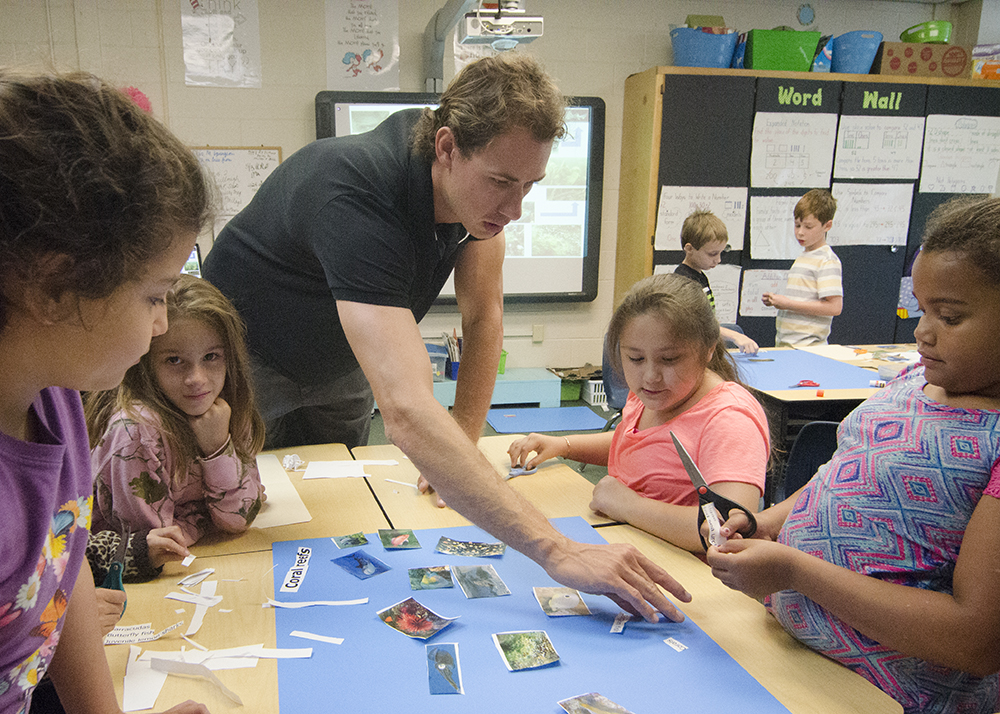 "Our coastal ecosystems are almost in these students' backyard, it's only a couple of hours away, but a lot of kids aren't exposed to the ocean because of their limited capabilities of getting there," Matich said. "These lessons are about how coastal ecosystems are connected to other places in the Gulf of Mexico, why conservation is important, and what students can do here in Huntsville, Texas, to help conserve our oceans."
The lessons also tie into Matich's research, which has included projects on large predators —namely, bull and tiger sharks—in Florida, Western Australia and the Caribbean.
"A lot of my work focuses on the population ecology of coastal sharks and the external and internal factors that shape their behavior and ecological roles within their ecosystems," he said. "I have a specific interest in individual differences within populations, in that different sharks exhibit different behaviors and that, in turn, leads to individual differences in the roles they play in their ecosystems and vulnerabilities to human impacts."
Matich came to Texas a year ago after interviewing for the TRIES post-doctoral fellowship position. As the fourth post-doctoral fellow, Matich is able to further the research interests he began as a doctoral student at Florida International University, and in accordance with the TRIES's mission, develop his own program, a feature that is unique among post-doc programs, according to TRIES executive director William Lutterschmidt.
"This post-doc position gives research fellows the opportunity to bring their research program here and develop it so they can move on later to academic or governmental positions," Lutterschmidt said. "It gives them the opportunity to do that rather than work on somebody else's research. It's a unique position, literally, across the country. That's the reason we can attract such extremely talented researchers to TRIES."
For Matich, that means working with the Texas Parks and Wildlife Department, Texas Sea Grant, and other academic institutions, such as Texas A&M, while conducting research in Texas. Here, he is using sharks as ecological indicators—by looking at their diets, movements, life histories, and microbial or physiological traits—to evaluate the status of Texas coastal ecosystems and make predictions concerning management and environmental change.
"Shifts in relative abundance and size structure are occurring among some sharks in Texas," he said. "(Maybe it's) because salinity has changed, because fresh water flow from rivers has changed; or there is less food; or they're not receiving the right nutrients."
Understanding how and why sharks operate as they do is important, because sharks are good indicators for water quality and human and environmental impacts in coastal areas.
"Especially in Texas, one of the big questions is fresh water allocation. Naturally, rivers empty into bays and estuaries along the coast, but that water needs to be used for agricultural and personal use," Matich said. "Understanding how much water needs to enter into those estuaries has been a really big question for a long time and we're still trying to understand that."
While it's hard to study an entire ecosystem, scientists can study a single group of organisms, such as sharks, whose behaviors might indicate a change in the ecosystem. Bull sharks are an optimal species for this kind of study, because they can live in both fresh and salt water.
Marine Biology at Work
Matich and his colleagues introduce the TRIES Coastal Marine Ecology Program Fieldwork in a video from their August expedition. —Video by Caitlyn Webster
"Because of the drought that happened five years ago and also because of increasing human populations, the salinity increased in a lot of bays in Texas, which led to pretty dramatic changes in water quality, as well as in community composition," Matich said. "With sharks being top predators in those ecosystems, changes in their diets, habitat-use patterns, body conditions, or growth rates might suggest changes in food web structure and ecosystem health, although the cyclical nature of many watersheds in Texas makes this a challenge."
The Texas fellowship also has been an opportunity to conduct research in an area relatively untouched in academia. There have been fewer than 10 papers published on shark ecology and only three other groups are working on sharks in academia in the whole state, which includes 5,000 kilometers of coastline and a diverse assemblage of more than 20 species.
"Part of the appeal of working here is that there's very little known about the shark populations," he said. "Texas Parks and Wildlife Department has a fantastic coastal monitoring program where they collect data on distribution, abundance and size of these sharks, but beyond this, there's not really a whole lot known."
Matich's educational outreach projects, such as the one at Scott Johnson, are among several ways he is working to share what he's learning about Texas marine ecosystems; he's also begun venturing into social media to share components of his field research and other shark-related stories, with Coastal Marine Ecology Program pages on Facebook and Instagram (@texascmep).
He hopes this kind of outreach will help young students build a knowledge base, and, perhaps, lure more children into the science field. He's even using data he collected from Scott Johnson to assess the children's understanding of ocean science in an effort to reach them in more meaningful ways.
"The kids were super excited and I think their eyes opened a little bit more to what scientists do, what animals are in the ocean and the way food webs are structured on our coasts," Matich said. "The main objective was to get them excited about the ocean and the coast here, and that definitely happened."
- END -
This page maintained by SHSU's Communications Office:
Associate Director, Communications: Emily Binetti
Telephone:936.294.4406
Communications Manager: Vacant
Telephone: 936.294.1837
Communications Writer: Campbell Atkins
Telephone: 936.294.2638
Thomason Building: Suite 102
Please send comments, corrections, news tips to Today@Sam.edu