Professor's New Book Explores History Of Post-War Veterans
Jan. 26, 2016
SHSU Media Contact: Romney Thomas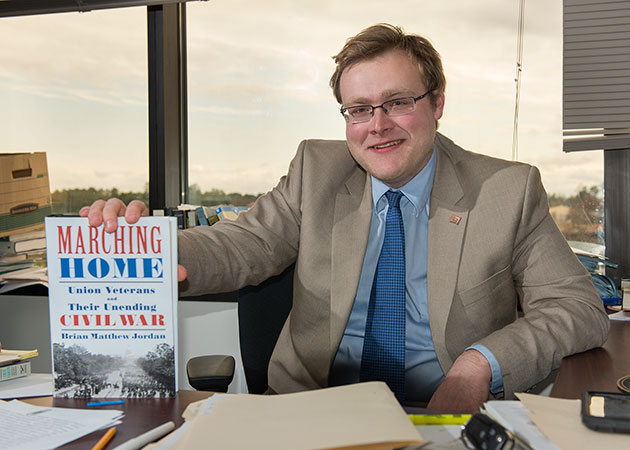 Assistant history professor Brian Jordan's new book, "Marching Home," reveals that the veterans of America's great war experienced trauma that society wasn't willing to deal with, a trauma, he believes, that echoes the experiences of modern-day veterans. —Photo by Brian Blalock
As a young man growing up in Akron, Ohio, Sam Houston State University assistant professor of history Brian Jordan loved learning about the Civil War. A close friend had spent his childhood crisscrossing the Midwest, seeking out the last surviving Civil War veterans, and he imparted the stories he was told to Jordan.
"He was actually a pen pal with the last surviving veteran of the Union Army, Albert Woolson," Jordan said. "He had these amazing stories to tell me. But there was one overall message that connected everything—these veterans had always been set apart from society, even after almost a century since the war finished; they were deeply troubled by what they had lived through. I never really forgot that."
This concept later inspired Jordan's dissertation topic at Yale University that went on to become "Marching Home: Union Veterans and Their Unending Civil War."
The book centers on the challenges Union veterans faced at the completion of the war. According to Jordan, while civilian society was more than prepared to transition into the post-war era, veterans of the conflict struggled to move past the atrocities that had forever changed them.
As a result, they could not enjoy the reconciliation the rest of society did, and they forever faced a conflict between their inner turmoil and their peacetime surroundings.
Since its publication, Jordan's book has been reviewed in major national publications, including the Washington Post, and is the recipient of the 2016 Governor John Andrew Award for Civil War History, an annual award given by the Union Club of Boston.
The accolades are a nice reward for a project that began with a number of challenges.
"My first challenge was actually to argue against the thesis of my dissertation adviser David Blight," Jordan said. "He maintained that post-war reconciliation was widespread across the U.S., but from the stories I had heard about the veterans' struggles, I felt that this couldn't be entirely true."
The materials he needed also presented a bit of a challenge. Jordan's search took him on a two-and-a-half-year research odyssey through every northern state, where he scoured veterans' newspapers, historical societies and university archives for the documentation he needed to argue his thesis.
"I was pleased to find that there was actually a lot more information available than previous historians had believed," Jordan said. "What was really amazing, though, was that some of the resources I found had really never been touched before. Some of the sources I found were literally in boxes in an attic—firsthand accounts from soldiers, doctors psychologists and the like that had never been processed or examined."
Although Jordan was pleased to discover these treasures, there was actually a wealth of information that he would never be able to get his hands on.
"Unfortunately, in the 1940s or '50s, the federal government actually destroyed 95 percent of the records from institutionalized soldiers' homes," Jordan said. "It was decided that those records were too depressing of a mark on history to preserve."
Jordan studied the remaining 5 percent of the records meticulously and gained a deeper insight into the medical and psychological issues that Civil War veterans struggled with.
"Through the process, I ended up writing a different book than the one I originally set out to," Jordan said. "I was convinced that the veterans would have kept their memories alive and that the civilian population was behind them; what I discovered was that these veterans had a tremendously difficult time reconciling these atrocities, and the rest of society left them by the wayside."
For many veterans, it was difficult to find space for themselves in a society that wanted nothing to do with the event that had shaped their lives the most. This isolation cost many veterans their sanity, and also their lives.
"There was a rash of suicides, of soldiers who splayed themselves across active railroad tracks, dressed in their uniforms one last time," Jordan said. "They felt this was the only option they had left."
According to Jordan, even before the war had ended, civilian America was ready to leave the atrocities of battle behind and move forward.
"The degree to which veterans were shut out of society simply for their need to look back on their wartime experiences was astonishing," Jordan said. "That's really the tragic part. Even after the Civil War, these veterans were fighting an internal battle with themselves and an external one with the rest of society. As a result, most of them were unable to heal."
In some ways, echoes of this struggle still reverberate with the men and women who serve our country today. Jordan hopes that the book will help continue the conversation about veteran's issues.
"People who have a fondness for Civil War history have a very cherished sense of what this war was," Jordan said. "It's the war that great-granddaddy fought in or that we learned in high school. There were gleaming trumpets and bayonets. It's the war that settled great issues and it's a triumph of American democracy. In spite of the fact that we tore ourselves apart, we were able to put ourselves back together again.
"The Civil War accomplished a lot, but it also cost a lot," he said. "Even today, with today's veterans and the progress we've made with problems like PTSD and the trauma of combat, there is room for improvement about acknowledging the costs of war."
- END -
This page maintained by SHSU's Communications Office:
Associate Director, Communications: Emily Binetti
Telephone:936.294.4406
Communications Manager: Mikah Boyd
Telephone: 936.294.1837
Communications Writer: Campbell Atkins
Telephone: 936.294.2638
Thomason Building: Suite 102
Please send comments, corrections, news tips to Today@Sam.edu