Percussion Professor Finds 'Harmony' In Science, Art Festival
Dec. 19, 2016
SHSU Media Contact: Emily Binetti
Some may say that science and art exist on separate spectrums. Science, rigid and strict, is not particularly known for the same freedoms associated with the creative arts.
However, Seattle's 9e2 Festival, with the help of Sam Houston State University's John Lane, aimed to reimagine the way people view the joining of art, science and technology.
Lane, director of percussion studies in the SHSU School of Music, was invited to participate in this year's 9e2 Festival in a collaborative exhibition of music, glass art and gene science. The festival emerged from the commemoration of the original "9 Evenings: Theater & Engineering" exhibition that occurred 50 years earlier in New York.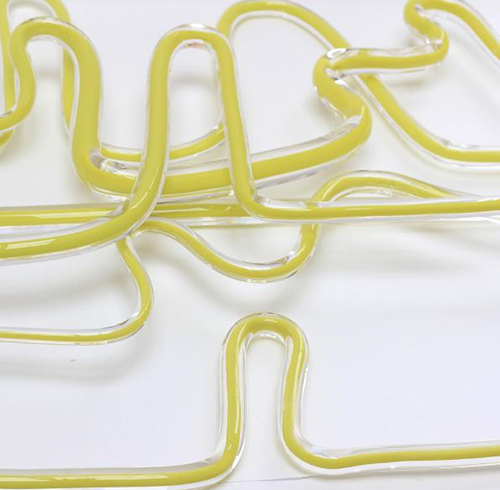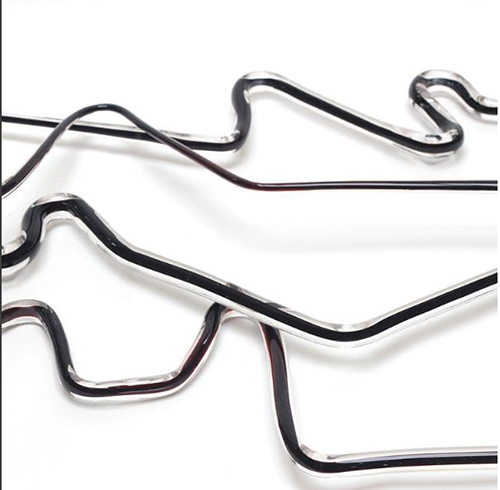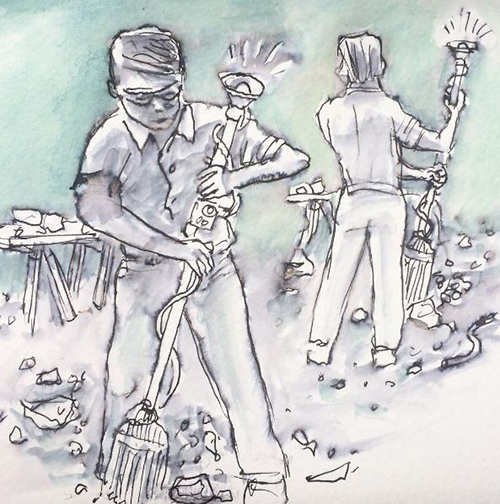 Examples of "good DNA" (top) and "bad DNA" (middle) created from glass for percussion professor John Lane's performance at Seattle's 9e2 Festival, which were ultimately destroyed during the "gene splicing sweep up" (bottom), during which amplified, sound-producing brooms were used by Lane and Stuart McLeod to sweep up broken glass in the last drive of the performance. —Submitted images
"The current 9e2 Festival embraced that same spirit of experimentation at the intersection of art, science and technology by showcasing performances and installations created by collaborative multi-disciplinary artists and scientists," Lane said.
The Seattle-based event took place from Oct. 21-29, bringing together artists, engineers and scientists from across the United States, in addition to Seattle's art community, technology companies and schools.
The original goal of "9 Evenings" was to implant a new age of collaboration between arts and science. The 9e2 Festival honors that same idea in a new setting.
"Most of the festival events were held at the King Street Station, a newly renovated gallery performance space, which is going to be a pivotal locale for various cultural offerings in Seattle," Lane said.
The festival stresses that the arts and sciences may not be as mutually exclusive as many have previously thought. Both drawing from experimentation and collaboration, 9e2 could raise the question of where art stops and the science or technology begins, according to Lane.
Lane participated in the festival's closing concert in a piece entitled "Gene Splicing," which involved taking real strands of DNA from the performers to create glass art pieces.
Invited by John Roach, artist and organizer of the collaboration, Lane's performance focused on his interpretation of the pieces. Lane and Roach were joined by fellow percussionist Stuart McLeod, glass artists Morgan Peterson and James Anderegg, scientist Jared Roach, and artist and data wrangler Ranjit Bhatnagar.
"DNA maps were taken from Stuart's and my DNA reports, which informed the creation of glass sculptures," Lane said. "We performed improvised music on the sculptures in a live performance event. The culmination was a destruction of the glass sculptures, which we then swept together in a pile with amplified brooms."
The destruction of the sculptures was meant to play on the idea of "splicing" genes.
"It was compelling to see how our DNA data was used to create these unbelievably beautiful and strange glass sculptures," Lane said. "It was fascinating to work with the concepts of invention, creation and destruction all together in one work."
More than 100 artists, scientists, technologists, and volunteers performed for almost 3,000 guests, presenting a year's worth of arts-center programing in just one, nine-day experience.
"My favorite part of the experience was getting to work with such creative and openly collaborative artists including John Roach, Stuart McLeod, and the glass artists and scientists who made it all possible."
Lane hopes the collaboration, education and connections made at this year's 9e2 Festival will continue to foster art and science growth for years and festivals to come.
- END -
This page maintained by SHSU's Communications Office:
Associate Director, Communications: Emily Binetti
Telephone:936.294.4406
Communications Manager: Vacant
Telephone: 936.294.1837
Communications Writer: Campbell Atkins
Telephone: 936.294.2638
Thomason Building: Suite 102
Please send comments, corrections, news tips to Today@Sam.edu
---